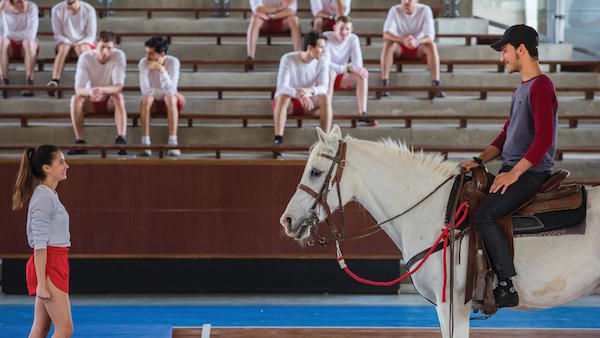 TRIBECA FILM FESTIVAL REIVEW BY CHARLES BATTERSBY | "Flawless" begins with a boy riding a white horse through the halls of a high school. Soon the audience learns that this surreal image is part of an elaborate "promposal," and that the prettiest girl in school is about to be asked to the prom by the horse-mounted lad.
A horse inside a school is unnatural, but so is this elaborate ceremony for a trivial school dance. Yet, the other girls in gym class are too envious to notice the absurdity of it all. The lower-status girls at this Israeli high school all want to receive a similar romantic gesture from a boy, but Tigist (played by Netsanet Mekonnen) and Keshet (Noam Lugasy) don't think they are pretty enough to warrant the attention.
Even though the story is set in Israel, there is no talk about terrorism or war. Instead, Tigist and Keshet fret over things like their social media standing, the prom, and whether or not a suitably popular boy will "prompose" to them. Keshet thinks that her nose is the reason boys aren't interested in her, while Tigist is flat-chested (and Ethiopian, for the added trouble of racism).
Soon this insecure clique is joined by Eden (Stav Strashko), a conspicuously tall girl, who is just as flat-chested as Tigist. Eden is revealed to the audience as a transgender girl, but her new friends and schoolmates are unaware.
All three of them dream of getting cosmetic surgery to correct their perceived flaws, believing this to be the solution to bullying, low social media ranking, and a lack of promposals.
The first half of the story plays out like a more serious version of teen comedies like "Mean Girls." (The title's similarity to "Clueless" is either a serendipitous bit of translating, or a deliberate reference). It hits many of the same story points that audiences have seen in similar fare, but with a darker air. Boys at this school are violently bullied, and the attackers take delight in posting videos of their work online for the whole school to see. Eden also lives in fear of violence, if her secret is revealed.
Eventually the story takes an even more drastic shift when the characters find a way to earn easy money for their cosmetic surgeries. Selling their bodies, but in a literal fashion—they agree to sell kidneys in exchange for cosmetic surgery.
These aren't poverty-stricken girls from the third world. They're middle-class, at worst, and they don't need the money to survive. The desperate scheme is motivated solely by vanity.
It can't be a coincidence that the three leads are all played by beautiful actresses (Strashko, who plays Eden, is even a runway model). The implication is that these imperfections are primarily in the minds of the young heroines, but the cruel nature of high school and social media make any flaw a target for merciless bullying, no matter how small that flaw is.
"Flawless" walks a careful line with its grim worldview. It never descends to the level of moral panic, but it is a warning to adults about "these kids today" and the lengths they might go to for popularity—especially in an age where any girl can achieve world-wide fame through a beauty blog that depicts a seemingly flawless lifestyle. The film also serves as a warning to younger viewers about the lengths that adults will go to capitalize on this desire for perfection.
–Runtime: 93 minutes
–Written and Directed by Sharon Maymon and Tal Granit
–Final festival screening 11:30am, Sat., 5/4 at Regal Cinemas Battery Park
The 18th annual Tribeca Film Festival happens April 24 through May 5. Venues include Chelsea's SVA Theatre, Regal Cinemas Battery Park, Village East Cinema, BMCC TPAC, and the Tribeca Festival Hub. For info, and to order tickets, visit tribecafilm.com or call 866-941-3378. Matinee screenings are $12, evening and weekend screenings are $24, Tribeca Talks and Tribeca Immersive tickets are $40, and Tribeca Cinema360 tickets are $15. Discounted packages are available. Free Film Friday (free film screenings) is May 3. Twitter: twitter.com/tribeca. Facebook: facebook.com/tribeca. Instagram: instagram.com/tribeca. Hashtag: #Tribeca2019.
Chelsea Community News is made possible with the help of our awesome advertisers, and the support of our readers. If you like what you see, please consider taking part in our GoFundMe campaign (click here). To make a direct donation and/or send feedback about the site, send an email to Scott@chelseacommunitynews.com.