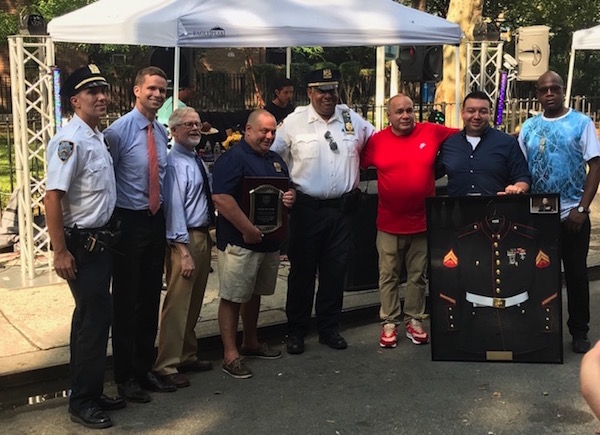 BY ZAZEL LOVEN | August 6 was a beautiful day in our neighborhood, and has now been declared "Detective Mike Petrillo Day." Chelsea neighbors, elected officials and their representatives, and 10th Precinct officers gathered together on W. 17th St. at the Fulton Houses, for National Night Out Against Crime.
Detective Petrillo is back after recovering from a heart attack, and was honored for his 30 years of service to the Chelsea community. He is a Chelsea treasure, known to all and loved by everyone—for always being available, and never hesitating to address any issues that might come up.
There was something for everyone at the event, as live music filled the air, children played in a bouncy water feature, and the crowd lined up around BBQ grills manned by Precinct officers and others. The delicious chicken, dogs, and burgers just kept on coming, as did the good vibes! Thank you, 10th Precinct Officers, and everyone at Fulton Houses, for a great day!
Community Praise for Detective Mike Petrillo
Mike was honored because, as a member of the NYPD, he went beyond his duties for the Chelsea Community when called for assistance. Mike has never treated the residents from Fulton any differently than residents from condominiums, and many Fulton residents reach out to Mike for private advice when needed, as if he is a family member of theirs. August 6 will be seen as "Detective Mike Petrillo Day" in Chelsea, from now on.—Miguel Acevedo, president, Fulton Tenants Association
"The 10th Precinct is home to thousands of residents, and even more who pass through it or come to work here every day. With a growing population and many new faces coming in and out of our neighborhoods, it is critical that residents have a good relationship with their local police officers—and that's exactly what we have with Detective Mike Petrillo. On behalf of the entire Chelsea community, we are extremely fortunate to have Detective Mike Petrillo at the 10th Precinct, who, for 30 years of service, has been keeping us safe."—New York City Council Speaker Corey Johnson
Mike has been a bedrock Chelsea presence for what seems like forever.  He always manages to present a human, friendly face to the community. Having someone with his sensibilities in the role he has played has been vital to the health of the relationship between the Precinct and the people of Chelsea. A truly good man.—Pamela Wolff, treasurer, Council of Chelsea Block Associations
Detective Mike Petrillo is the epitome of a caring, active member of our community. We cannot count the ways he has helped with issues big and small, contributed to our meetings by always being present, and never failed to answer questions, and provide solutions to neighborhood concerns. He is our rock, and we love him! Welcome back Detective. Here's to another 30 years! And thank you to the 10th Precinct community, for serving our Chelsea community in so many ways. —The 300 West Block Association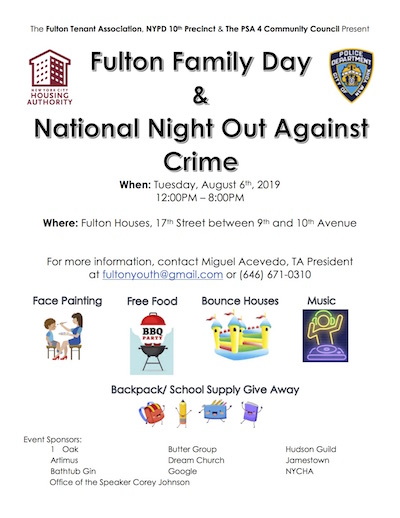 Chelsea Community News is made possible with the help of our awesome advertisers, and the support of our readers. If you like what you see, please consider taking part in our GoFundMe campaign (click here). To make a direct donation, give feedback about the site, or send a Letter to The Editor, email us at Scott@chelseacommunitynews.com.