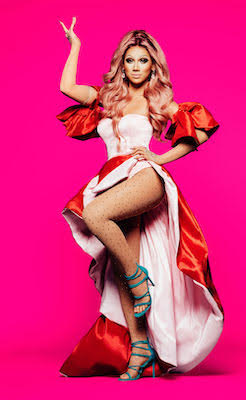 BY SCOTT STIFFLER | "I'll be showing up and showing out, like I always do," promised recent RuPaul's Drag Race (RPDR) contestant Plastique Tiara, of her upcoming area appearance as a newly minted "Ru Girl."
The Vietnam-born, Dallas, Texas-based glamour gal, whose "cheap but luxurious" stage name was inspired by the My Little Pony character Diamond Tiara, will have her own booth at the 2019 edition of RuPaul's Drag Con NYC. Taking place Sept. 6-8 at the Javits Center, DragCon offers fans an immersive journey into the ever-expanding world of drag artistry, entertainment, and expression, via probing panel discussions, live performances, and exhibit hall vendors who aren't stingy with the free samples.
But the Con's bread and butter is the sheer volume of RDPR alums in attendance—over 80, by our last count—representing talent from the show's humble beginnings all the way up to this year's Season 11, the point at which Plastique Tiara claimed her place in the pantheon.
When the self-professed "Asian Barbie" spoke with Chelsea Community News last week, Plastique was taking a break from rehearsals for the North American wing of the Werq the World tour. Produced by Voss Events, Drag Race producers World of Wonder, and VH1, the live stage show brings a stellar roster of Ru Girls to 45 cities in the U.S. and Canada, including a stop in NYC on Oct. 19.
Built around a Voyages Out of This World theme that sends the queens on a mission to save the universe, the tour features performances by Aquaria, Asia O'Hara, Detox, Kameron Michaels, Kim Chi, Monét X Change, Naomi Smalls, Violet Chachki, Yvie Oddly, Plastique, and Vanessa Mateo. Tough but fair RPDR judge Michelle Visage serves as your "Mission Leader" at select cities, a title taken over at times by O'Hara.
"It's gonna be chillingly beautiful—very glamorous," said Plastique, of the tour. "The production is huge this year."
Life on the road is the river that runs through Plastique's world these day, having just wrapped up a leg of her The Pretty Weird Tour, in which she appeared alongside RPDR Season 11 winner Yvie Oddly.
"She's one of the best queens out there, to me," Plastique said, noting their odd couple dynamic served the show well.
"Our drag is totally opposite. We balance each other out perfectly. My drag is more glamorous, and hers is more alternative. She does very high energy, and I do my Asian-influenced numbers. We complement each other."
Plastique will be joined on the Werq the World tour by RPDR Season 8 contestant Kim Chi, a South Korean-American.
"I think it's very, very important," said Plastique, of having two Asians in the cast, "because growing up, I never had anyone like me to look up to in the media, and never had anyone to go around the world and perform for 'us,' that I could look up to. So for me and Kim Chi to be on the same tour together, to be in the biggest drag show, the biggest drag tour, essentially, that is existing right now, I think it's pretty huge, because we both represent something for our culture and our audience. So we're just conquering the world of drag, one Asian at a time."
Growing up in Vietnam, "being gay was considered shameful," Plastique recalled, in a press release for her new single, Irresistible. "I spent many years hating myself for who I was. I was raised to be silent and to hide anything I was feeling on the inside that might be considered out of the norm. I lived in constant fear of disappointing my family and everyone I love… Being a drag entertainer is the first decision I made for myself, and it has changed my life. Drag has allowed me to express myself artistically without censorship, and it has allowed me to feel what it means to be free."
Shot in sun-soaked Malibu, the video in support of the single presents Plastique as a confident queen, reveling in the rewards of that hard-won self-acceptance, and looking damn fine while doing it. Decked out in regal, sometimes winged, splendor, and backed by an all-Asian group of dancers who are as easy on the eyes as the star herself, Plastique called the project her way to "live my fantasy of being a drag Vietnamese pop star. It was something I always wanted to do, something I can look back on and celebrate—and I wanted to give back to my fans out there, to show them there's a Vietnamese immigrant drag queen who made it on Drag Race and came out with a song."
Plastique said through her music, touring, and her interaction with fans at DragCon, she's committed to using her own journey as a way to inspire others to new heights of self-acceptance.
"I never thought it would be me, who would be doing this," she said, with a laugh. "But it feels right, to have somebody in the media who is on the front line, and kind of like the black sheep of the herd. For me, it's very empowering. I get messages every day from younger Asian fans who are still in the closet or still in Vietnam, and their family doesn't accept them. It just reminds me of how far I've come. And they're like, 'Maybe now I can tell my parents, because I have you to set an example.' Because my parents, too, they never thought I'd be doing this professionally."
Asked what advice she has for young fans who are still in the closet about their sexuality and/or drag aspirations, Plastique said everyone's experience is different, noting that only the heart knows when it's time.
"You have to be ready with yourself, rather than being ready for somebody else. Come out when you want to come out. Come out when you're ready. And about doing drag? Just do drag because you love the artistic aspect of it. Don't do it because you want to get on Drag Race, or you want the fame and the money. Drag ain't cheap! So if your gonna do it, do it because you love it—because it's going to be a hard road."
Tickets for the Werq the World Tour 2019 are on sale now at VossEvents.com. For RuPaul's DragCon NYC tickets and info, visit rupaulsdragcon.com. Plastique Tiara's Irresistible is available now on iTunes, Spotify, and all digital platforms. Visit her website, lifeinplastique.com. Follow Plastique Tiara on Facebook, Instagram, and Twitter @ plastiquetiara.
Chelsea Community News is made possible with the help of our awesome advertisers, and the support of our readers. If you like what you see, please consider taking part in our GoFundMe campaign (click here). To make a direct donation, give feedback about the site, or send a Letter to The Editor, email us at Scott@chelseacommunitynews.com.