BY SCOTT STIFFLER | As legend has it, the extraterrestrial entity-cum-enigmatic entertainer known as Alaska (or, more formally, Alaska Thunderf*ck 5000) fell to Earth in March 1996, when "a bizarre cosmic collision" shot her spaceship into a remote part of America's 49th state.
That vast, rugged, often inhospitable landscape—and the pioneer spirit of those who seek to tame it—left their mark on the young alien, who ventured to the lower 48 states to become a "well-traveled, campy extraterrestrial" who assumed the not-exactly-incognito form of a drag queen.
A runner-up on RuPaul's Drag Race Season 5, she went on to win the second season of RuPaul's Drag Race All Stars. Her successful post-Race career includes solo stage work and multiple musical collaborations with stalwart friend Jeremy, and, earlier this summer, the launch of a Drag Queen of the Year pageant that distinguished itself by championing diversity. "Drag queens, drag kings, Trans artists, hyper queens, bio queens, AFAB queens are all welcome to participate," said its founder, in a self-fulfilling prophecy press statement.
On Fri., Sept. 6—the first day of RuPaul's DragCon NYC and one day prior to the awesomely alt event Bushwig—Alaska and friends return to Brooklyn's 3 Dollar Bill venue, with Justice for ARTPOP, a "fanatical celebration of the music, the moment, and the movement" that rectifies the bum rap given to Lady Gaga's 2013 studio album, ARTPOP. "Despite its commercial success and artistic ingenuity, the album was unfairly panned by critics and maligned by the press," noted Alaska in a press release. "Until now."
The event, we're told, is already sold out—but all comers are invited to the 11pm afterparty, which offers ARTPOP-themed interactive installations throughout the venue. For tickets, visit seashellbikini.eventbrite.com.
Chelsea Community News recently spoke with Alaska via the modern miracle of email, posing five probing questions the artist answered with her usual flair.
Chelsea Community News: What we can expect at the ‪Sept. 6 performance?
Alaska: Basically, the venue will be packed wall-to-wall with Lady Gaga superfans. Then, some amazing Drag performers combine forces with some of the best singers and dancers Broadway has to offer—under the direction of my dear friend, super-talented Nick Laughlin—and we put on a show that is straight-up, non-stop ARTPOP worship.
CCN: Why did you choose this venue?
ALASKA: It has the dive bar vibe that makes me feel at home, but also has an amazing sound system, so we can show off the talents of the cast. Plus, 3DB is queer-owned and operated, which is even better.
CCN: The ‪Sept. 6 performance happens in the midst of ‪RuPaul's DragCon NYC (Sept., 6-8 at the Javits Center). Will you be attending?
ALASKA: September 7 is Nick's birthday so… we're going away immediately after the show to celebrate and be gay. But I really want to do DragCon NYC in the future.
CCN: Will Drag Queen of the Year be an annual event? How does its inclusiveness fit into your desire to advance the conversation about, and artistry of, drag? What are the things about the event you were most pleased with and/or proud of?
ALASKA: It was probably the most stressful thing I've ever done, but also one of the most rewarding. After the amazing response we had in Year 1, we are absolutely going to do it again next year. It was really an experiment to put inclusivity and diversity right at the front and center in selecting the contestants, and the experiment definitely showed that Drag is an art form for everyone. The level of fierceness that everyone brought to the stage really blew us all away, and I'm glad I've gotten to make personal connections with some amazing queens.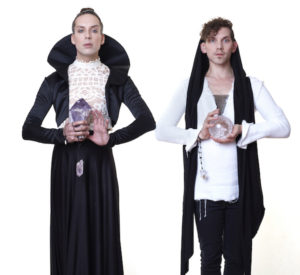 CCN: Your longtime musical collaboration with Jeremy, and your rapport with your brother on Bro'Laska (a series on WOWPresents, World of Wonder's YouTube channel) have produced work that sets itself apart from your solo performances. What's it like to work with these two individuals, and how have they influenced you, as a person and as an artist?
ALASKA: Sometimes I feel like ketchup, because I really feel comfortable being a condiment that is added to someone else's main course. My brother is incredibly honest and no bullshit, which makes an interesting dynamic, because we are able to call each other out freely, and often. And Jeremy has been my friend for years and years, and we love making music together. He's brilliant, and a genius—and working with him has been the pleasure of my life.
CCN: Feel free to talk about anything not covered in the above questions.
ALASKA: I have a new album called VAGINA, and it's available now on iTubes.
For more information on the artist, visit alaskathunderfuck.com.
Chelsea Community News is made possible with the help of our awesome advertisers, and the support of our readers. If you like what you see, please consider taking part in our GoFundMe campaign (click here). To make a direct donation, give feedback about the site, or send a Letter to The Editor, email us at Scott@chelseacommunitynews.com.