Those attending RuPaul's DragCon NYC (Sept. 6-8 at the Javits Center) will be steeping themselves in a delicious brew of the best and brightest queens from the RuPaul's Drag Race pantheon. Live performances, meet-and-greets, and an exhibit hall packed with tempting merch await—but the Con celebrates more than the present state of drag artistry. One of the many probing panels we're looking forward to takes place on Sat., Sept. 7, at 12:30pm, as some very notable seen-and-done-it-alls gather to chart the art form's evolution.
Returning with them to those thrilling days of yesteryear will be panelist Frank DeCaro, whose Drag: Combing Through the Big Wigs of Show Business is an encyclopedic tome that traces drag from its earliest roots up to the present. Written with scholarly precision and packed with seldom-seen photos, Big Wigs thrusts DeCaro from the realm of a not-so-mere comedian, actor, journalist, and radio/TV personality into the realm of cultural anthropologist. It's a hoot, and so is its author, who works the Q&A format with all the aplomb of a diva diving into a deft death drop.
Scott Stiffler, for Chelsea Community News: What perspectives on drag will the various panelists bring to the conversation?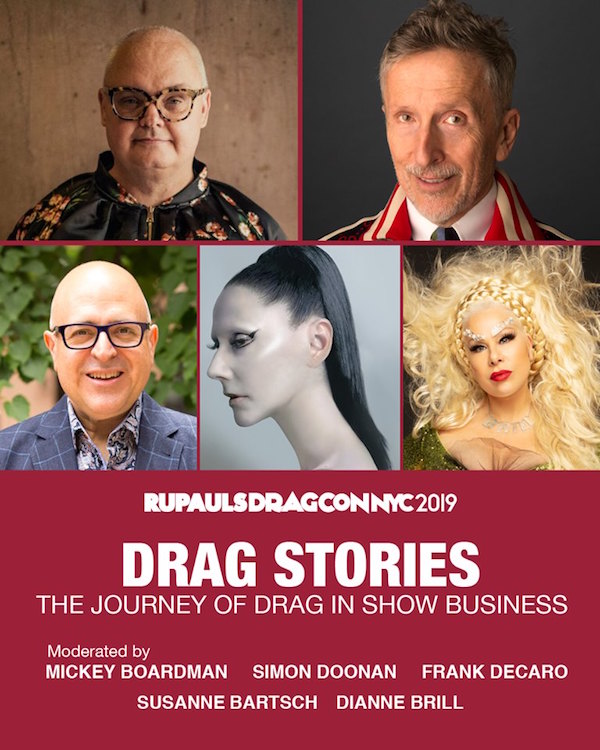 Frank DeCaro: In the last few months, I have been putting together and moderating panels all over the country in support of my book—and honestly, the people who've sat down with me to talk about the history of drag and their place in it have been amazing.
Lypsinka, Miss Peggy Lee, and Brini Maxwell in New York, Alaska Thunderfuck, Pandora Boxx, Bruce Vilanch, Miss Coco Peru, and Leslie Jordan in Los Angeles, Chilli Pepper and Lucy Stoole in Chicago, and so many more.
It's been just great.
I've been to three editions of RuPaul's DragCon in Los Angeles and I was eager to experience the New York version. This'll be my first time.
Anyway, a year or so ago, my buddy Simon Doonan—a man I've adored and admired for longer than either of us should admit to being alive—emailed me and said he'd been hired to write a history of drag book, too. Telling me this himself was a very gentlemanly thing to do. How many authors are that considerate?
My first thought was, I hope mine comes out first because Simon is much better known than I am, and even more, I hope we get to do a panel together when they're both in the stores. Fast-forward to a few months ago, the DragCon NYC people called and said we'd like you and Simon to do a panel together.
I was overjoyed, although I immediately thought, what the hell am I going to wear? Simon is so stylish. I better be on my fashion game.
I love spending time with Simon—we did a pilot for a gay version of The View together ages ago that really should have gone to series, but it was way too early—and we're always pretty funny together. So I thought, this is great. He's such a great cultural observer—wise and hilarious.
Then I found out that the New York panel was being moderated by our mutual friend Mickey Boardman—Mr. Mickey from Paper magazine! —and I thought, wait, this is even better than I imagined. He, too, knows about drag and pop culture and fashion and where they all intersect. Then I heard Susanne Bartsch—the legendary party-giver who really was responsible for some of the best drag fun I had when I lived in New York; her parties at the Copacabana back in the day were AMAZING—had signed on, and I nearly plotzed!
Finally, Dianne Brill, a fashionista deluxe who's sort of a female drag queen herself, agreed to be a cherry on the top of the tastiest drag-loving sundae ever.
I've never been in better company, and this time, all I have to do is pick out an outfit—I'm going with these new leopard print pants I bought! —and show up. Truly, if I weren't on this panel, I'd beg, borrow, or steal to be in the audience.
I hope it goes so well that World of Wonder hires us all for a late-night panel talk show!!!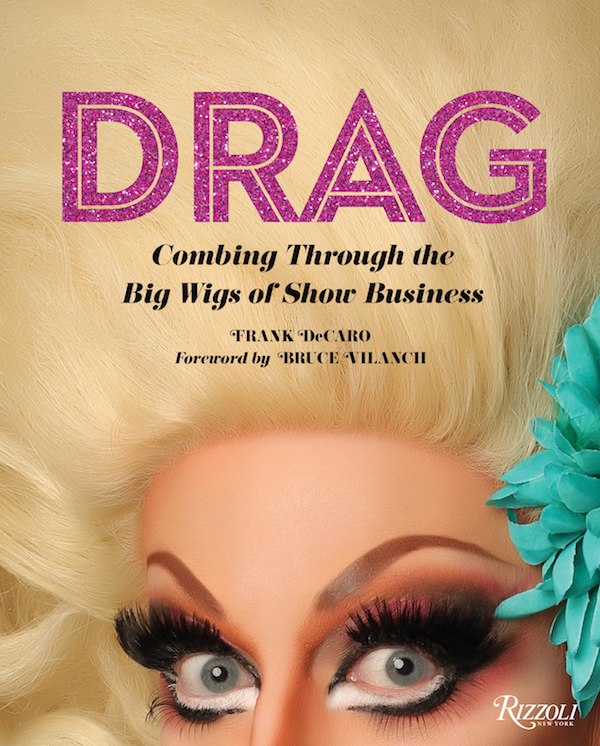 CCN: Talk about your recent RuPaul's DragCon LA panel—the feedback, the audience Q&A, the panelists. What lessons learned from LA will you bring to NYC?
DeCaro: The Los Angeles panel was on fire, but with panelists like Miss Coco Peru, Leslie Jordan, James St. James, and Drew Droege, how could it not have been fabulous? They're all smart and funny and genuine characters with real bodies of work and points of view. I got to moderate the discussion, which I'm not too shy to admit, I'm really good at, and also participate. It was a hoot. My questions were really good, and their answers were even better. The audience ate it up. The feedback was really positive.
I'm happy to be purely a panelist at DragCon NYC. I know we're all in good hands with Mickey Boardman moderating. He knows what he's doing because he's been doing it for a long time and he knows the topic. The trick is to let each person on the panel shine and he knows how to make sure each of us gets his or her time. The secret to a great panel is really to get people together who like each other—we've all known each other since the '80s —and people who really adore the subject matter—hello, it's drag and we all love it—and let us have at it, which we certainly will!
CCN: Talk about writing the book. What have been some of the most memorable things about its post-publication life?
DeCaro: The best thing about writing Drag: Combing Through the Big Wigs of Show Business was being able to shine a light on an art form that deserves more love than it has ever gotten. Drag artists are some of the funniest, most creative people who've ever worked in show business—and they've ALWAYS been a part of show business! I was able to nudge the discussion of their work along and share my appreciation for them. My book really is a love letter to anyone who's ever tucked his privates and put on a dress—and a few drag kings who've stuffed a sock in their trousers, too, I should add.
The best thing about promoting the book has been the enthusiasm for it. Almost everyone I've asked to do a panel has said, "Yes," and the two bigwigs who had to decline did so because they got major paying gigs the same night. I couldn't fault them for that. Everyone has understood that my intentions were pure. I wasn't writing a drag book to capitalize on a trend, I was writing it because I love drag and I love show business, and I want people—especially those who think drag began with Season 1 of Drag Race—to know about the many drag performers upon whose shoulders today's great drag artists stand.
Here's the biggest kick in the pants: When Lady Bunny had to cancel on the Barnes and Nobel Union Square panel because, at the last minute, she was asked to appear at the World Pride opening ceremony the same night in June, I asked a young, up-and-coming drag performer named Obscura to fill in. I figured if I couldn't feature the world's oldest drag queen—Bunny first lip-synched the Pussycat Song at a backers audition for the original Romeo and Juliet—I should recruit the youngest queen in my book. He just turned 20. Well, get this. Obscura, it turns out, is my college roommate's son. He's fabulous, but you want to talk about feeling old! I remember when he was a toddler and used to dance on his parents' kitchen table. Apparently, that table dancing was good training for what he does now!
Lady Bunny, I have to add, co-narrated the Audible version of my Drag book. She is so good and brings so much to it—she reads all the queens parts!—and I'm lucky to have her do it. I just love that self-described "pig in a wig."
The heat surrounding my Drag book has prompted one very unexpected development: Audible bought the rights to my first book, the "pioneering queer memoir" as we say now, called A Boy Named Phyllis: A Suburban Memoir. That book was fondly remembered, but out of print since the late '90s. Now, all these years later, it's going to live on as an audio book! I'm going to record it this fall!!!
I reread it for the first time last month while I was preparing the script I'll use to record it, and it really holds up, thank heaven! It's very Born This Way and, while set in the past, it is very contemporary in its attitudes about being LGBTQ and loving yourself—and the sex in it is REALLY dirty!!! I was a real horn dog in high school and I didn't hold anything back in the writing!!!
CCN: When last we spoke you expressed an interest in a multi-episode TV/streaming adaptation of the book. Any traction on that, or other tie-in projects on the horizon?
DeCaro: I'm working with a team of hotshot producers and we're pitching a six-part documentary series on the history of drag in show business, based on my book. They're setting up meetings for October. The sizzle reel to let the networks know what we want to do is almost finished! I'm so excited. I hope the series gets the green light! I wrote the book so I could get a photo of Herman Munster in drag into a hardback. Now I need to do a documentary so I can get clips of the late great Charles Pierce as Bette Davis on primetime television!
CCN: DragCon attracts young people and others who aspire to drag. What's your advice for somebody planning to enter the pantheon?
DeCaro: Honestly, my advice to young drag performers is the same as my advice to anyone doing anything. Learn what has come before you and then ask yourself, do I have something new and original to say, or at least a new way to say something that's already been said? The best advice in life is that old chestnut, "Be yourself because everyone else is taken."
CCN: I don't have a hard copy of the book yet (only the electronic copy I was sent for the Los Angeles Blade article). Am I going to get one at the Con, signed, along with a hug from the author during which my hands might go a little south? For those who aren't media types trolling for freebies, will you be doing a book signing at the Con?
DeCaro: We had to go to a second printing—after only two weeks in print!—and as soon as the books are in the warehouse, I'll ask the publisher to send you one! The groping is a gift with purchase, usually, but I'll make an exception for you!
Chelsea Community News is made possible with the help of our awesome advertisers, and the support of our readers. If you like what you see, please consider taking part in our GoFundMe campaign (click here). To make a direct donation, give feedback about the site, or send a Letter to The Editor, email us at Scott@chelseacommunitynews.com.