BY JOHN MUDD, PRESIDENT, MIDTOWN SOUTH COMMUNITY COUNCIL | Urban planning has failed to preserve and/or build communities, especially within Manhattan's Midtown Southwest. Although a relevant subject, it's beyond the scope of this single article to accurately examine. Thankfully, there are studies, books, and history that detail the misdeeds of the past.
Distinguished Professor of Anthropology and Geography David Harvey writes, in his book, Rebel Cities: "The question of what kind of city we want cannot be divorced from the question of what kind of people we want to be, what kinds of social relations we seek, what relations to nature we cherish, what style of life we desire, or what aesthetic values we hold."
Hopefully, the city planners of today are heeding the words of our historians, who've brought the important issues to light. Putting the aforementioned broader picture aside for a particular specific injustice.
"There are people who do what they believe is right, but as they say, 'The road to hell is paved with good intentions.' "—Aja Naomi King
Perhaps it was only a billionaire's desire to revamp the city of New York and make his mark, yet the vision was bereft of foresight and human consideration. During his tenure, former Mayor Michael Bloomberg "encouraged high-rise development in industrial neighborhoods, including the Far West Side of Manhattan, the waterfront in Williamsburg, Brooklyn, and in Long Island City, Queens," in order to meet the needs of globe-trotting corporate junkies, and to keep in lockstep with London, Tokyo, and other skyward rising cities.
Bloomberg sought to overhaul zoning rules "so that buildings in Midtown Manhattan can soar as high as those elsewhere." This window of opportunity was not to be missed, in spite of the administration acknowledging a weak market for commercial office buildings, "major changes in zoning were intended to make it possible to build when demand returned, as history suggests it inevitably will." The Real Estate Board of New York, the industry's lobbying group, its president, Steven Spinola, was quoted as saying, "We're pretty happy with the direction this is going in." Under the rezoning measures, the city would essentially sell the air rights to developers. The builders would pay for a "district improvement bonus" in order to go 20% above the existing limits. "The revenue would be used to improve subway connections and public spaces in the neighborhood." —The NY Times article, Bloomberg Pushes A Plan To Let Midtown Soar.
With the subways being more distressed than ever before, the question remains, where is that bonus?
"The city issued $3 billion in bonds to build a boulevard and a subway extension to Hudson Yards, but the flow of revenue from the sale of development rights there to pay for the bonds has been slow. So the City Planning Department inserted a so-called sunrise provision, in which developers in the Grand Central area would have to wait five years before they could start building. Presumably, that would reduce the competition between the two areas and leave time for Hudson Yards to gather momentum."—Bloomberg Pushes A Plan To Let Midtown Soar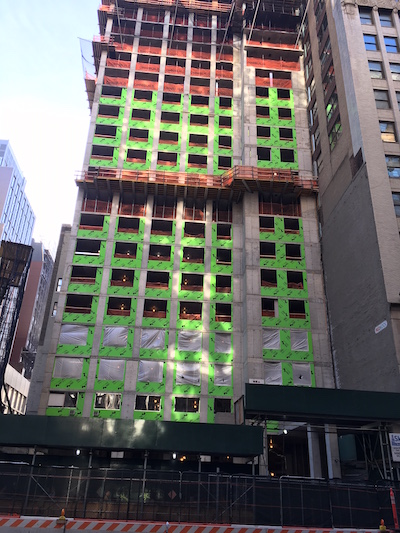 In Bloomberg's rush to revamp Midtown, sanitation and public safety suffered—congestion problems on subways and streets, taxation on infrastructure, and people's morality, seemed an afterthought. Residential development and concerns fell even lower on the list of priorities, with low-income and affordable housing, barely a consideration.
Bloomberg is a billionaire businessman and founder of Bloomberg News. He served three terms from 2002 to 2013, twice as a Democrat and once as an Independent. But he set the train in motion for a much bigger crime.
"The Bloomberg administration has been pushing through more than $12 billion worth of real estate projects in its waning days, trying to solidify the mayor's claim to having transformed the face of New York City and lock in plans before Bill de Blasio takes over Jan. 1."—Going Out With A Building Boom, Mayor Pushes Billions in Projects
The full impact of Bloomberg's nearsighted master plan is seen in the facades of hotels that provide wealth for the few and instability for the many.
Hotel development runs roughshod over the city and shapes its landscape with little regard to communal responsibility, forcing low-wage earners to travel long distances to earn their living.
"Since 2010, there has been rapid increase in hotels in M1 districts, particularly in areas near transit. Citywide, 13 percent of existing hotel rooms are in M1 districts, whereas 30 percent of hotel rooms in the pipeline are slated to be developed in M1 districts." —NYC Planning
The oversaturation of hotels in our city is death to our communities. Look no further than 9th Avenue in Hell's Kitchen, from W, 35 to 40th Streets. The tenement buildings, which serve low- to moderate-income wage earners, are disappearing. The Midtown area was never known to be heavily residential, and less so today (see population by consensus tracts on NYTimes poverty map).
Francis Clines, in his 2015 New York Times article What's Happening to New York's Skyline? wrote, "Get used to the rise of what are called pencil towers. There will be more, with a dozen or so planned in the next several years in mid-Manhattan, as the city's silhouette yields to a new era of Slim Jim buildings with small footprints that build straight up, not out, as 432 Park does from a base of only 93 feet by 93 feet."
"The project, set to rise near Lord & Taylor between Fifth and Sixth avenues, is being designed by Nobutaka Ashihara, who is also designing Moinian's 20-story 124-room hotel at 525 Greenwich St. in Hudson Square, The Post has learned. That hotel will overlook the low-rise UPS complex. In March Moinian bought 1150 Avenue of the Americas, where he intends to build a five-star 50-story hotel tower with 400 rooms. He also acquired the legendary Garden City Hotel on Long Island's Gold Coast. "—NY Post, Dec. 15, 2012
The zoning for the Midtown area will likely allow for further hotel development.
"Transient hotels (Use Group 5) are permitted as-of-right in C4, C5, C6, C8, C1-5 and C2-5 districts and equivalents. In C2-1 through C2-4 districts hotels are permitted only within 1,000 feet of a highway interchange. Hotels are also allowed in Light Manufacturing districts (M1), which do not permit new residences, most Mixed Use Special Districts (MX) and paired M1/R districts mapped as part of other Special Purpose Districts. Hotels are prohibited in all Residential Districts and Medium and Heavy Manufacturing Districts (M2 and M3)." —NYC Hotel Marketing Analysis
The NYC Hotel Market Analysis notes that the establishment of "Special Purpose Districts" was done by the City Planning Commission "to achieve specific planning and urban design objectives." The Special Purpose Districts "do not have specific controls regarding hotels, but there are some exceptions":
–Hotel Special Permits exist in parts of Clinton, Hudson Square, Tribeca, and the Vanderbilt Corridor in Midtown
–The Garment Center Special District prohibits conversion to hotels in what is known as Preservation Area 1, east of Eighth Ave.
–In Preservation Area 2, btw. W. 35th and 40th Sts. and Eighth and Ninth Aves., new hotel construction is permitted though conversion of larger buildings to hotel use is permitted only by authorization of the City Planning Commission
The NYC Zoning and Land Use Map has additional details of permitted use for lots, blocks, and streets.
Seizing upon Bloomberg's deregulation of air rights within midtown, the developers gobble up small tenement buildings and other properties to develop accommodations for tourists. Stand on 39th St. between 8th and 9th Aves. and spit in any direction and the likelihood of hitting a hotel is good.
The two-block walk on W. 40th St. from 7th to 9th Aves., yields a total of eight hotels in operation, and two more under construction.
The one-block walk on W. 39th St. from 8th to 9th Aves. yields six hotels, and one under construction.
Skip to W. 38th St. btw. 8th and 9th Aves. and there are two, possibly three hotels under construction.
On the west side of 9th Ave. btw. 38th and 39th Sts. sits a large hotel that boasts a 24-hour doorman and concierge, housekeeping, valet parking, "state of the art" and "superbly" equipped fitness center, spa service, five-star restaurant, and roof top lounge with bar, barbecue area, and jacuzzi. This 9th Ave. behemoth squashed flat approximately five tenement buildings, one of which housed the beloved Supreme Macaroni Company, with its storefront of endless varieties of homemade noodles, which were sold by weight and packaged in brown paper bags. Star-studded pictures decorated the walls of the back room, where Italian grandmothers waved you over to sit and drink wine and mangia saucy dishes on checkered tablecloths. During this post-faux growth that comes in the form of slick facades and towering structures, it could be said that The Supreme Macaroni Company had seen it's day. Yet it stands as just another sad reminder of how "community" is being pushed far from its Hell's Kitchen neighborhood.
Just a few blocks away is another large hotel being constructed on the north side of W. 37th St. and 8th Ave. And the $3,400 median rental cost does not bode well for our city and residents therein, but rather plays a significant role in our homeless and housing problem.
Manufacturing, particularly the garment trade, has nearly vanquished, leaving behind some showrooms and fabric stores. Hotels are taking over like weeds in an unkept garden.
"According to data from the New York City Department of Buildings, there are currently 276 hotels with 37,986 rooms in the supply pipeline across New York City. These include hotels that are both under construction and in pre-construction, with hotels in pre-construction encompassing both those projects that have led an application with the Department of Buildings and those that are in pre-application…Manhattan has the largest share of rooms in the pipeline (18,958 rooms), followed by Queens (10,286 rooms), and Brooklyn (6,707 rooms). Of these, 34 percent of hotels and 30% of rooms will be located in M districts."—NYC Hotel Marketing Analysis
While there are "Some real estate analysts and private developers who have expressed concern about oversupply in New York City" and that "banks are not financing new hotel projects until the current pipeline is absorbed," there are those "consultants," Jones Lang LaSalle (JLL) and Lodging Econometrics, who are "confident about future growth."
"Citing New York's position as a global center of business and tourism and the resiliency of the local hotel market, JLL projects absorption of new hotel supply by the end of 2018 and a rebound in growth. Many of the developers interviewed by the Consultant Team for this report, however, indicate that supply in New York City, in its entirety and in particular in boroughs other than Manhattan, has been catching up with demand. New York City experienced little to no hotel development between 1997 and 2007, despite steady increases in demand." —NYC Hotel Marketing Analysis
The New York City Department of City Planning's NYC Hotel Marketing Analysis report was prepared by BJH Advisors, LLC (BJH) "a real estate development and advisory firm, and their assisting real estate consultants. The report with its primary data sources which include interviews with hotel developers, tourism industry representatives, and local economic development professionals," maps, and analytical affirmations give plenty reasons to build. But it also confirms the eagerness for hotel development has little to do with the public's interest for them, and more to do with financial gain for developers.
It sounds like more hotels are on the way to having people travel from the outer boroughs to work in their kitchens, in room service, house cleaning, and at their overpriced restaurants to service visitors to NYC.
Herein this race to extract wealth is the homeless connection. BRC (Bowery Residents' Committee), whose business has been the homeless, says:
"In New York City, the issues of homelessness and affordable housing are intertwined. Shelter use is at an all-time high: in the single adult system the average daily census has increased 33% over the last three years and length of stay has risen 20%. A major contributing factor to this situation is the inadequate supply of housing options affordable to extremely low-income individuals. For our clients, and our City, the consequences [of limited affordable housing options] have been devastating. Data from the Mayor's Management Report show fewer exits, longer stays and higher rates of recidivism."
Social issues cannot be put in the hands of profit-motivated corporations without heavy oversight, and societal engineering must favor community building. Zoning shifts that favor developers, suffocate communities.
The Homeless and Urban Planning Connection is written by John Mudd, President of the Midtown South Community Council. A version of this article is represented in MSCC's Homeless and Housing Study, 2018.
NOTE: Contributions to our Community Voices section do not necessarily reflect the opinion of Chelsea Community News.
Chelsea Community News is made possible with the help of our awesome advertisers, and the support of our readers. If you like what you see, please consider taking part in our GoFundMe campaign (click here). To make a direct donation, give feedback about the site, or send a Letter to The Editor, email us at Scott@chelseacommunitynews.com.