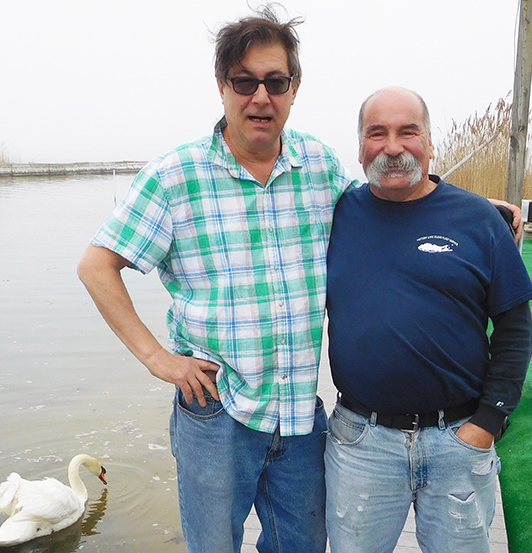 BY DONATHAN SALKALN | Our lives are blessed in having other Americans grow up with big hearts, big muscles, and lots of guts, and then serve in New York City Fire and Police Departments.
While I sleep in Chelsea, just feet from my carbon dioxide and smoke detectors and a three-lock apartment door, they are out there, on call for any type of emergency, at any time of day. Today I write about my fiend, retired FDNY Firefighter Steve Delgado—but I might as well be writing about all of them.
Born and raised in Spanish Harlem, Delgado drove the engine and tiller truck for Engine Company 24, that was housed with Ladder Company 5, serving the New York City's Lower West Village during the 1980s and '90s. He fought back tragedy—not only in Lower Manhattan, but on details wherever the city needed fill-ins, wherever fireman needed mutuals (the swapping of shifts), and wherever tragedy struck.
Delgado was mostly a nozzle man. "Back then, we had a team of five, and everyone was trained for every job, be it the nozzle man, the back-up man who stood shoulder-to-shoulder with the nozzle man, because when the water was turned on, it could blow you over." Delgado said.  "We had a door man, who checked the front door so that the door wouldn't close and pinch the hose. We had a chauffeur, who's the motor pump operator. And then we had the standpipe guy, for high-rise buildings. Then the city cut out the doorman, one of the most important jobs," Delgado explained, describing past NYC budget cuts. "When the door shuts on the line, and they went to charged the line, the engine company has no water," Delgado exclaimed. "That's how another company died."
Over his 20+ years with the department, Delgado fought car fires, low-rise fires, high-rise fires, and everything else smoking or aflame. In 1993, Delgado handled the hose when a van filled with chemicals blew up in the underground parking lot of the World Trade Center (their response earned a unit citation). He worked 1994's Watts Street fire in SoHo, that claimed the lives of firefighters James Young and Christopher Siedenburg of Ladder Company 5. He was there in 1995 when fire ravaged Long Island's Pine Barren fire, which leveled 7,000 acres. He was a first responder in 1996, when Fight 800 blew up over the Atlantic.
Delgado retired from the NYFD in 1997, leaving his son Michael, an NYPD officer, to continue the family's bloodline of public service. But after the September 11, 2001 attack on the World Trade Center, Delgado returned to work.
"I went down there from when it happened 'til nearly Christmas," he said. "We didn't have conversations with nobody. Just get in there and pull stuff apart, and let's see who's alive, let's see who's dead. We would hear crying but, with all the heavy machinery going on, you didn't know where they were," Delgado explained. "The guys that were there, though, gave it 1,000 percent, not a hundred percent, 1,000 percent! You had firemen, you had NYPD, you had Transit."
"The disaster down there, that amount of dust," he continued. "The spokesperson for the city said —'Oh, don't worry, the air quality is perfect. There's no asbestic in the air.' That whole building was filled with asbestic. From the piping on down, everything was asbestic."
In between the past three years of chemotherapy treatments, Delgado mustered the strength to be a first responder to Puerto Rico's 2017 hurricane. He helped clear roads and bring relief to so many others in need, while not feeling sorry for himself. "I have Multiple Myeloma. It's all over my body," he said. He's also had two neck surgeries, so as to retain movement of his arms. "Over $40,000 I paid for those two surgeries, and I still got no feeling in my hands."
Disease has yet to claim Delgado's sense of humor. When I asked him if the cancer has reached his brain, he laughed. "How could cancer be in my brain if I don't have any brains?"
Delgado endured many laborious hearings for compensation, in which officials questioned his Ground Zero first responder service. "They just wanted me to die," Delgado told me. "Most of those working down there were already dead, yet luckily I finally found guys that seen me [at Ground Zero], and they vouched for me."
Someday, Steve Delgado might also receive first responder benefits from the September 11th Victim Compensation Fund that was recently renewed through 2090.
Chelsea Community News is made possible with the help of our awesome advertisers, and the support of our readers. If you like what you see, please consider taking part in our GoFundMe campaign (click here). To make a direct donation, give feedback about the site, or send a Letter to The Editor, email us at Scott@chelseacommunitynews.com.