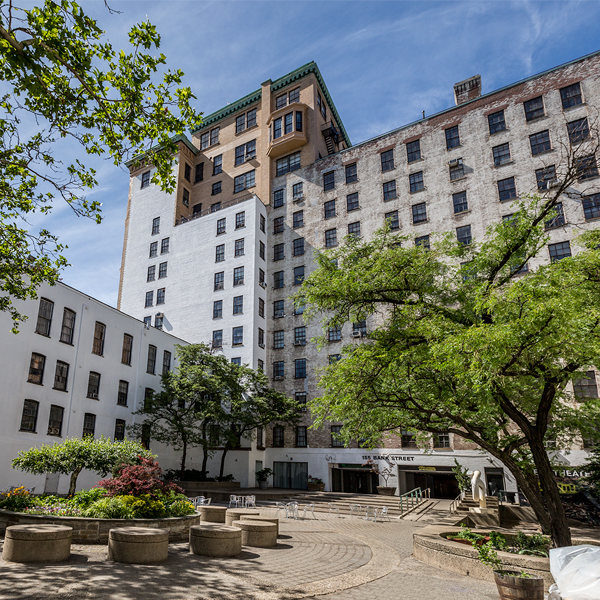 BY PATRICIA JONES (Executive Director of Westbeth) | New Yorkers have long taken pride in our city's cultural wealth. From Lincoln Center to the Met Museum to the Downtown dance scene and Off-Off Broadway theaters, New Yorkers care about the arts.
This pride is particularly strong in the Village, a community that has been a home for the arts for nearly a century. Our city, however, is becoming increasingly inhospitable to artists themselves. Artists not already backed by celebrity or familial wealth struggle to find housing and work space that can serve their needs, within their budget. And as many young artists push further into upper Manhattan and the outer boroughs—gentrifying neighborhoods now largely populated by marginalized communities—artists are largely priced out of New York's cultural core.
As long as New York prides itself on our world-class talent, we'll need to make space for that talent, through affordable artist housing and workspace.
Since 1970, Westbeth has provided affordable live and work space to nearly 400 artists and their families. Converted from the former Bell Laboratories campus in the West Village, Westbeth was one of the first examples of large-scale adaptive reuse of an industrial building—and the nation's first example of purpose-built affordable housing for artists of all disciplines.
This conversion gave rise to a vibrant, dynamic community, where many of the late 20th century's greatest artists lived and/or worked. Merce Cunningham, Keith Haring, Diane Arbus, Joseph Chaikin—artists who came to define both New York and their own disciplines—found affordable, creative space at Westbeth.
More importantly, Westbeth created a haven for all artists—celebrities alongside those less widely known—during the Village's turbulent evolution. While in 1970 Westbeth was located in a derelict manufacturing district, the surroundings have rapidly transformed from a bohemian, artistic center into a neighborhood populated largely by the rich and famous. But, because of its commitment to affordable housing, many of Westbeth's original artists remain. Not only do these individuals and families have homes in which they continue to pursue their craft, they help to carry forward the spirit for which the Village initially earned its cultural cache.
While all New Yorkers understand the challenge of finding housing with ample space within their budget, the need for affordable artists' space extends beyond just housing. Studio space within Manhattan and much of Brooklyn also remains at a premium. Artists need studios in which to work, paint, choreograph, rehearse and record, and write. They need this space in order to create the work we love.
And this isn't only true for those struggling in their early careers. Well-regarded artists and collectives also struggle to find affordable studios that serve their needs. Westbeth prides itself on working to address this need, yet there is still so much more to be done.
These needs are even more pressing now than they were in 1970. And while we are proud of our work at Westbeth to address them, our resources are limited and our space is finite. While several affordable residences, like Manhattan Plaza and El Barrio Artspace PS109, have followed in Westbeth's footsteps, our city still fails to fully support the needs of our artists.
If we New Yorkers truly value the arts as much as we say we do, it's about time we made it possible for artists to live and work here without barely scraping by or moving to other cities more welcoming—and affordable—than our own.
NOTE: Contributions to our Community Voices section do not necessarily reflect the opinion of Chelsea Community News.
Chelsea Community News is made possible with the help of our awesome advertisers, and the support of our readers. If you like what you see, please consider taking part in our GoFundMe campaign (click here). To make a direct donation, give feedback about the site, or send a Letter to The Editor, email us at Scott@chelseacommunitynews.com.