BY DONATHAN SALKALN | While the last of the June 20 thunderstorms had passed through New York City by the start of the Chelsea Reform Democratic Club's monthly community meeting at Hudson Guild's Elliott Center, a downpour of passion continued to pound the Chelsea community.
The night's panel program, called NYCHA's Fulton Housing Debate, brought together a full house of New York City Housing Authority (NYCHA) and Fulton House leaders, residents, and housing activists, along with club members and guests. The event gave attendees the opportunity to fully voice their concerns, some of which included a clash of classes, with the rich and their money consuming Chelsea, just doors away from working class residents of Fulton Houses, fighting for their existence.
NYCHA's plan, under the approval of Mayor Bill de Blasio, includes shifting residents of Fulton Houses from Section 9 to Section 8 privatized vouchers, moving NYCHA operations and maintenance to private landlords by way of Rental Assistance Demonstration (RAD), build two towers of 70% market-rate units and 30% affordable units that will rise from the combined footprints of two leveled Fulton Houses buildings, and, possibly, two Fulton Houses parking lots—and also sell air rights to a developer, who plans to build a tower at the location of "The Park" restaurant (on 10th Ave. btw. W. 17th & 18th Sts.). The plan guarantees the residents of the two demolished Fulton Houses relocation to a new building built on the footprint of a recently opened water park. The plan will also renovate all units. Among the many new rules in the RAD Handbook is a "rightsizing" clause that allows moving Fulton's tenants to smaller or larger units, according to their current family size, in order to maximize affordable housing.
Joining the night's panel were NYCHA's Brian Honan, Director of the Office of Intergovernment Relations and NYCHA's Jonathan Gouveia, Senior Vice President for Real Estate, along with Victor Bach, Senior Housing Policy Analyst of Community Service Society of New York (CSS), Lucy Newman, Staff Attorney of The Legal Aid Society, and Louis Flores, an organizer with Fight For NYCHA, an advocacy group that is rallying to save two of the 11 Robert Fulton Houses from demolition.
"Average rents in Chelsea are almost $5,000 a month, so we need to ensure that affordable housing is protected. We have about $168 million of work we need to do at Fulton Houses, and are exploring the tools that will bring additional funds into the community to make the repairs," said Gouveia of the Fulton Housing plan, referring to the construction of three buildings, converting residents to Section 8 funding, and the sale of air rights while committing to keep Fulton current resident's rent at 30% of income, automatic lease renewals, the right to hearings to resolve grievances, and succession rights (which are not allowed for newly admitted residents, according to RAD's handbook, and might block future funding),
Said Honan, "NYCHA doesn't have the funds to address Fulton's problems. It has a boiler that is inconsistent. I can't tell you the number of nights I get calls from residents and from elected officials saying that there's no heat or hot water at Fulton." (Note: Fulton has no boilers, as the complex is fed by the Con Edison's steam system, although piping has experienced major steam leaks.)
"I can't tell you how many calls and e-mails from people telling me they're stuck in the elevators or are stuck on the first floor, and they're people with disabilities that can't get up to their apartments," Honan noted. "Also, I know there is a plumbing problem in Fulton housing, which is a disaster waiting to happen."
Bach painted a picture of doom for NYCHA, referring to Section 9 resident federal funds that have been drying up for decades. "The fate of NYCHA and its half million residents are inexplicably tied together like two survivors on a sinking ship. It's got a $32 billion capitol backlog and RAD is one way of taking care of repair." Bach said. "In all likelihood, NYCHA will move forward with their [Fulton] plan, regardless of opposition."
Newman reminded the group that NYCHA was very close to being placed into receivership and taken over by the U.S. Department of Housing and Urban Development (HUD). "The reality is, if NYCHA doesn't comply with its obligations under that federal consent decree, it is very possible that HUD, under this Trump administration, could take over NYCHA and demolish it or sell it off. We really are at a critical time of making sure that we save NYCHA and save people's apartments," she said, adding, "While demolition is a very scary word, and historically, has not been successful in the two times they have done it in New York City, if there were the right protections in place, it might be something that residents should consider."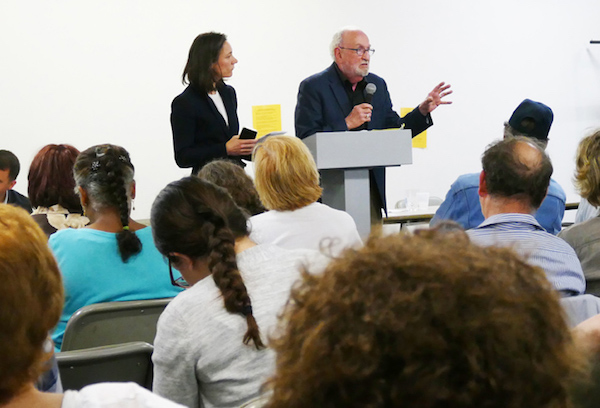 Both Bach and Newman presented the group with a "RAD Bill of Rights" that they recommended to be adopted:
Let resident leadership fully participate in the development of the plan.
Resident leadership should have a strong voice in how the various stages are put forth, from the demolition, construction, and relocation of residents.
Have a residential ballot requiring that a majority of residents vote in favor of the plan in order for it to move forward.
Flores, speaking on behalf of skeptical Fulton Houses residents, layed into NYCHA's plan as if it were another chapter of the city selling out to developers. Said Flores, referring to all the recent tenant rights won in Albany, "It's time for public housing residents to be protected from the onslaught of the real estate industry. They are going to try and turn public housing into a for-profit business." RAD, he said, "is not enough. They're going to sell air rights above Fulton Housing and let gentrification go on unmitigated all around the community. What will happen when Chelsea becomes a very high-end, high-income neighborhood. The services you need will not be affordable… The only reasonable thing that has been said tonight, is whether or not the tenants should have a ballot vote."
When the panel was opened to questions, Kitty asked, "What are you doing with our rent money?"  Honan answered, "Rent is about one third of our operating budget and it goes toward repairs and staff. But it doesn't cover the full costs of subsidizing the apartment. Affordable housing, no matter what type of housing it is, needs a subsidy. The rent, plus the subsidy we get from the federal government allows public housing to exist."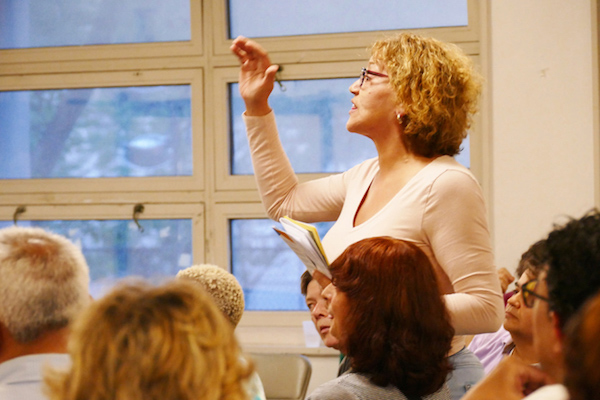 Mary asked: "Under RAD, if you're a working family and your income exceeds a certain number, then you fall into the HOTMA [Housing Opportunity Through Modernization Act of 2016] program. Even overtime is included. What happens to the families that get their rents pushed to market rates?," Honan responded. "When people go over the income limit of 120% of the area's median income (AMI), public housing has a choice. Either they evict them or they ask them to pay fair market rent. Fair market rent is not market rent, it is fair market rent."  
Marni asked: "The U.S. Government Accountability Office did a study in 2018 of 26,000 apartments under RAD, and found almost 60% experienced rent hikes and the National Law Project talks about the increase of landlord harassment. If someone came up to you and said, 'We're going to demolish your building and you have to move,' what would you do?"
Bach responded: "I've never heard so much fearmongering and misinformation being passed around. If you want to take a look at various RAD studies, I'll talk with you at any time. From those people who are critics of what NYCHA is trying to do to improve your living conditions here in Fulton Houses, I have not heard one positive word of what to do over the next year, over the next five years, or over the next ten years to improve conditions. You got to stop fearmongering and you've got to start thinking."
Bach's "start thinking" comment didn't go over very well, as the word "racism" spilled into the meeting's conversation.
Flores, responding to Bach, said, "Mayor de Blasio says 'I don't have any money for NYCHA. Too bad, we're going to let all the landlords come in.' At the same time he says he has no money, he found $10 billion to build four new jails. We want that money for housing… Fight For NYCHA is a group that's working with Fulton residents and we have a financial plan to find the money. There are large corporations with offices in New York that pay no taxes. If we assess a one percent tax on corporations of a certain size, with an office in NYC, that is a reasonable plan."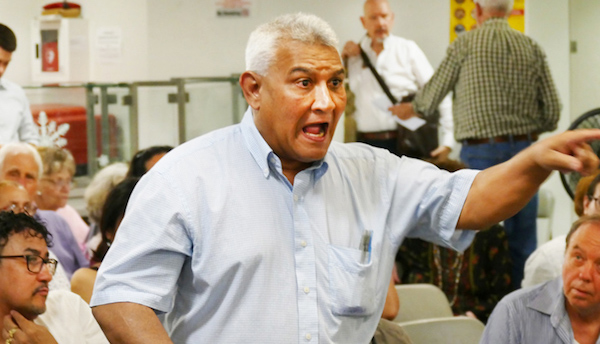 Daniel asked, "Why did NYCHA choose the Fulton Houses and not any other properties?" Gouveia responded: "We know that the neighborhood is changing and affordability is decreasing and this is a way of preserving affordability permanently in this neighborhood."
Flores responded: "In Chicago, they infamously demolished a very large public housing development. It had been also neglected over the years, intentionally. The real estate developers had begun to find the location very attractive. It's no accident that they're going to use demolition at the Fulton Houses. The first building is right next to Chelsea Market and the other is just blocks north and within eyesight of the High Line. This is all prime real estate."
Pat asked, "The new guy just hired to head NYCHA is making more than the mayor in salary, yet NYCHA doesn't have money? What's his role? No one on the panel responded to de Blasio's hiring of Gregory Russ at $400,000 a year. It's been reported that, as head of the Minneapolis Public Housing Authority, Russ was a big booster of private management-run public housing."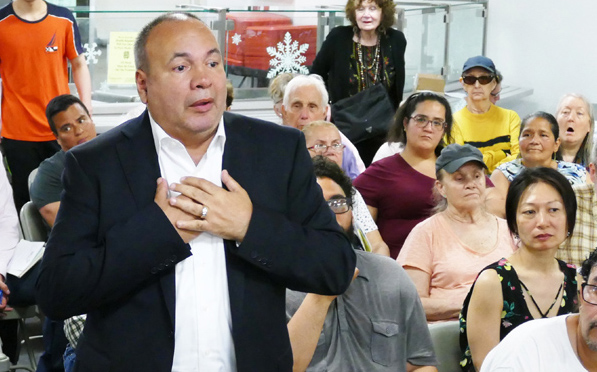 Miguel Acevedo, President of the Fulton Houses Tenants Association, spoke, saying, "You don't want to end up like Chicago where they got rid of public housing. They are giving us the opportunity to be the voice to protect us. They're telling you, 'Come together as a common ground group to do what's best for Fulton Houses.' "
Flores responded: "You've heard that Fulton Houses needs $168 million, which comes out to two-tenths of one percent of the city budget. What does that tell you about the attitude of the people who have a say over the future of public housing?" Flores continued, saying, "NYCHA was created in 1934 as a campaign promise by Mayor La Guardia. NYCHA was the first of its kind. It was funded mainly through the city. Three years later, the United States passed the U.S. Housing Act, and that was what created public housing for the rest of the country. We need to get the money from the politicians."
Jackie asked, "There's construction everywhere. They come in and pay $90 million for an apartment and they can't help NYCHA? In Chelsea, it is not right to tell us that there is not $168 million to maintain us, moving forward. The building next to us sells the apartments for $15 million so if you have 15 floors, how much in taxes are they paying?" None on the panel responded to the question of severe class disparity in Chelsea.
As time had expired, CRDC President Judy Richheimer, who handled an often contentious questioning period, adjourned the meeting. All went home, some to their beds, and others whose beds might be uprooted.
NOTE: Donathan Salkaln, who authored this article, is an Executive Committee member of the Chelsea Reform Democratic Club.
Chelsea Community News is made possible with the help of our awesome advertisers, and the support of our readers. If you like what you see, please consider taking part in our GoFundMe campaign (click here). To make a direct donation, give feedback about the site, or send a Letter to The Editor, email us at Scott@chelseacommunitynews.com.