Like its always eclectic, often eccentric namesake neighborhood, Chelsea Community News finds, at the core of its identity, the collective wisdom and creative drive of its multi-tasking contributors. Longtime Lower East Side resident Puma Perl is a perfect example. The writer, performer, producer, curator, and multi award-winning journalist is also a widely published poet, whose latest work, Birthdays Before and After, will be celebrated at a Dec. 3 book release party. Poet Jack Henry calls it "a singular work, much like Puma Perl is a singular voice, and your life will be vastly improved when you buy this book… Puma Perl's poems make a difference. They inspire, they intrigue, they reveal the self in an explosive way."
The launch celebration for Birthdays Days Before and After takes place Tues., Dec. 3, 8:30pm at Lady Stardust (upstairs at 2A 25 Avenue A, corner of East Second St.), part of Rick Eckerle's Tuesday Night Live Undead series. After the usual open mic (7:30-8:30pm), Perl promises "a gang of poetic and musical miscreants and general troublemakers. Free admission, 2-drink minimum. Books will be available for purchase and signing, and can also be ordered from Amazon by clicking here. Find more info about Perl at facebook.com/pumaperlandfriends.
Get to know more about the author, in her interview with The Literary Chick. Published in full, below, you can access its original posting by clicking here.
What books are currently on your nightstand? (Or wherever you keep the ones you're working through?)
They're stacked up on the step ladder near my bed, the corner table, the coffee table. Right now, I'm rereading a short story collection by A.M. Homes, "The Safety of Objects." I love her darkness. I always have one of Bukowski's books handy because you can open to any page and find something to read in the middle of the night. At this moment, it's "Mockingbird Wish Me Luck." In fact, I opened it randomly just now to a poem called "left with the dog," which is significant to me because I'm writing a poem called "Die Before the Dog." It's one of my goals, but will probably not be met. I have a poem published in "Sensitive Skin, Selected Writing 2016-18, edited by Bernard Meisler, and I've been reading the short stories in it. Great book. Also, Michael Lally's incredible volume of poetry, "Another Way to Play," Mike Edison's "Sympathy for the Drummer, Why Charlie Watts Matters," and "Summer of Hate," by Chris Kraus, which I haven't started yet. 
What's the last great book you read?
I just finished a collection of short stories by an author who is new to me, Binnie Kirschenbaum. It's called "History on a Personal Note." I've always been fascinated by the way writers can link short stories in unexpected ways that tie the collection together. The first time I got hooked on this concept was reading Lorrie Moore's "Anagrams" and I've wanted to write a short collection for a long time. Kirschenbaum's main protagonist showed me the way to do it, maybe because I identify with the character as well. It was like I put the puzzle together, finally. I started working on stories again, thanks to this book, so, while I don't know if it's a "great book" it was great for me.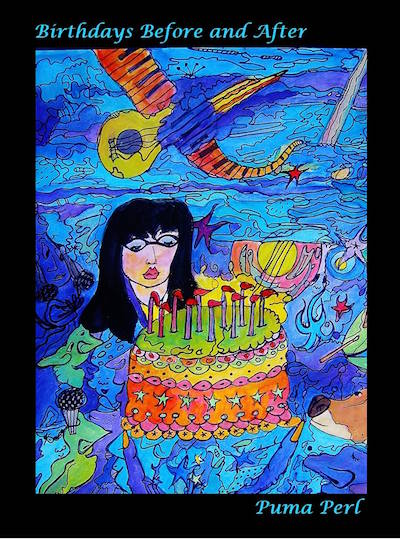 What's your favorite book no one else has heard of?
I've been obsessed with post-apocalyptic material for decades, even before the genre turned into our nightmare reality. "Random Acts of Senseless Violence," byJack Womack, published in '95, follows an ordinary upper middle class 12-year-old girl as the country falls apart under extreme right-wing fundamentalist rule. She lives in Manhattan, which is burning down and as you read her voice changes as she adapts to her new survival. It's how I picture the country if Pence were to have his way. Not that things aren't bad enough, don't get me wrong. In 1995, when I first read it, it seemed a lot more fictional than it does not.
How do you organize your books?
That's a timely question because I just re-organized my poetry section, which took over a week and I'm still not happy. My OCD'd out categories often overlap – signed books, collections I'm published in, friends' book, Beat Generation, academic, Modern, Romantic, and more. I have so many friends' books that I feel the need to arrange them as to how well they get along. And, of course, that can change. The rest of the book are arranged loosely by genre, or sometimes whenever I can find room. All of my textbooks and clinical books are in cabinets where I don't have to look at them.
Whom would you want to write your life story?
I don't want my life story written by anyone. I've read too much of my own story in books like "Take the Long Way Home" by Susan Gordon Lydon and Julie Crenshaw. It doesn't need to be told again, and enough of it is revealed in my own poetry and stories. That said, I wouldn't mind inspiring a character in a Richard Price book.
Would you like to tell us about your newly released book, "Birthdays Before and After"?
It's my fifth full length collection, published recently by Beyond Baroque Books. They invited me to publish, so I agreed. I'd written quite a few poems on or around my birthday over the years. It always seems to be a time of change and a time of chaos as well. Iris Berry, my friend and editor, made the great suggestion of arranging them seasonally and they seemed willing to present themselves in that way. Like many writers, I love to talk about my work and I hate to describe my work. Some of them have inspired new forms, song lyrics or short stories. I wish you were here for the book party!
Chelsea Community News is made possible with the help of our awesome advertisers, and the support of our readers. If you like what you see, please consider taking part in our GoFundMe campaign (click here). To make a direct donation, give feedback about the site, or send a Letter to The Editor, email us at Scott@chelseacommunitynews.com.