BY DONATHAN SALKALN | For as long as I can remember, I've had a black incisor tooth in the front of my mouth. I only go to the dentist if I have a major toothache, always in the back of my mouth, yet every dentist has always turned their attention and their tapping of pliers on my black incisor tooth in the front. They tell me that the black tooth is dead. I tell them it's not dead. They tell me the tooth needs to be pulled and replaced by a shiny porcelain one. I tell them I can feel the tooth being tapped by their pliers, and to stop tapping the tooth, as it is fine. They argue. After 60+ years, I still have my black tooth, and—along with my canine teeth—do a great job in tearing through an occasional juicy shell steak.
Sour perceptions and greed are destroying the soul of New York City. It's become a fight for not only saving mom-and-pops stores but also saving mom-and-pops, their children, grandmas, and grandpas. Like my dentists, the developers, our Mayor, and elected officials seem to chomp at the bit to pullout what they feel are eyesores. The gentrification of neighborhoods means profits to developers, and higher tax receipts to the city and state. Their gentrification efforts have resulted in the displacement of not only beloved stores and restaurants, but also beloved neighbors—at a clip that shouldn't be swept under the rug.
The Department of Housing and Urban Development's Annual Homeless Assessment Report for 2018 found that on a single night in Jan. 2018, a total of 78,676 experienced homelessness in New York City. But that's just part of the number. A survey by Advocates For Children of New York (AFC) reported 114,000 NYC's students were homeless, either living in shelters (34,000) or with extended family or friends (73,750). Fewer than a third of New York City students who are homeless read proficiently, and 85% of homeless children are black or Hispanic.
Although it seems to be a citywide trend, Chelsea could be considered ground zero of gentrification's big squeeze. Besides new towers  rising faster than milkweed, and storefront businesses morphing into high-end retail, Chelsea is even now under threat of the Mayor razing buildings at New York City Housing Authority's Fulton Houses. His plan also includes privatizing management of Fulton and Chelsea-Elliott Houses, with some public protections. And how about the rest of us? Gentrification has created a unique situation of having more pet supply stores than supermarkets surrounding Fulton Houses and much of Western Chelsea. What are we to eat? Dog food?
With the election of Mayor de Blasio, many felt the severe gentrification policies of Mayor Bloomberg would be reversed. It has been anything but. Greenwich Village and the Lower East Side are also under attack. Most recently, Andrew Berman, Executive Director of Village Preservation, reported that the Mayor wants to demolish certain 1840 row houses, currently residences, to make way for tech-related office towers.
Bike lanes and lower speed limits of traffic are great—but elected officials need to turn their attention to the other side of the sidewalk.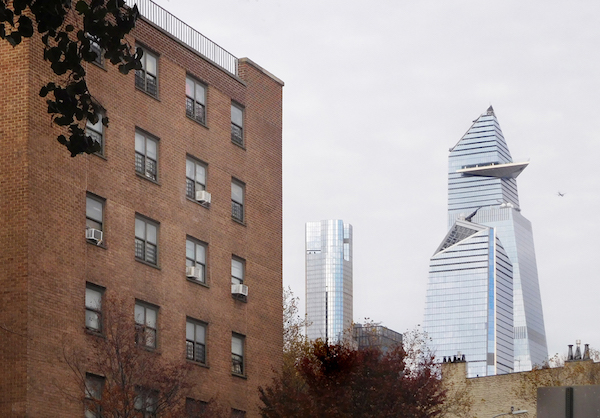 SOME SOLUTIONS:
A Painful Tooth Ache: Empty Storefronts
A dead tooth is no use or value to anyone in New York City, other a landlord. We live in a severe situation of homelessness, and changes need to be made. A law should be introduced allowing stores left empty for three months be temporarily be turned into living spaces for working families displaced by gentrification. The landlords could keep their tax breaks, for, say 10 years, while the homeless families would have a space to live. A portion of the new tenant's income could go toward the conversion costs of the space to livable rooms, communal kitchens and baths and for utility charges used. Local universities could design the spaces through competitions, and groups like Jimmy Carter's Habitat for Humanity might help provide help with construction. The city is in a homeless crises mode, and progressive solutions need to be implemented.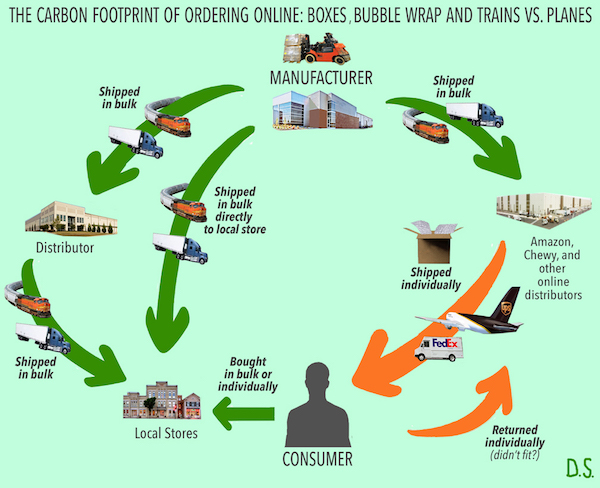 Lazy Carbon Tax on Buying Online
A law needs to be made placing a carbon tax on the ordering online of products to be delivered of individually boxed goods, stuffed with bubble wrap or Styrofoam peanuts, and delivered next day, or in two days. Most of the same products are already sitting on a neighborhood store's shelf or rack. This green tax could be automatically put toward affordable housing initiatives, much like Lotto was once exclusively put toward education. The fact that Millennials and others "want it now" is not a good enough reason to create a carbon footprint.
I recently watched FedEx worker making a Chelsea delivery. The deliveryman was struggling to pull a cart full of boxes, including several large ones marked Chewy (a pet online distributor). I asked him about the weight. He barked, "Those damn Chewy boxes are heavy." How are delivery workers getting compensated for lugging around 40-50 lb. boxes?
A friend of mine is a regional supervisor for a construction company. His ongoing projects include city area airports, city schools, and even the construction site at the Moynihan Train Hall. He told me he orders most of his tools online from Amazon or Tool Barn, because, "I always get them the next day or in two days, and it's cheaper than buying at Home Depot."  A law should be made where public projects require the delivery of goods to be "green approved." This would not only cut down on the delivery of individually packaged goods, but also stop taking advantage of delivery workers, while also boosting the local economy.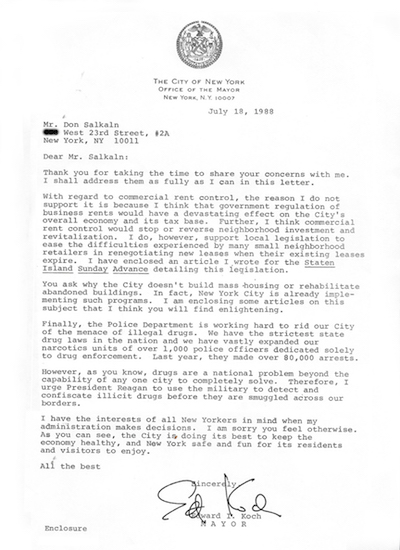 Commercial Rent Control
During the 1980s, art galleries began pouring into Chelsea, to escape astronomical rent hikes in SoHo. As an artist, and resident who felt the beginnings of gentrification, I felt large rent increases unjust and wrote to then Mayor Koch voicing for a need for commercial rent control (along with affordable housing and battling illegal drugs). Mayor Koch wrote back, saying commercial rent control  "would have a devastating effect on the City's economy and tax base."
With that, Koch, ever a progressive mayor, was pushing a bill requiring commercial landlords and tenants to mediate in renewing leases, including an extension of the lease for a year, if no agreement was made. In the same letter, Koch said he was proud of the city converting a vacant property in Hunts Point for 31 homeless families, through the Special Initiatives Program run by Department of Housing Preservation Development (HPD), and that he urged then President Reagan "to use military to detect and confiscate illicit drugs before they are smuggled across our borders."
Thirty years later, and nothing's been done in bringing order to astronomical commercial rent hikes to NYC's street-level businesses. Elected officials have joined groups outside a closing supermarket and mouth off, yet they go back to their offices and do nothing. Commercial rent control is like an old can being kicked around, since its law expired in 1963, much like another good bill expired in 2004 that banned assault weapons in America.
New Affordable Housing
Mayor Bloomberg has not been Mayor since 2013, yet projects under his watched are still being completed. Bloomberg, who actually looks like one of my past dentists, was tireless in replacing the city's skyline with tall shiny structures and remaking the city streets into some sort of Disneyland, all the while surrounding the city's public housing with stop and frisk policies.
Yet Mayor Bloomberg had some admirably progressive initiatives. Some were toward affordable housing, including a disaster relief design contest resulting in a model that converted cargo shipping containers into homes. The public's argument against the container framed-home (before prefabrication, they cost around $5,000 and the roofs don't leak), was that its space wasn't big enough.
Why couldn't the containers be aligned doublewide, so that one shipping container would house expensive utilities, while the other container be of inexpensive bedroom spaces? This way, the units might become either two 2-bedroom homes, or one 4-5 bedroom home. The units could be prefabricated to NYC code (even made in New York State?), and transported to prepared sites by ship or train and semi-rigs, and then stacked.
Cargo containers require only a fraction of new construction's energy and materials, and costs less as well. These units could be energized by solar panels and other green initiatives. Today, cargo containers are widely used, worldwide, for student housing and for low-income earners. They are often stacked 10 stories or more, and are erected in weeks, not years.
Another solution is to convert decommissioned ships into affordable housing along the East River, where the river's strong currents could power attached turbines, generating renewable energy for both the ship's tenants and part of the surrounding community or park.
Our city of progressive elected officials need to rethink the mess that gentrification has created. They also need to start embracing our city for what it is—a melting pot of wonderful people, with wonderful businesses and homes (eye sores and all)!
NOTE: Contributions to our Community Voices and Guest Opinion sections do not necessarily reflect the opinion of Chelsea Community News.
Chelsea Community News is made possible with the help of our awesome advertisers, and the support of our readers. If you like what you see, please consider taking part in our GoFundMe campaign (click here). To make a direct donation, give feedback about the site, or send a Letter to The Editor, email us at Scott@chelseacommunitynews.com.