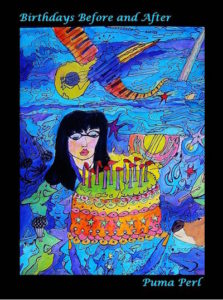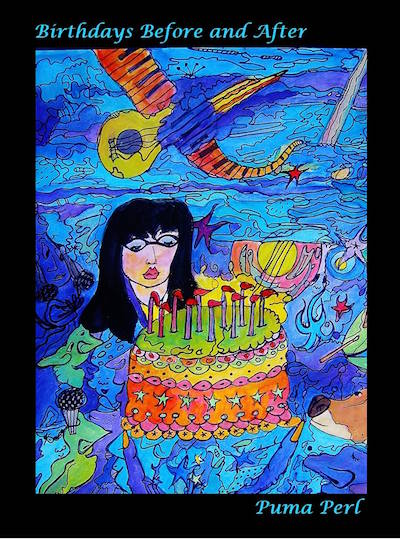 Tuesday, December 3: Puma Perl Book Launch Party | Like its always eclectic, often eccentric namesake neighborhood, Chelsea Community News finds, at the core of its identity, the collective wisdom and creative drive of its multi-tasking contributors. Longtime Lower East Side resident Puma Perl is a perfect example. The writer, performer, producer, curator, and multi award-winning journalist is also a widely published poet, whose latest work, Birthdays Before and After, will be celebrated at a Dec. 3 book release party. Poet Jack Henry calls it "a singular work, much like Puma Perl is a singular voice, and your life will be vastly improved when you buy this book… Puma Perl's poems make a difference. They inspire, they intrigue, they reveal the self in an explosive way."
The launch celebration for Birthdays Days Before and After takes place Tues., Dec. 3, 8:30pm at Lady Stardust (upstairs at 2A 25 Avenue A, corner of East Second St.), part of Rick Eckerle's Tuesday Night Live Undead series. After the usual open mic (7:30-8:30pm), Perl promises "a gang of poetic and musical miscreants and general troublemakers. Free admission, 2-drink minimum. Books will be available for purchase and signing, and can also be ordered from Amazon by clicking here. Find more info about Perl at facebook.com/pumaperlandfriends.
Get to know more about the author, in her interview with The Literary Chick . Access the interview by clicking here.
Wednesday, November 4: Community Board 4's Full Board Meeting | It's a love letter to anyone who's ever come across construction in their neighborhood and said, "But nobody told me about that." CB4 meetings provide early warnings for things to come, as the board reviews and debates everything from rezoning to liquor license renewal requests. It's quality quality-of-life info at the ready, and no CB4 meeting has more to offer in that area than the monthly full board meeting, where committee letters go to the full board for a vote. Show up a bit before start time, and sign up for the Public Comment section, where you get the mic for 2 minutes, and can take that opportunity to make your voice heard. Wed., Dec. 4, 6:30pm at Hudson Guild Elliot Center (441 W. 26th St., btw. 9th& 10th Aves.; Dan Carpenter Room A/B). For info on all things CB4, click here.
23 Days of Flatiron Cheer | Daily through Dec. 23. For details, see the below flyer. For the full schedule of events, click here.

Thursday, December 5: Opening Reception for "Light 4 Nights" at Hudson Guild Gallery. See the below flyer for details.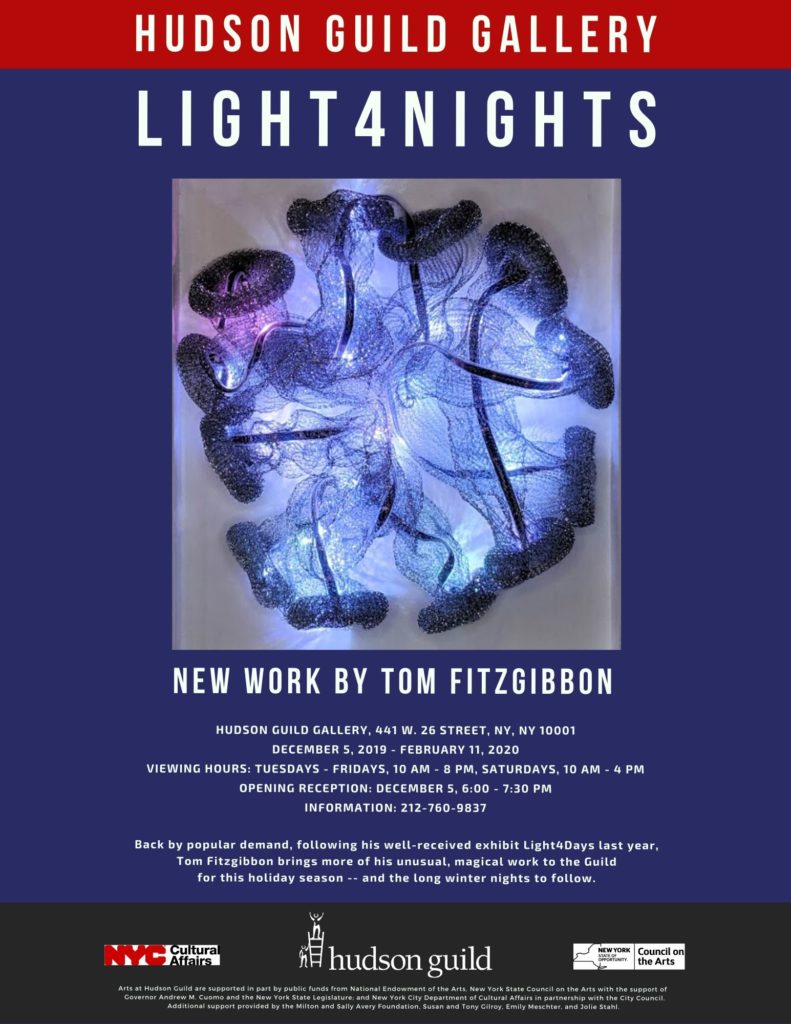 Saturday, December 7: HYHK's Annual Holiday Celebration | Join the Hudson Yards Hell's Kitchen Alliance as they celebrate the holiday season. This free event takes place from 2-5pm at Bella Abzug Park, Block 3 (btw. W. 35 & 36 Sts.), there will be a holly-jolly good time for the whole family, with horse-drawn carriage rides, crafts, snacks, and the annual tree lighting.–plus a visit from the big man himself! (Yes, they assure us, Santa will be available for photos, and to listen carefully to your wish list, taking into consideration how naughty and nice you've been this year.) For more info, see the below flyer, and click here.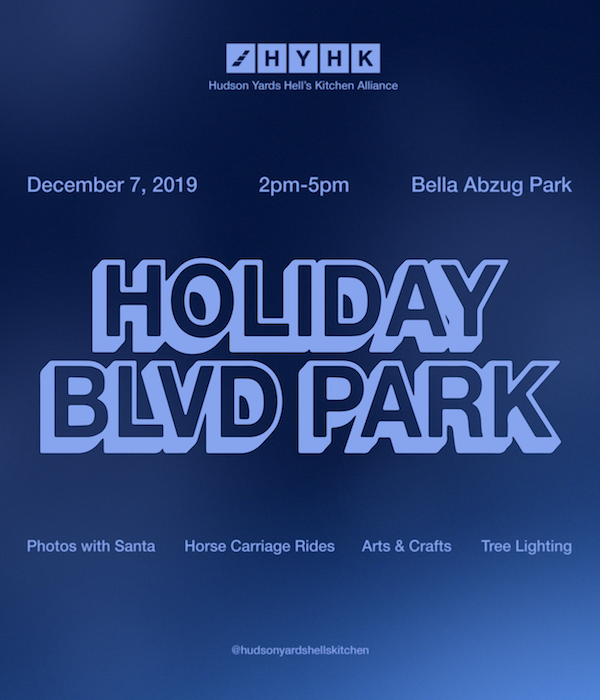 Saturday, December 7: Holiday Card-Making Class | See the below flyer for details.
—Listings compiled by Scott Stiffler
Chelsea Community News is made possible with the help of our awesome advertisers, and the support of our readers. If you like what you see, please consider taking part in our GoFundMe campaign (click here). To make a direct donation, give feedback about the site, or send a Letter to The Editor, email us at Scott@chelseacommunitynews.com.