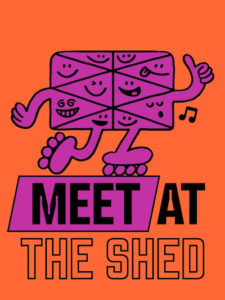 Saturday, January 11, 11am-8pm: "Meet at The Shed" | The new Hudson Yards-based arts center's first-ever open house invites visitors to explore the building and learn more about The Shed's programs. Admission to current exhibitions Agnes Denes: Absolutes and Intermediates and Manual Override will be free of charge, including gallery tours of Absolutes and Intermediates led by The Shed's curators and guest artists.
Additional free events throughout the 8-level building include pop-up performances, including DJ sets by DJ Synchro (Level Up!), DJ April Hunt, DJ Bembona, dance battles between DREAM Ring and It's Showtime, and a closing concert by J Hoard.
Food trucks with snacks and beverages for purchase will be stationed in The McCourt–The Shed's largest and most iconic space–accessible directly from Hudson Yards Public Plaza, and cash bars will be located throughout the building. Cedric's at The Shed, an all-day bar and eatery in the lobby, will also offer food and drink specials.
Sat., Jan. 11, from 11am to 8pm, at 545 W. 30th St., btw. 10th & 11th Aves. Alternate entrance via Hudson Yards Public Square, btw. W. 30th & 33rd Sts. For more info on The Shed, visit theshed.org.
Tuesday, January 21 Deadline to Apply for Serving on Your Local Community Board | For info, see the below flyer.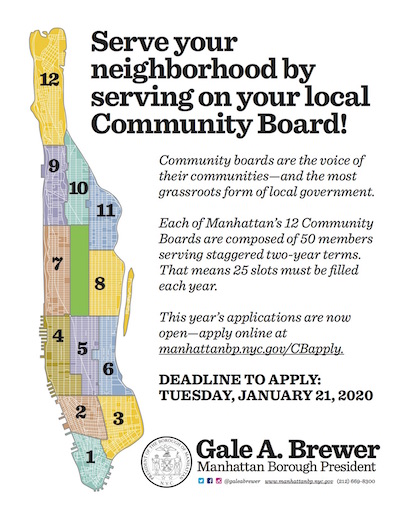 Free Fitness Classes | Ryan Chelsea-Clinton is offering free fitness classes for everyone, including Zumba, Low-Impact Cardio, and Dance Cardio. For info, see the below flyer.
Annual "Treecycle" program, through Sunday, January 12. | See the below flyer for details.
"Multchfest" through Saturday, January 11| NYC Department of Parks & Recreation and NYC Department of Sanitation wants you to recycle! Bring your tree or wreath to a Mulchfest location, and your tree will be turned into wood chips that will be used to nourish trees and make NYC even greener. Please remove all ornaments, lights and netting before bringing the tree to one of the locations. Termine la temporada festiva despidiéndose de su árbol en Mulchfest! Lleve su árbol a una de las ubicaciones indicadas y su árbol sera convertido en abono para que Nueva York sea aún más verde. Por favor, quite todas luces y adornos antes de llevar su árbol. See the below English and Spanish language flyers, for details.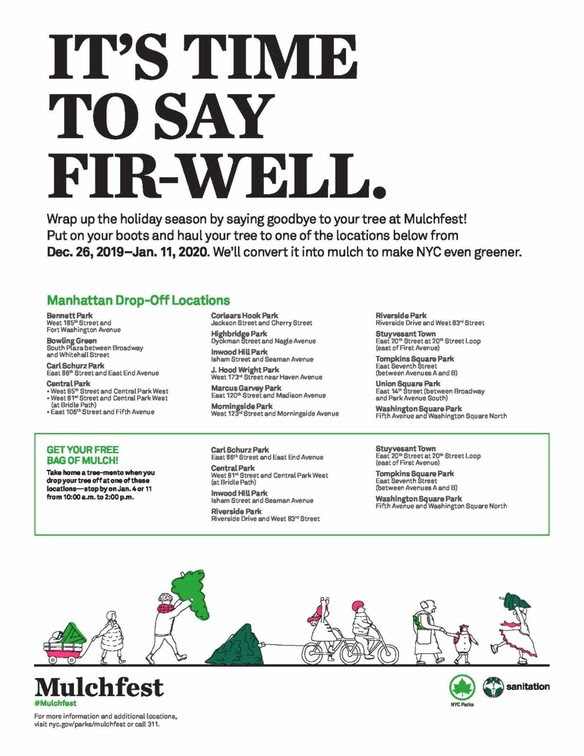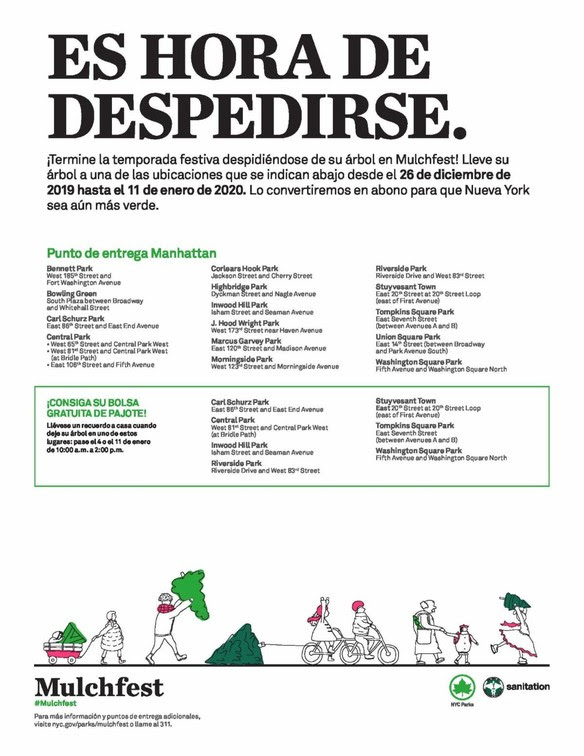 Through Jan. 10, Try Out Now to Become a New York City Lifeguard | Qualifying tests for summer 2020 are currently taking place. The lifeguard training program is free, but participants must be able to swim 50 yards in 35 seconds with proper form, have eyesight no worse than 20/30 in one eye and 20/40 in the other, and be at least 16 years old at the time of employment. Mondays, Wednesdays, & Fridays, at the Chelsea Recreation Center (430 W. 25th St., btw. 9th & 10th Aves.). | For more info, see the below flyer.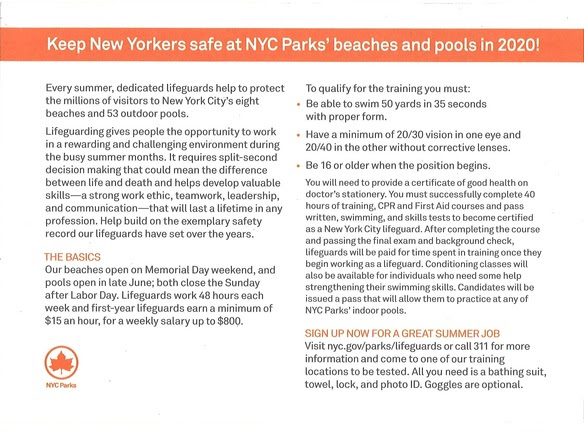 Heat or Hot Water Off in Your Building? Here's What to Do | There are enforceable standards to protect you from winter's bitter cold—as Chelsea's 10th Precinct of the NYPD reminded us, in a public safety-minded message sent via Twitter. We're passing it along. Follow the 10th Precinct on Facebook, via #NYPD10PCT and on Twitter, via @NYPD10Pct. For more info, click here. The 10th Precinct tweeted: "If the heat or hot water is turned off in your building, please call 311. See the attached photo regarding the heating rules."
"Quit Today, Be There Tomorrow," Urges Health Department | Through January 16, New Yorkers who want to quit smoking can apply for free nicotine patches and lozenges by visiting nysmokefree.com or calling 1-866-NY-QUITS. Using cessation medications, such as nicotine patches and lozenges, and counseling can double the chances of quitting successfully. See the below flyer.
Through Feb. 11: "Light 4 Nights" Exhibit at Hudson Guild Gallery. See the below flyer for details. Click here to be taken to the Hudson Guild website.
Tuesday, January 7: Town Hall: Planning for the Future of Hell's Kitchen | For info, see the below flyer.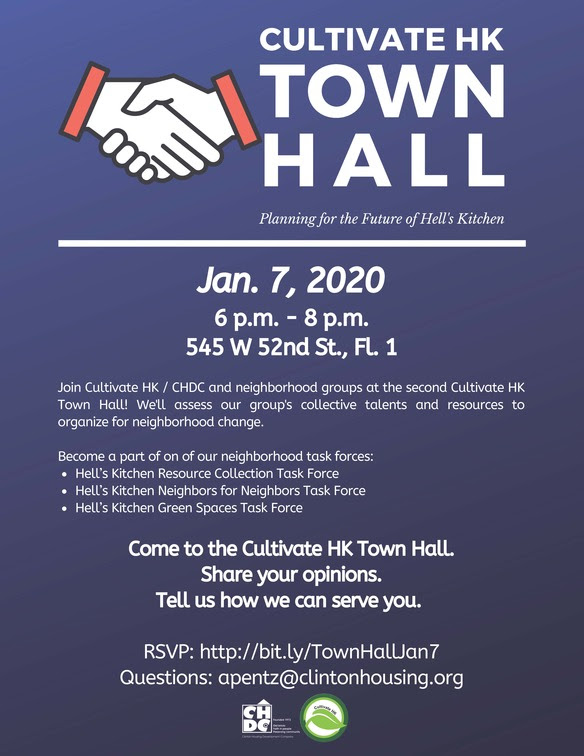 —Listings compiled by Scott Stiffler
Chelsea Community News is made possible with the help of our awesome advertisers, and the support of our readers. If you like what you see, please consider taking part in our GoFundMe campaign (click here). To make a direct donation, give feedback about the site, or send a Letter to The Editor, email us at Scott@chelseacommunitynews.com.