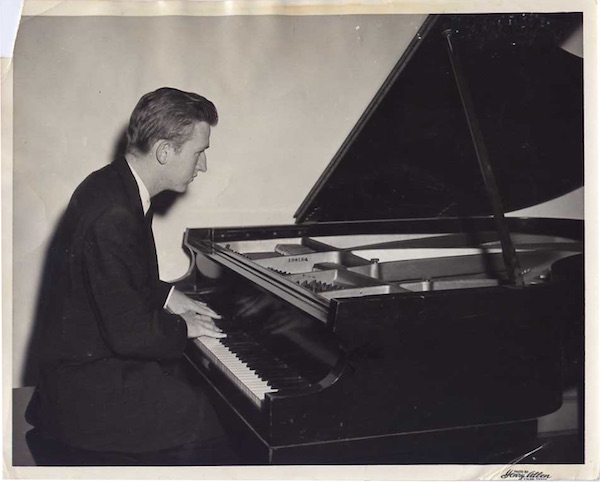 BY GERALD BUSBY | I first met Angel Martinez when he came to my home church, First Baptist in Tyler, Texas, to lead us in a revival meeting. Christian revivals, particularly among Baptists and Methodists, have existed in America since the late l8th century, with the advent of the Second Great Awakening.
Besides reinvigorating believers and preaching the gospel of Christ to non-believers and persuading them to join the religious tribe that was doing the preaching, fundamentalist revivals were a popular form of entertainment. They were a welcome road show for poor rural people, and the star of the show was the evangelist. His sermons were meant to stir intense emotion and inspire listeners to act out their transformation in front of their family and friends.
It was the job of professional musicians employed by the evangelist to create an atmosphere that enhanced persuasion and encouraged public display of emotion. If the music could make the women cry, their husbands would give money.
I was 16 at the time, and the pianist for every service during the two-week Crusade for Christ—and Angel liked my flashy, youthful enthusiastic talent at the keyboard, particularly my ability to improvise "in a classical way" on familiar gospel hymns. I turned them into showpieces with flourishes of scales, arpeggios, and octaves that outlined and elaborated the main harmonies of the songs. My solo hymn arrangements, called "special music," accompanied plates being passed among believers to collect money.
My music, which Angel told me was spiritual and emotional, was meant to prompt the congregation to give money, and to prepare them emotionally for Angel's sermon. My style of playing was modeled on the music I heard weekly on the gospel radio show, The Old-Fashioned Revival Hour, popular with Christian evangelicals through the country.
At the conclusion of the revival, during which many sinners had "found Jesus" for the first time under the passionate persuasion of Angel's sermons, he asked me to join him, his Armenian trumpet player/song leader, and a boy my age, who was a virtuoso on the Hammond electric organ. The tour included crusades in Sylacauga, Alabama, and Bartlesville, Oklahoma, both with large populations of fervent protestant fundamentalists.
In Sylacauga, Alabama, a crowd of 3,000 Bible-toting believers gathered nightly to sit on wooden bleachers in a high school football stadium, to hear and see the gospel message enacted by Angel and us musicians.
We performed on a stage built on the track surrounding the football field and facing the bleachers. Angle, the star of the show, knew exactly how to persuade the poor, simple evangelicals with his polished manners, handsome appearance, and well-honed gospel rhetoric. It impressed his audiences enormously that he was Mexican, had grown up in the slums of San Antonio, Texas, and had converted from Roman Catholic to Baptist, in a mission near his home.
At the age of 10 he became a preacher, later attending Baylor University, and graduating with honors from the Southwestern Baptist Theological Seminary in Fort Worth. While still a student there, he became known as a charismatic evangelist, and his career was set.
With his smooth articulation of fundamentalist beliefs and his ability to recite perfectly, from memory, long passages from the Bible, such as Jesus' Sermon on the Mount, or one of the lengthy chapters of Paul the Apostle's letters to the Ephesians.
Angel wore tailored pale blue and yellow suits with shiny brown and white wing-tipped shoes. He was handsome, confident, and always acknowledged those who supported him with wry, flattering humor. I remember Angel's response to a comment made by Dr. Porter M. Bailes, Sr., pastor of First Baptist Church, Tyler. When someone in the balcony dropped the offering plate and coins went clattering across the floor, Dr. Bailes said, "Don't spill the beans."
Angle retorted, "I want Dr. Bailes to preach my funeral."
At Sylacauga, I was housed, during the crusade, at the home of a young doctor named Henry.
"My mother stays here when she comes for a visit," he told me, as he ushered me into a large, comfortable bedroom. "You have your own bathroom, and I'll be just down the hall if you need anything."
The room was severely neat and spotless, and had a dark blue rug and floor-to-ceiling curtains that filtered light from outside. An ornate blanket made from multi-colored patches of fabric covered the double bed, with four deep blue pillows at the head.
Henry opened the bathroom door to reveal a toilet with a lid that had a starched-stiff crinoline bouquet of daisies solidly attached to it, requiring the user to lean forward when sitting there. It was as if such discomfort were a necessary component of meticulous detailing.
I had no trouble falling asleep the first night. The second night, Henry had taken me out to dinner after the service, which ended earlier than usual. He was tall, lean, and handsome, and had a crew cut.
"I served in the Navy after I got out of med school and did my internship in Birmingham. I came back to Sylacauga to start my practice because the people here are so nice, and it's my home.
I was already in bed when Henry stuck his head in the door and asked if I'd like to join him in prayer. "It's so much more meaningful to pray with a friend," he said, as he knelt beside my bed and immediately began to thank God for bringing me and Angel Martinez to Sylacauga, to spread the gospel.
I remained in bed and closed my eyes prayerfully, though I felt uneasy with Henry so close. He grasped my hand as he finished his prayer, "And we just thank you, dear Jesus, for bringing us together, in your name." His lips were touching mine as he said, "Amen."
Then he slipped under the covers and put his arms around me. His tobacco-scented breath made my heart pound. I never felt more saved than that.
ABOUT GERALD BUSBY: A native of Texas and graduate of Yale, Busby is best known for his film score for Robert Altman's 3 Women and his dance suite for Paul Taylor's Runes. As a protégée of Virgil Thomson, Busby moved into the Chelsea Hotel, where, since 1977, he's written more than 500 music compositions in all genres. Trinity Church Wall Street honored Busby's 80th birthday, Dec. 16, 2015, with a concert of his chamber music, held in St. Paul's Chapel. In 2016, the Dublin Arts Council commissioned Pneuma, a solo flute piece that premiered at the Centennial Celebration of Women's Rights in Ireland. New York's Queer Urban Orchestra, conducted by Julie Desbordes, premiered Busby's 3 Bagatelles for Orchestra at the first concert of their 2018-2019 season. Busby's memoir, Getting Saved, currently in progress, began with biographical sketches Scott Stiffler asked him to write during their days with Chelsea Now newspaper.
Chelsea Community News is made possible with the help of our awesome advertisers, and the support of our readers. If you like what you see, please consider taking part in our GoFundMe fundraiser (click here). To make a direct donation and/or send feedback about the site, send an email to Scott@chelseacommunitynews.com.