BY BERTE SCHACTER | It's a special pleasure to be an early adopter in a city of over eight million. So, I have bragging rights as an April 10 visitor to The Shed a new performance space—and the experience-of-a-lunchtime immersive art performance of Gerhard Richter art and the music of two living composers, Arvo Pärt and Steve Reich.
The Shed is the building at Hudson Yards that looks as if it still has a quilted moving blanket atop its roof (it is actually the retractable roof). Inside, it is a huge, dark shed with black, gray, and concrete interior with its two entrances, one on W. 30th St. at street level and one in the Yards itself, up at High Line level, nearest the river.
Ignore the closest doors with the signs, "Entrance to The Shed," at the High Line, at least for now. The individual theaters/galleries are big, with Norse god-sized ceilings. Despite the drear and the huge scale, the space is welcoming to visitors in some ways. There is appropriately sized signage (once you realize how high to look up), and plenty of commodious bathrooms.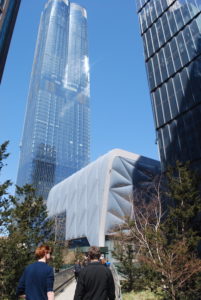 Both entrances and services come with a gang of black-clad kids, all fresh from customer service experience training and warmly welcoming. All are eager to give visitors the current brochure, directions, and recommendation for a visit to Trisha Donnelly's fourth floor art exhibit of broken trees lying in the dark, on the concrete floor. There are no liner notes for this, but it is a moving statement of the unfortunate condition of our planet, especially if you trip over the branches as you walk around the hall.
No refreshments or bar as yet, but there will be a Danny Meyer restaurant soon at the street level opposite the ticket line, and there is a large coat check area up at the High Line entrance. Downstairs, there is soft seating and a temporary row of water containers with choices of lemon, cucumber, and orange fruits to flavor the experience.
Don't try to read anything while there, except with a backlit electronic device—because any light coming in from the windows is swallowed up by the double height ceiling and the dark walls. Mercifully, they put the little bookstore near the windows. It sells titles relevant to current performances.
The space is a little more confusing than it needs to be, because of the odd numbering of the floors, which are all even (2, 4, 6, 8).
I am not a credentialed music or art critic—but the performance I attended was stimulating, fun, and at times beautiful. The Arvo Pärt section comes first, and lasts for about 10 minutes. The audience mingled together, standing in a hall with Richter paintings on long digital wallpaper prints at intervals applied to the walls, as well as beautiful tapestries.
The prints were reminiscent of exuberant and complicated inkblots, with the depth of trompe l'oeil impasto. Casually dressed a cappella singers beautifully sang, mixing in with the audience. The program tells us that Pärt's music is titled Drei Hirtenkinder aus Fatima, a chant sung three times and is performed by the rotating Choir of Trinity Wall Street and Brooklyn Youth Chorus.
After they finished, we moved into the hall next door with two gigantic and horizontal prints of stripes along the long walls with a small orchestra on one end, and a projected film by Richter and Corinna Belz on the fourth wall.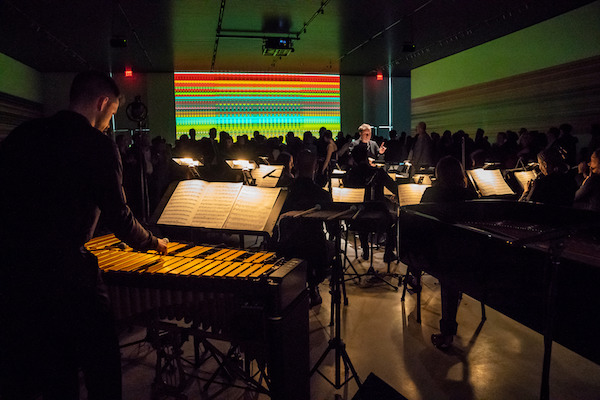 Moving to the rhythm of a driving Steve Reich composition, the projection slowly morphed from thin stripes into larger and increasingly complex color-filled patterns, at a speed that made me wish they would slow down long enough for me to grasp the changes. Viewing was like looking into an ever-turning, runaway kaleidoscope. It was wonderful and exhausting and it lasted for about 40 minutes, during which we sat on benches or stools. My back still hurts.
Looking for lunch after the performance was over, I ventured into the millionaire territory of The Shops & Restaurants at Hudson Yards. I refused to be rattled by encountering Cartier, Rolex, and Patek Philippe at the entrance. I ended up eating a pleasant meal from Citarella's lunch buffet, only $10 per pound. Rush over, because I don't think those free and delicious biscotti are going to be offered much longer.
Get to Hudson Yards and The Shed by walking across 34th St., or via the #7 train stopping between 33rd and 34th St., or walk the High Line if coming from Downtown.
All is well at The Shed, but buyer beware: Carefully check those performance notes. You might need to bring a flashlight and a chair.
For information on The Shed's programming, visit theshed.org.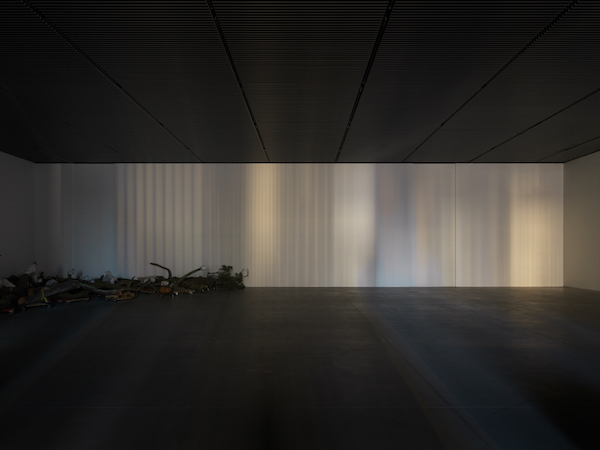 Chelsea Community News is made possible with the help of our awesome advertisers, and the support of our readers. If you like what you see, please consider taking part in our GoFundMe fundraiser (click here). To make a direct donation and/or send feedback about the site, send an email to Scott@chelseacommunitynews.com.