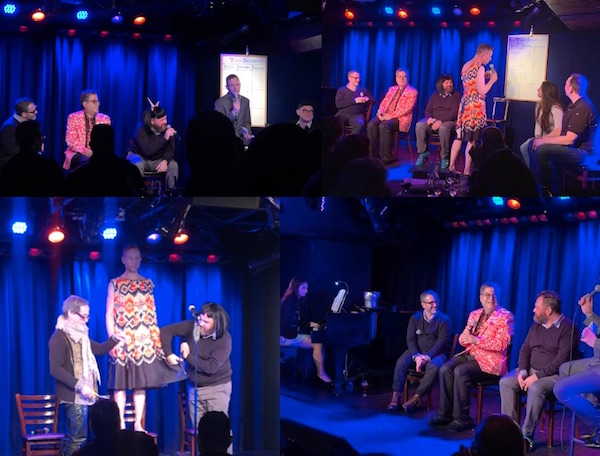 Note, this note from the producers of the show: "Hi all. Times Squares will be closing up shop for the time being at the Laurie Beechman. We are hoping to move to another venue. 'Til then, if you made a reservation and have not yet received a refund, please DM Tim Cusack. Thanks for your support all. We will let you know when we have regrouped elsewhere. Enjoy the spring weather!"
BY SCOTT STIFFLER | Every other Friday through June 21, it's tic-tac-anything-goes at the Laurie Beechman Theatre, as go-to nightlife chronicler and pop culture commentator Michael Musto plucks quips from his ample quill of witticisms, in a giddy new stage show based on The Hollywood Squares.
Times Squares is the brainchild of Colonel Esquire James P. Stanton, Jenny Mercein, and Theatre Askew co-founder Tim Cusack, who plays Peter Marshall to Musto's Paul Lynde.
Don't get the '70s game show reference? Well, it helps to have knowledge of the source material, but the premise is easily grasped: There's a Tic-Tac-Toe board on the side of the stage, along with three chairs—occupied by Musto in the middle (i.e., the "Center Square"), and two guests.
The questions, asked by Cusack, draw upon everything from current events to semi-obscure trivia. Two volunteers plucked from the audience are the contestants, who must agree or disagree with the amusing, possibly misleading, answer given by the celebrity panelist of their choice.
And that choice is not random. The strategy is, of course, to get three aligned X's or O's, win the game, and claim your prize (two tickets to something fabulous).
Being on stage at the show's W. 42nd St. venue is a welcome change of pace for Musto, who, as a reliably informative and insightful columnist for NewNowNext.com, often finds himself there on assignment.
"Usually, at the Laurie Beechman," Musto noted, "I am watching a [RuPaul's] Drag Race favorite and always enjoying what they have to present. So this was a switch for me. It also was kind of a bucket list thing, because I grew up on Hollywood Squares, at a time when Paul Lynde was one of the few gay signifiers in the culture."
On TV, as with society at large back then, out gay men, when acknowledged at all, were often the stuff of dismissive punchlines. (Think the limp wrist and fey tone employed by Jack Tripper on Three's Company, who feigned being gay—the only way his nosy landlord would allow him to live with two female roommates.)
On The Hollywood Squares, flamboyant Lynde, holding court at the literal center of the show, flipped the script—delivering memorable punchlines instead of merely serving as one. Undeniably queeny but officially in the closet, the public ate it up.
"But he managed, through innuendo," Musto observed, "to make it clear where he was coming from, and was always the funniest, most wickedly hilarious one on The Hollywood Squares. So I was happy to step into his light loafers."
Chelsea Community News attended the April 12 premiere of Times Squares, at which the special guests bookending Musto were Ben Rimalower (of the tell-all solo show Patti Issues) and Gonzalo Casals (Executive Director of NYC's Leslie-Lohman Museum of Gay & Lesbian Art).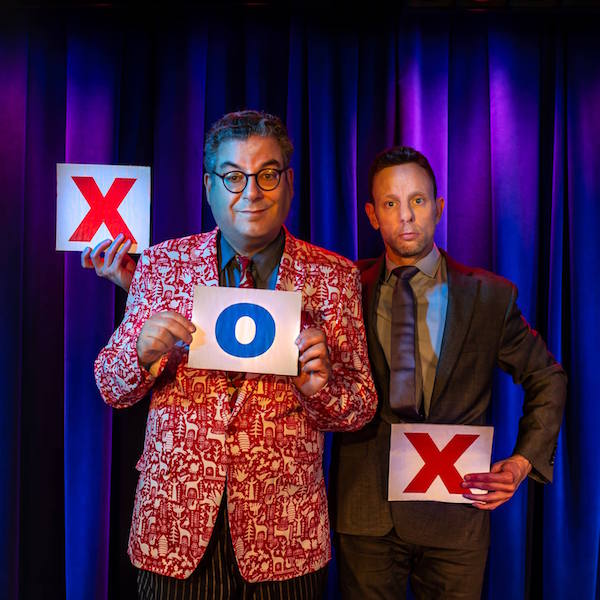 Between rounds of three game segments, the personable Rimalower dished about his on- and off-camera dynamics with Reality TV stars. Casals, wearing red lipstick and rocking a unicorn horn, recreated Yoko Ono's "Cut Piece"—which had audience members shearing off bits of Cusack's clothing, to the appropriately artsy piano accompaniment of Musical Director Rita Posillico. It's worth noting the pleasantly executed bit of performance art left Cusack in muscle- and undies-revealing tatters for the remainder of the show.
"I think it's good to let the real talent do that," Musto said, of the between-round performances, "and have me do what I do best—one-liners, wisecracks… I think it's a great balance."
Asked if we might see him in a segue segment at upcoming installments of Times Squares, Musto demurred: "I'm not going to do the Judy Garland songbook… unless people demand it. 'We're not leaving until you do.' "
As for how Musto comes up with those one-liners, he readily admitted it's a grab bag of behind-the-scenes prep, keeping himself blissfully in the dark, and relying on skills honed during his years as TV commentator.
"Tim [Cusack] sent me some of them [the questions] the day before, so I could come up with some zingers. But I purposefully didn't Google them to get the correct answer, as you can tell, because [sometimes] I was floundering. Not that it would even matter, because it's up to the contestants to say if we're telling the truth or not." And while he did his share of working without a net, Musto acknowledged the power of scripted comedy.
"Paul Lynde didn't just make up, on the spot, 'because chiffon wrinkles too easily,' "["Why do Hell's Angels wear leather?" was the question]. No, somebody wrote that for him. So what you saw last Friday was a combination of things I thought of in advance, and things I was ad-libbing."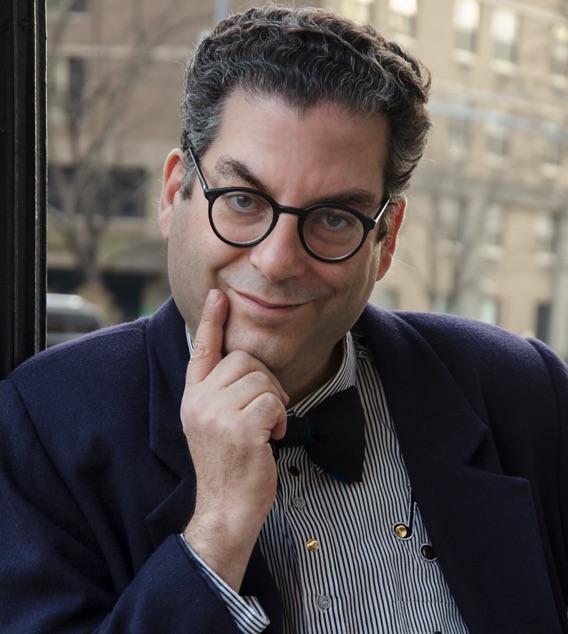 Indeed, some of his most combustible quips proved, during the fact checking portion of our post-show interview, to be the stuff of spontaneity, as when Musto answered, "I already have tickets!" after supplying the true answer response to Cusack's "What world leader's son is gay?" query. (The Sultan of Brunei was in the headlines that week, for his country's death-by-stoning penalty for homosexual sex and adultery.)
Elsewhere in the show, riffing on a question about Marilyn Monroe's original name, Musto ad-libbed, "It's Melania [Trump], before she started faking her accent, and occasional orgasm."
Speaking truth to what we observed that night, Musto said he fits "pretty comfortably into a role like this [the Center Square], because I've been not only writing for so many years, but I've been making TV appearances. And on live TV, you really have to think on your feet. You can't just sit there and pick your nose and go, 'Ahhh… yeah.' You have to achieve a steady stream of hopefully incisive or funny commentary coming out of your mouth."
See if our modern-day Paul Lynde makes diamonds from that pressure, as Times Squares continues its run, appropriately, through Pride month. As for what else the future holds, Musto said, "I'm making appearances here and there. I'm looking forward to my annual tip to Provincetown. To me, that's gay heaven on Earth. I prefer it to Fire Island, because Provincetown has actual streets. You know, walking through thickets, dodging rabid deer. So I'll be at Fire Island a lot, too. 'Cause I'm a good gay."
Times Squares happens every other Friday through June 21, 10pm, at the Laurie Beechman Theatre (at 407 W. 42nd St., btw. 9th & 10th Aves., inside the West Bank Cafe). Tickets, $20 (there's also a $20 food/drink minimum), are available at 212-352-3101 or www.SpinCycleNYC.com. Visit the show's Facebook page. Got questions? Call 212-352-3101 or send an email to TimesSquaresNYC1@gmail.com.
Chelsea Community News is made possible with the help of our awesome advertisers, and the support of our readers. If you like what you see, please consider taking part in our GoFundMe fundraiser (click here). To make a direct donation and/or send feedback about the site, send an email to Scott@chelseacommunitynews.com.