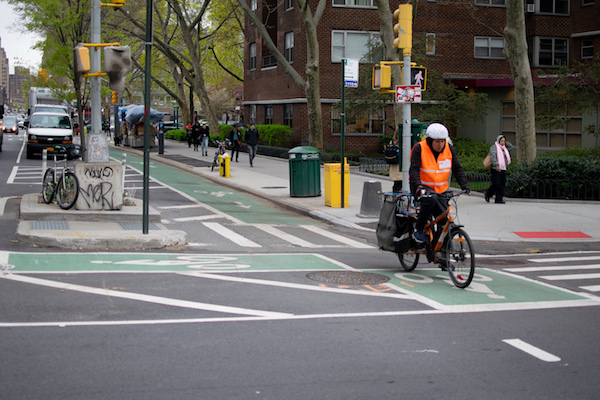 BY SAM BLEIBERG | Two major shocks to the system of New York City transit will hit this spring, creating an unprecedented opportunity to reimagine the streets of Chelsea.
Congestion Pricing and the L-Train service reduction both involve citywide plans with significant local impact. The results for the neighborhood will depend on the resolve of local leadership to execute their vision in the face of aggressive voices arguing for an untenable status quo.
New York City will become the first city in America to enforce congestion pricing as part of the latest state budget. Any driver entering the Manhattan Central Business District, below 60th St., will have to pay a congestion fee. The system must raise one billion dollars annually, which will be used to finance 15 billion dollars for the MTA.
Although added revenue was a major selling point for statewide legislators, supporters of congestion pricing in Chelsea are not losing sight of the myriad benefits to removing vehicular traffic from Manhattan roads.
"Less traffic, safer streets for pedestrians and cyclists, cleaner air, and less noise—we've seen some of those benefits in other cities, but it's never been tried in the United States," said NY State Senator Brad Hoylman.
The Community Board Four (CB4) Transportation Planning Committee (TPC) echoed Hoylman's sentiments as they debated a resolution on the enforcement of Congestion Pricing. TPC member Brett Firfer drew the focus to the reduction in traffic as the policy's main goal.
"It's about reducing congestion in the areas where people live and do business. Whatever the final plan looks like, the final baseline is how we reduce congestion," Firfer said.
Beyond benefits for the neighborhood as it exists today, congestion pricing also offers the opportunity to reevaluate street design for lower traffic volume requirements.
Currently, the Department of Transportation (DOT) prioritizes traffic thoroughfare in their street design, meaning certain infrastructure elements proven to be safer are out of the question for streets with high car volumes. Under the effects of congestion pricing, the DOT will have much more freedom to implement safe street infrastructure.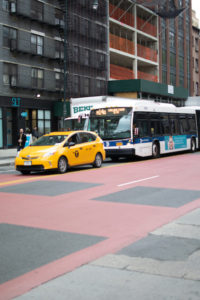 Asked whether CB4 will reevaluate any streets for safer designs, TPC Chair Christine Berthet deadpanned, "All of them."
The TPC will prioritize pedestrian improvements, including wider sidewalks and protected bike lanes. Berthet mentioned high-risk corridors such Eighth Ave. and 10th Ave. as prime candidates for wider sidewalks and end-to-end protected bike lanes. Cyclists have been killed on both streets in recent years, including Chaim Joseph (on W. 45th St. & Eighth Ave.) this February.
Berthet hopes to achieve street designs that deprioritize vehicular traffic in favor of safety. She specifically sees the value in shared streets, where cyclists and pedestrians have the right of way on raised streets with very low speed limits.
"In Chelsea, they should have a bunch of shared streets. On those streets that are very residential that have through traffic, we'd want them to be shared streets or close them to vehicle traffic," Berthet said.
Despite congestion pricing's inevitability, uncertainties remain around the final implementation. Exemptions already exist for the FDR Drive and the West Side Highway, complicating toll enforcement by creating multiple entry points along the West Side. Emergency vehicles and people with disabilities will not pay the toll, and residents of the congestion zone with annual income below $60,000 will receive tax refunds.
In keeping with their goal to limit vehicular traffic, TPC plans to take a stand against "carve-outs" for additional groups of drivers.
"No more exemptions," said committee member David Solnick.
The TPC left the option open for variable pricing depending on weight or efficiency, but declined the prospect of any more exemptions. The revenue target for congestion pricing provides protection against excessive exemptions, because a fare increase must accompany any carve-out.
The L Train service reduction has been a bane for state, city, and local politicians alike. A shutdown for necessary repair work led the MTA to develop a sophisticated mitigation plan based on months of community engagement, including multiple town halls and open houses in Chelsea. With months to go, Governor Andrew Cuomo scrapped the full shutdown plan in preference of a prolonged reduction in service during evenings and weekends.
As a result, uncertainty has hung over the mitigation plan, which originally called for bus-only traffic on 14th St., high-capacity loading zones, and protected crosstown bike lanes.
Transportation advocates heralded the plan as a progressive solution to efficiently moving large numbers of people by deprioritizing private vehicles. Almost all the infrastructure for the plan was completed, including paint for bike lanes and bus lanes and ticketing machines at bus stops, with the sole exception being actual enforcement of private traffic in the bus way and car parking in the bike lanes.
Community and city leadership have provided only tepid support for specific parts of the plan, claiming the need to further understand the impact of reduced service.
Danny Pearlstein, Policy and Communications Director of the Riders Alliance, spoke to Chelsea Community News about the service reduction and mitigation plan.
"Our position is that the L Train slowdown will have very serious impacts on transit riders and neighborhood residents that threaten to create very bad traffic conditions on 14th Street, especially on the West Side," he said, adding, "The best way to handle that would be with a very dynamic, fast, frequent, reliable bus service. The best way to do that is to put buses first on 14th Street."
Manhattan Borough President Gale Brewer recently came out as the only politician on record fully in support of a dedicated busway on 14th Street.
Mayor Bill de Blasio and City Council Speaker/District 3 rep Corey Johnson have both called for plans to improve bus efficiency across the city with more dedicated busways, but neither has voiced their support for the nearly completed busway on 14th.
Hoylman supports more frequent buses, but has stopped short of asking for a dedicated busway.
"We're waiting to see what the DOT comes back with in terms of recommendations," he said. "I do know that with the L Train not shutting down completely, it gives us some more flexibility in terms of 14th Street."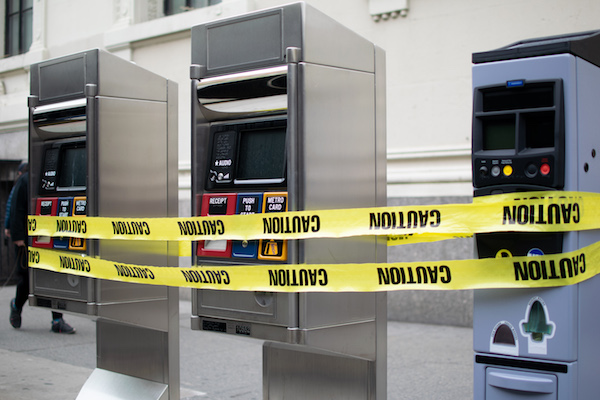 With the service reduction set to begin April 26, L Train and bus riders will expect answers soon. The M14D and M14F bus lines both received "F" grades from Turnaround, a site that analyzes bus performance. Interviews with riders at Eighth Ave. and W. 14th St. reflected the dismal outlook, with comments descriptors ranging from "slow" to "not too good."
Asked about the impact from a business perspective, Phil Ingall, of Gasoline Alley Coffee's 310 W. 14th St. location, noted that more public transportation on the corridor could have a positive effect on business.
"My anticipation was that it would have a positive affect because there would be more foot traffic by virtue of people being above ground. As an individual, I'm usually an advocate for more mass transit rather than individual private transit," Ingall said. "My only thought would be about deliveries. But I don't think it would so negatively impact deliveries that I would be concerned by it."
Elected officials have been equally hesitant to support the protected crosstown bike lanes, despite similar calls to increase protected bike-lane mileage citywide.
The lanes on 12th and 13th are currently in place, featuring new safe intersection designs that the DOT is studying as part of a citywide pilot program. Statistics released by the DOT from the 26th St. found that cyclists increased from 12 percent of total traffic to 29 percent following the installation of a protected bike lane, a more than 200 percent increase in bike traffic, despite a comparison between peak cycling season for the "before" period and late fall after the installation.
The scale of these citywide transportation policies has created unprecedented upheaval in Chelsea, but also paved the way for street designs proven evolutionary for safety and efficiency in other cities worldwide. With critical factors still up in the air and deadlines fast-approaching, community members continue to wait for resolutions from local elected officials.
Chelsea Community News is made possible with the help of our awesome advertisers, and the support of our readers. If you like what you see, please consider taking part in our GoFundMe fundraiser (click here). To make a direct donation and/or send feedback about the site, send an email to Scott@chelseacommunitynews.com.