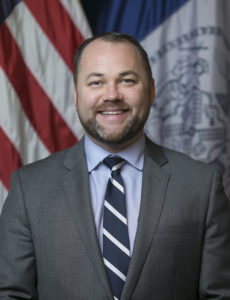 BY NEW YORK CITY COUNCIL SPEAKER COREY JOHNSON | Monday was Earth Day, a day where people all over the world came together to recommit ourselves to protecting our environment, and fight the dangers of climate change.
Last week, the City Council celebrated Earth Day by taking the ambitious step of passing the Climate Mobilization Act, one of the most aggressive legislative mandates any city has ever taken to combat global warming. The package requires that medium and large buildings dramatically cut their greenhouse gas emissions, among other measures.
The bills we passed last week are a Green New Deal for New York City, a declaration that we as New Yorkers take climate change seriously and know this fight is too important not to act. The City Council has been proud to lead the fight on environmental protection, and we will continue to push New York forward in the hopes that we inspire other cities and countries around the world to do the same.
Unfortunately, in Washington, we have a Climate-Denier-in-Chief in the White House—but we cannot let that stop us. We are standing on the precipice of climate disaster, and New York will not stand idly by.
I am deeply proud of the work I do to protect our environment, as Speaker of the City Council, but I am equally proud of the work that we all do together on the West Side in Council District 3, to beautify our neighborhoods and bring the benefits of nature to the concrete jungle we call home. For me, in the fight against climate change, there is no legislative proposal too big to consider and no neighborhood action too small to make a difference. In this fight, everything from reducing carbon emissions in skyscrapers to planting street trees in Chelsea is connected.
I hope to make the planting of street trees in Council District 3, the district I am honored to represent, one of my legacy items as a City Council member. In order for our City to be successful, we need to provide our neighborhoods and residents with shade, with greenery, and of course with fresh air to breathe.
In 2017, my neighbors made their voices heard on this issue in Participatory Budgeting by overwhelmingly voting to invest $200,000 to plant new trees throughout the district. Only six trees were planted in our district in all of 2016. In 2017, after your votes secured funding for this project, we planted over 200 new trees.
But we can't stop there.
My goal as your Councilmember is to fill every empty viable tree bed in our district with a new tree. It's an ambitious goal, but I am very happy to report that with an additional allocation of $400,000 in fiscal year 2019, we are on track to fill every empty tree bed at the end of this year. This dream is on the way to becoming a reality.
Of course, our community's focus on greening our neighborhoods did not start with Participatory Budgeting, or my election to the Council. In this effort, like in so many others, we are following in the footsteps of people to whom we are forever grateful. Decades before we began, our block associations and tenant associations, along with New Yorkers who simply cared about the area, were championing this cause.
So as we plant trees now, let us remember the 300 West Block Association in Chelsea and many other neighborhood groups who were working to beautify our neighborhoods with trees in the 1930s, and have kept up the good work ever since. Today we stand in the shade of their good work, as our neighborhoods blessed with many of the trees they planted.
I am so proud to be a part of this legacy and to continue the effort to make our city more beautiful, more livable, and more environmentally friendly.
I am excited to announce a new opportunity for everyone in District 3 to join us in this project! On April 30, in partnership with the New York City Parks Department, I will host a Street Tree Stewardship Workshop at P.S. 41 at 6:30pm, for residents to learn how they can best take care of their new trees. With Arbor Week starting on Friday, April 26, this is a perfect time to learn more about our work to beautify our neighborhoods.
I believe with all my heart that neighborhoods work best when neighbors work together, and I look forward to partnering with you as we continue this important work. I also believe with all my heart that in big moments in human history, especially American history, real power comes from real people. As we as a society begin to grapple with the dangers of climate change and chart a course for how we respond, it won't be elected officials leading the way—it will be grassroots activists, and people like you, moving us forward.
The Climate Mobilization Act that we passed in the City Council last week would not have been possible without the strength, resilience, and commitment shown by the activists and advocates who are powering this movement. With that in mind, I hope this Street Tree Stewardship program will serve a dual purpose: continuing the important work of beautifying our neighborhoods, and keeping the fight against climate change moving forward on a block by block level.
Climate change is an existential threat to our city, and we need everyone to work together on this. We need to protect our environment with legislation and policies big enough to match the scope of the crisis and, at the same time, take everyday actions that can seem small by themselves—but, added together, can become monumental.
So with each tree we plant in Chelsea and throughout District 3, we are making a commitment to our neighborhood, to our city, and to our planet. We are uniting to continue the fight against climate change, just as did people did the world over on Earth Day.
I am so proud I get to fight alongside you for our neighborhoods and for our planet.
Contact New York City Council Speaker Corey Johnson (District 3 rep) via:
–Website: council.nyc.gov/district-3
–Facebook: www.facebook.com/CoreyInNYC
–Twitter: NYCSpeakerCoJo
District Office
224 W. 30th St, Suite 1206 | New York, NY 10001
212-564-7757
Legislative Office
NYC Council Speaker Corey Johnson
City Hall Office | New York, NY 10007
Call 212-788-7210 or email SpeakerJohnson@council.nyc.gov