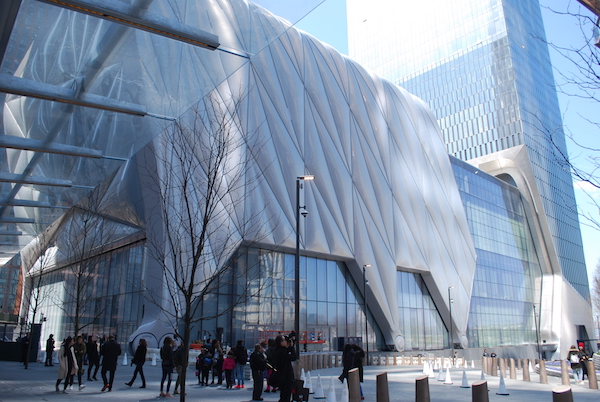 BY WINNIE McCROY | In a city like New York, where the same block offers both the $3 bodega chopped-cheese sandwich or the $295 Le Burger Extravagant at Serendipity 3, it's no surprise when finery and no-frills stand cheek by jowl. Such is the case in the West Side's newest neighborhood, Hudson Yards. Dubbed "a playground for the very rich," this area is viewed by many New Yorkers as a lavish gated community inside a high-end mall. Others call it the future of retail. And so it may be. It will take several years—and the influx of 4,000 residences and more than 40,000 workers—before the concept can truly prove up.
But one aspect of Hudson Yards appears to be presenting a level playing field for both New York artists and the wider community: The Shed, the non-profit cultural center located on W. 30th St., right below The High Line.
"The Shed is the future of the arts in New York City," said Jonathan M. Tisch, at an April 3 press preview. Tisch donated $27.5M to fund the construction of the building, including a $10M challenge grant to commission new work. "We have many truly world-class cultural institutions in this city, but they tend to be about the past," he said. "The Shed is the future."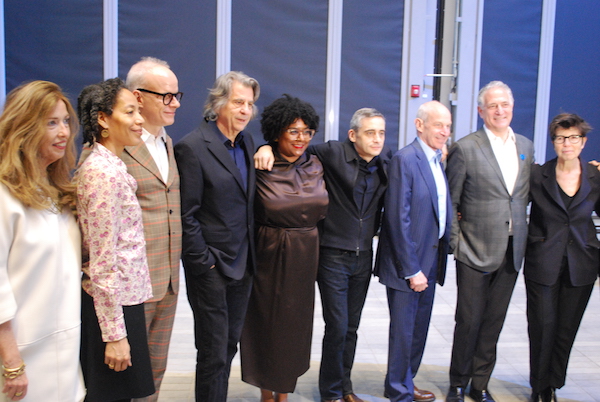 The Shed, which opened on April 5, was conceived of almost 15 years ago, when, at the height of the recession, Mayor Mike Bloomberg thought to revitalize Manhattan's West Side, complete with a cultural center.
Bloomberg donated $75M, with Citadel founder Ken Griffin giving another $25M. In 2013, the City gave $50M to the project, later raising that to $75M. By January 2019, The Shed had received $488M in donations toward its $550M capital campaign to construct the building and commission programming.
"The Shed was key to [Bloomberg's] vision, opening in April with an inaugural season that celebrates and showcases local and international creativity across all disciplines," said Shed Board Chair Daniel Doctoroff. "He told us to make it different, so it can play a role in keeping New York the leading cultural center in the world."
Architect Liz Diller, of Diller Scofidio + Renfro, said when she started this project, it was with optimism about creating a building that was so flexible, it could change size on demand without defaulting to the generic. Inspired by Cedric Price's "Fun Palace," The Shed's 200,000-square-foot Bloomberg Building can physically transform to support artists' concepts. The eight-level base building features two levels of gallery space, the Griffin Theater and the Tisch Skylights rehearsal space, creative lab, and skylight event space.
The largest and main theatre space bears the name of Frank McCourt, who gifted $45M to see The Shed come to fruition. The McCourt is an iconic space for large-scale performances, with a telescoping outer shell deployed from the base building that allows for both indoor and outdoor performances and installations.
"When we started this project in 2008, arts were siloed in galleries, studios, or theatres. But that's not the way artists work today, or will in the future," said Diller. "At The Shed, we will house all of the arts under one roof, in a bold response to all artist's needs, in a future we cannot predict."
There is no front or back of house, explained Diller, so you can drive a truck right into the building and unload it. After Artistic Director and CEO Alex C. Poots challenged it to be more flexible, Diller's team streamlined aspects so that "the infrastructure was all muscle and no fat."
Her colleague David Rockwell said when he moved to New York City 40 years ago, he was not wowed by the grids of tall buildings, but rather by the city's thriving "ground floor." He wanted to create that feeling in one central location.
"Art builds community, and at best, an empathy with the audience," said Rockwell. "So for 10 years we have been collaborating on this project, fretting and drinking, and my respect for Liz and the others has only grown. Doctoroff's enthusiasm and commitment to getting this done was such that the project would not have been completed without him."
With Liz Diller as lead architect, the design was meant to work in tandem with their mission of being inclusive of all artists from all disciplines and audiences. So Poots commissioned both emerging and established artists to create new works.
"We are trying to create parity amongst all arts forms and audiences, and these commissions work to create destiny," said Poots. "We are working with leading artists within their area, and allowing them the opportunity to be at the right place at the right time. We encourage them to be inventive, curious, risk-taking. The Shed is a place where all artists can meet."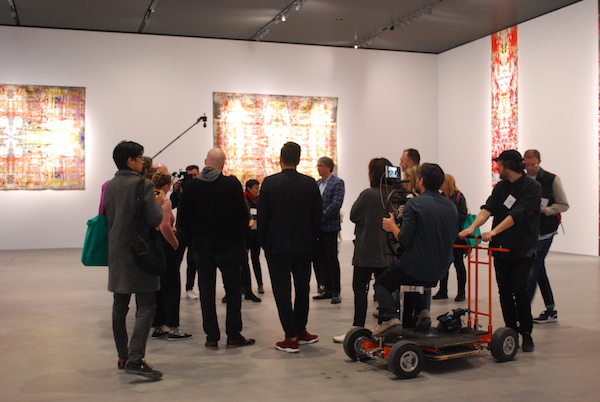 THE INAUGURAL SEASON | Even before The Shed was completely built, artists were in there holding rehearsals. The opening commission, a five-night concert series called "Soundtrack of America," was conceived of by Steve McQueen with Quincy Jones and Maureen Mahon. The series celebrated the impact of African-American music on contemporary culture, with performances by mostly emerging artists, with the occasional Jon Batiste and PJ Morton thrown in for good measure. Tickets were available for $25, with an "intersectional marketing" director charged with distributing free tickets to prospective audience members.
There are also free tickets available to the new work by artist Trisha Donnelly, which runs through May 30 in the Level 4 Gallery, and $20 tickets for the world premiere of Reich Richter Pärt, an immersive live performance by Steve Reich, Gerhard Richter and Arvo Pärt, with new works by Richter and a new composition by Reich. It runs through June 2 in the Level 2 Gallery.
There will even be a production of the street dance style flexn, by New York City School students, as part of a youth residency program in dance activism. This allows for the cultivation of a new generation of artists.
Poet and scholar Anne Carson will present the specially commissioned spoken and sung dramatic work, "Norma Jeane Baker of Troy," featuring Ben Whishaw and Renée Fleming, directed by Katie Mitchell. It is an exploration of the lives and myths of both Marilyn Monroe and Helen of Troy, about which Carson said, "The #MeToo movement has given us new ways to think about female icons like Helen or Marilyn Monroe, new ways to revolve the traditional male version of such events 360 degrees and find different, deeper sorrows there." It runs through May 19, with tickets running from $35-135.
Unfortunately, tickets have sold out for "Cornucopia," Björk's eight-concert arrangement of live music and visuals with filmmaker Lucrecia Martel. The program is already being called Björk's "most elaborately staged concert to date," and will be held through June 1 in The McCourt.
And summer comes with a kick on June 22, with the futuristic kung fu musical "Dragon Spring Phoenix Rise," co-conceived by Chen Shi-Zheng and "Kung Fu Panda" screenwriters Jonathan Aibel and Glenn Berger, with songs by Sia and choreography by Akram Khan. The action happens in front of, around and above the audience in this original production designed specifically for The McCourt. The musical runs through July 27, and tickets run from $48-159.
"This is a space for ideas put into action to save people, to lift communities and better humankind," said McCourt. "My hope for this magnificent theatre and The Shed is that it is a home for both art and other intellectual ideas."
Calling the new West Side arts destination a "bold, daring, and living example of civic imagination, of ideas put into action for the great good of humankind," McCourt vowed, "We're not finished—we're just getting started. In a world replete with cynicism, The Shed is its opposite."
For more information, visit theshed.org.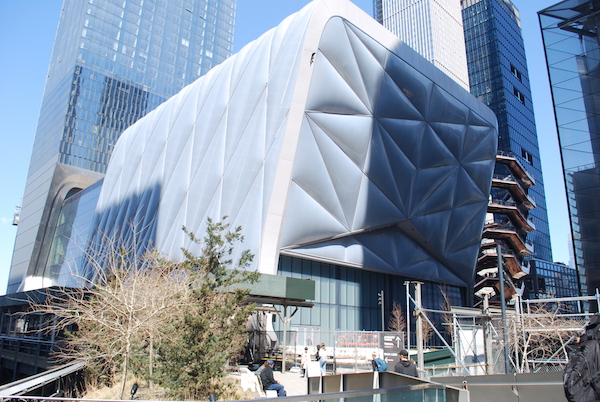 Chelsea Community News is made possible with the help of our awesome advertisers, and the support of our readers. If you like what you see, please consider taking part in our GoFundMe campaign (click here). To make a direct donation and/or send feedback about the site, send an email to Scott@chelseacommunitynews.com.