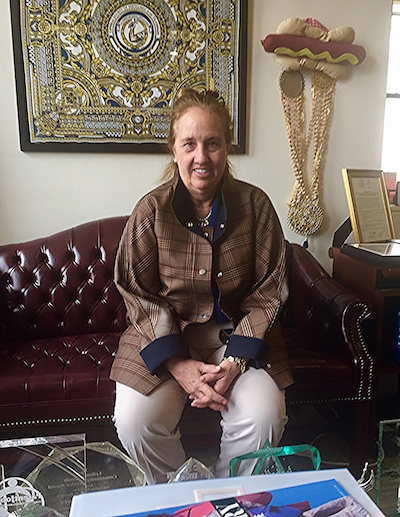 BY EILEEN STUKANE | Manhattan Borough President (MBP) Gale Brewer meets every Manhattanite she can to learn what's vexing us, and what problems are hiding under her radar.
In a recent sit-down with Chelsea Community News about her priorities as MBP, she spoke about how rewarding it is to, for example, attend a school event in an evening and find out that there is a problem with the playground.
"This is how you pick up stuff and how you can be helpful," Brewer noted, "because people don't normally pick up the phone and say, 'Can you help me' with this or that. But when they see you, they say, 'This is a problem.' "
"If somebody comes to her because they are using a wheelchair and there are two steps to get into their building, that's a problem," said Matthew S. Washington, Manhattan Deputy Borough President. "She wants to address that problem, she wants to make sure she figures out how it's not going to be a problem for anyone else. She really takes on every issue."
And she finds them during her appearances at celebratory events, for perhaps, Black History Month, or Women's History Month, at community board meetings, workshops, schools, political debates, and galas. She shows up. In fact, her ability to be present has amazed. One reporter dubbed her a "magician."
Brewer says she's not a magician, but someone with a car and driver who can attempt attendance at five to eight events a night. "People appreciate it, particularly those communities that don't feel entitled, and then I hope they know we're serious about trying to help them."
On Her Radar: The Mom-and-Pop Stores
Brewer has her own radar targeting issues like mom-and-pop stores, and affordable housing, that for her, shape the city. The streetscape has changed in Chelsea, as it has in other neighborhoods as mom-and-pop, and other types of independent shops that make Manhattan unique and offer a sense of belonging, have shut their doors forever, unable to meet sometimes 300 percent rent increases from landlords who are fine installing chain drugstores or banks, or fast food chains whose corporations can pay the rent hikes.
Local shops have also suffered from the popularity of online buying. A salesperson in a men's clothing store in Chelsea recently mentioned to this reporter that people come in and take photos of certain items of clothing, so they can go online and find them at lower prices.
When Brewer was a NYC Councilmember, prior to her election as MBP in 2014, she saw the big chains moving in and implemented Upper West Side rezoning between W. 72nd and 110th Sts., which mandated that a new bank could only be 25 feet long, and a new store, only 40 feet long, particularly on Columbus and Amsterdam Aves.
"It helps a little," she said, with a sigh that signals she knows a lot more has to be done. At the moment she has co-sponsored (with NYC Council Speaker Corey Johnson, and Councilmembers Helen Rosenthal and Mark Levine) Intro 1472, a bill that would require commercial landlords to report storefront vacancies to the city for the purpose of creating a database that would provide hard facts.
"If you don't have data, you don't know what you're dealing with," said Brewer, who stated at the bill's hearing that a database could identify vacancy trends and property owners who may have a pattern of forcing small businesses out.
While the Small Business Jobs Survival Act (SBJSA)—which gives commercial tenants the right to a 10-year lease renewal, negotiating power over terms of a lease, and the right to arbitration—is being tweaked after Speaker Johnson revived it in Oct. 2018 and faced opposition from the Real Estate Board of New York, and a Vacancy Tax, which would fine landlords for empty storefronts, could perhaps be enacted in Albany, Brewer has gathered some other ideas from San Francisco.
"San Francisco is smaller but they have some ideas," she said, citing as one example "the legacy idea. If you have been in business for 25 years, then under a certain law, you can go through a process and become a legacy. Your store rent only goes up a certain amount, not 300 percent. That's one idea to look at, but New York is much bigger. The second idea that has been very successful to everyone's surprise in San Francisco is the Formula Bill, which states that if a neighborhood wants chain stores or doesn't, or wants to define chains in a certain way, or maybe wants some, then that neighborhood can make an application to the City Planning Commission in San Francisco—and what the neighborhood wants is usually upheld. That's a very bold step, but it has been successful. So those are two ideas for New York."
Staying Alert To Land Use And Affordable Housing
Asked what the hardest part of her job is, Brewer did not have to mull over an answer.
"Land Use," she said in a flash. "It's hard to get the land use to produce affordable housing. If developers are not applying for a change in zoning then there's nothing we can do about it," she said.
A Borough President has a voice in the development of a building that needs rezoning and goes through the Uniform Land Use Review Procedure (ULURP). The MBP makes a recommendation to the City Planning Commission, after a Community Board has made its recommendation, but before any vote by the City Council.
Interestingly, if MBP Brewer is not in favor of a ULURP application, the City Planning Commission requires that nine commissioners vote to agree, rather than a consensus of seven. The City Council does not have to review every ULURP application but if one is not approved by a Community Board or the MBP, the Council can choose to weigh in. The Council has the power to approve, to request changes for approval, or to reject a ULURP application.
However, in as-of-right buildings that do not seek rezoning, "then we cannot mandate that they make themselves affordable in some way. Then we are stuck with all luxury, which I hate," she said. "We want more people who are working to be able to afford to live here. It's very crazy when you have to commute from Pennsylvania to work as a security guard. That's crazy and that's happening."
Her recourse as Borough President is to hold public hearings for members of a community to voice their concerns. Recently she, along with other elected officials, announced that this will be happening for the New York Housing Authority's (NYCHA) proposal for demolishing two buildings of the subsidized Robert S. Fulton Houses on Ninth Ave. between W. 16th and 20th Sts. A new tower would be built on a parking lot for 72 residents to move into to enable two smaller buildings to be demolished. These would make way for the private development of three towers of mixed-use, affordable, and market-rate units—one of 14 stories, another 25 stories, and the tallest, 28 stories. NYCHA would own the land and lease it to a developer. The proposal was announced without community input.
Meanwhile, in Hell's Kitchen, the plan to build 100 percent affordable housing on the Harborview Terrace parking lot in the West 50s, which was a 2005 concession to the community for the creation of Hudson Yards, has been halted by NYCHA.
"In the big fight, we won 100 percent affordable housing in the NYCHA Harborview, and so far the city has not been helpful on this topic," Brewer said.
Hudson Yards itself has some affordable housing. About 400 affordable apartments out of the approximately 4,000 in Hudson Yards are to be available through lottery. Most of the units will be created in the Phase Two development of Hudson Yards but 107 apartments were recently opened for application. The deadline for applying was in December 2018. Those selected by lottery are usually contacted two to 10 months after deadline to come in for eligibility interviews with the NYC Department of Housing Preservation and Development (HPD) and NYC Housing Development Corporation (HDC). In Hudson Yards, residents of Community Board 4 are given preference for affordable housing.
"I think Gale may say that the hardest part of her job is land use, but I would say that the hardest thing for her is all of it," said Washington, "and the reason I say that is because Gale's brand of government is one-to-one. She believes that government should serve people and serve them where their needs are. It's not just about legislation for the sake of legislation. She wants to understand the issue."
Brewer's efforts to understand have led to a storefront district office on W. 125th St. in Harlem.
"I have a great staff," she said. "We're the first Borough President to have a storefront district office. Six or seven staff members are there, and people can come in all day long. They don't have to go into the tall office building, walk up stairs, or take elevators. That was my idea and I'm very proud of that."


Creating Strong Community Boards
Each Community Board in Manhattan has 50 voluntary members, appointed by the MBP. In 2014, Brewer introduced a resolution to allow 16 and 17 year olds to serve on Community Boards, and the resolution was passed by the City Council. "They [16- and 17-year-olds] have been phenomenal," Brewer noted. "We try to put one on every community board, as long as there is someone who applies who is up to it. They've gone on to the most amazing colleges with big offerings. They were good to start with, but still, it's pretty exciting… Community Boards I hope will get a little more power because on the local level, increasingly, people are going to them. They may not agree with the outcome, but they are heard, and hopefully, respectfully,"
And she further explained, "In this office we appoint Community Boards in a very professional fashion. I don't want to say it's unlike any other borough, but that's what I've been told. We send out wide application information and get hundreds and hundreds of online applicants. We score them, and meet with each and every one of them. It's 1,000 people. You figure out this person writes well, this person is articulate, you can tell from the group exercise and then we try to pick. Sometimes a board may have only three openings and there may be 60 applicants. Then we train them."
Brewer's Leadership Development Training series consists of workshops and seminars to sharpen skills. There are workshops on parliamentary procedure, technology, land use, budgeting, and the how-tos of using a database and writing a resolution.
Among those you might find at those workshops? "Other boroughs," Brewer noted, "Brooklyn, Bronx, because they don't have this. We give people the tools to become good community board members."
Almost needless to say, Brewer is against the eight-year term limits that the city has imposed for Community Board members: "Community Board 4 is one of the best boards in New York City, particularly in terms of knowledge and those people will be off. I think it's outrageous. If members don't show up I take them off but for those who work hard and who donate their time, you tell them they have term limits! Eight years is not a very long time to learn zoning and to have that institutional memory which is so important. What's with Hudson Yards? What issues have been the most complicated in Chelsea over the years? Even knowing the State Liquor Authority, it's not just two minutes."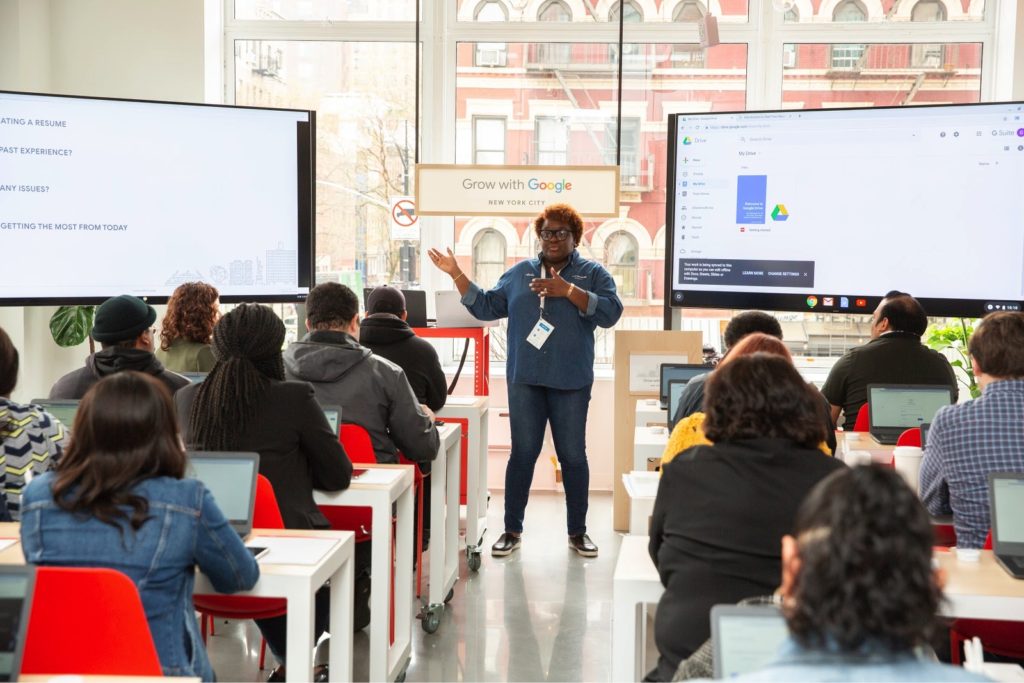 Grow With Google, Technology Expands The Neighborhood
Brewer has long been a proponent of the benefits of putting technology to good use. She sponsored the trailblazing Open Data Law that was signed by Mayor Michael Bloomberg in 2012 to require the city to publish all public data, and offer government transparency. This March, Mayor Bill de Blasio expanded that to "Open Data for All," to provide public access to an array of New York City agencies and organizations.
"It's a model for the country in terms of municipalities," said Brewer, who for many years consulted with national experts in open data laws, and served for years as chair of the Select Committee on Technology in Government. "In our office, we work with BetaNYC (a civic organization founded in 2008) which has, for the last four years, worked with about 12 CUNY students who are interested in computer science." Members of CB4 and others Brewer noted, "have been trained how to use the data by these students. The data is used by academics, by real estate interests, but we want people in the community to use it. For example, say I live on Eighth Ave. and W. 17th St. I want to know what is rent-stabilized in the area, what schools are in the area, the graduation rates, the crime rate. That is all available on Open Data, but you need to know how to layer it."
As MBP, Brewer is also a supportive partner of Grow With Google, a free education program that in April opened a five-month pop-up learning center on street level in the Google building on Eighth Ave. (btw. W. 15th & 16th Sts.), in a former Banana Republic store. Brewer spoke at the opening along with U.S. Congressmember Jerrold "Jerry" Nadler.
"I think Google has been a good neighbor," Brewer said, "and this is an amazing program, available six days a week, and offering free opportunities for learning from the Masters, so to speak."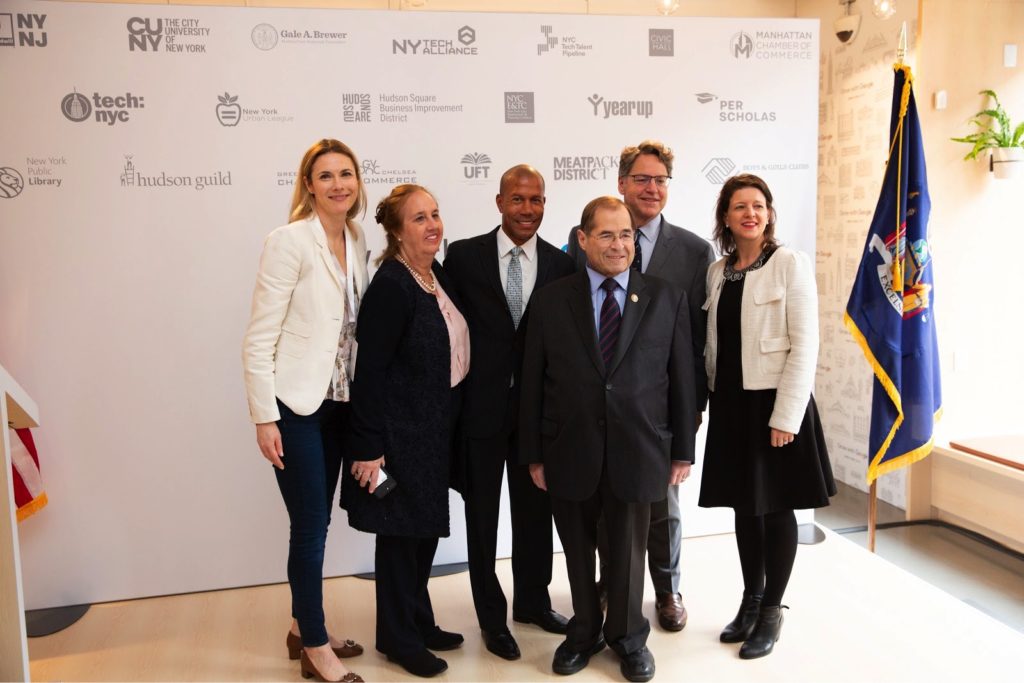 There is one classroom on the ground floor and two on the second, each with modular desks, Smart TV, and Chromebooks for 80 students. The program is mostly geared for small businesses and nonprofits, to help them reach new customers online and get more exposure, but it's also for job seekers wanting to enhance their skills and build a resume. The program offers education in coding.
Anyone walking by can stop in and take a look around and do minimal training exercises—but one-on-one coaching, classes, and workshops such as "Fundamentals of Online Marketing" or "Design An Effective Resume" require advance signups. On Saturdays, there are free classes in coding for children, offering an opportunity for young people living nearby in the Fulton Houses.
In the area of technology, Brewer is also working to get faster Internet speeds in schools. "Almost every five years, schools need a new round of technology," she noted, "and I'm always pushing, because it's not just the hardware and the software, but how the service, 'the pipe work,' comes into the building. When you have 45 minutes for a class, how long can you watch that little blue circle spinning without having the ability to do the class?"
So Why Not Run For Mayor?
With her natural inclination for problem-solving and her love of personal connection and communication, the Mayor's job would seem a natural fit for Gale Brewer, who is now 67. When asked if she'd like to run, she has a fast answer: "I love Manhattan. I'm a Manhattan person." She would have to reach out to the other boroughs as a mayoral candidate, and this longtime resident of W. 95th St. is site-specific. Will she stay in government after her term is up?
"I have another three years, so we'll see," she says.
Brewer has a full personal life as well. With author husband Cal Snyder, she has been a foster parent to about 35 children, and she has two adopted sons, now adults. And every Wednesday morning at 8am you can find her teaching a Public Policy course at Hunter College with her mentor, former MBP Ruth Messinger (Brewer was once Messinger's chief-of-staff). Maybe she is a magician!
Chelsea Community News is made possible with the help of our awesome advertisers, and the support of our readers. If you like what you see, please consider taking part in our GoFundMe campaign (click here). To make a direct donation and/or send feedback about the site, send an email to Scott@chelseacommunitynews.com.