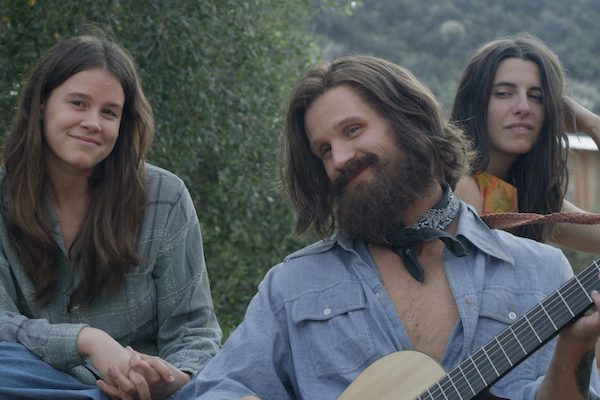 TRIBECA FILM FESTIVAL REVIEW BY TRAV S.D. | Full disclosure: This reviewer has seen just about every film and read every book on the Manson Family and the Tate-LaBianca murders, and even wrote a play on the topic that was a sold-out and extended hit of the 2009 New York International Fringe Festival. I am one of the hardest-to-please audiences there can be for a new movie on the subject. And, to cut to the chase (haha, I said "cut"), I really loved Charlie Says, Mary Harron's new film on the topic, delivered just in time for the horrific event's 50th anniversary (and maybe not coincidentally, Leslie Van Houten's latest round of parole hearings).
Charlie Says may actually be my new favorite film about the subject, edging out my two previous favorites, Manson (1973), a documentary made with the actual participation of the Manson family, and Helter Skelter, the 1976 made-for-TV adaptation of prosecutor Vincent Bugliosi's best-selling book.
This is Mary Harron's fifth feature film, and all of the previous ones seem in some measure like appropriate preparation for the task at hand: I Shot Andy Warhol (1996), American Psycho (2000), The Notorious Bettie Page (2005), and The Moth Diaries (2011). The violence and manipulation of men, and the exploitation of women, are frequent topics for Harron—often in collaboration with Guinevere Turner, who wrote her second and third films, as well as the current one. As a child in the late '60s and '70s, Turner grew up in the Lyman Family cult in the greater Boston area, which had much in common with the Manson Family, clearly providing some of the impetus for the Charlie Says screenplay. It's primarily based on The Long Prison Journey of Leslie Van Houten by Karlene Faith, who sadly passed away while the film was still in production.
Looking at this famously bewildering atrocity through a frankly feminist lens, Charlie Says is at once more coherent and less exploitive than any version I have ever encountered before.
Merrit Wever (Nurse Jackie) plays the real-life Karlene Faith, a graduate student who visits family members Susan Atkins (Marianne Rendon), Patricia Krenwinkel (Sosie Bacon), and Leslie Van Houten (Hannah Murray from Game of Thrones) in prison. Ostensibly there to teach the women classes that might aid in their rehabilitation, she winds up also deprogramming them, gradually easing them out of their long-held thrall to Charlie. Told largely in flashbacks, Van Houten becomes our Virgil for this descent into Hell, an interesting and welcome change from our customary guide, Linda Kasabian (here played by India Ennenga), whose testimony is what put the worst of the Manson Family behind bars. Ed Sanders, whose 1971 book "The Family" this film is also based on, has always contended that Kasabian was not the innocent victim she is typically depicted as. In Charlie Says, she is merely another one of the girls.
With her pleasantly blank and dumb-looking face, Murray is wonderful casting for a generic Manson family girl, but perhaps not the best match for Van Houten, who always seemed to me to be highly intelligent and wound pretty tight. But Murray does a terrific job here nonetheless, in particular at the film's climax, when she is coerced into taking part in the violence by stabbing the already-dead body of Leno LaBianca.
The moment is every bit as horrible and terrifying as it needs to be—horror movie-level horrible—and that is something I have yet to see in any movie about the Tate-LaBianca murders. Also very good in the film are Kayli Carter (a dead ringer for Squeaky Fromme), and Chace Crawford (Gossip Girl) as the drug-addled, half-wit Tex Watson.
But the key to any film about this topic is the performance of the man playing Manson. With the sole exception of Steve Railsback in the original Helter Skelter, everyone who's taken on this impossible role has been atrocious. Until now. English actor Matt Smith (best-known as the 11th Dr. Who) works some serious alchemy here, and somehow manages to nail it. He's not playing "crazy." He's not playing "druggy." He's doing what an actor is supposed to do: He's playing his actions. Yes, he is an extremely weird dude, and Smith seems to have steeped himself mighty well in the cult leader's sui generis body language and odd verbal tropes and tics, well enough to improvise in character. With that as a base, he is free to woo, charm, gaslight, menace, intimidate, wow, amuse, whatever he needs to do to control his followers. It is an impressive piece of acting and I have to believe he worked hard on it—harder than the dilettantes who usually phone in what ought to be the greatest role of their lives.
The Faith-Turner-Harron axis does a terrific job of locating this event in the larger scheme of things. For, despite what the media and politicians never tire of telling us, the Manson Family and their crimes are NOT unique. A cult is a nation writ small. What is the source of war, oppression, violence, exploitation, abuse? Could the answer be manipulative, power-hungry, selfish, unfeeling, narcissistic, insane men? Is it a coincidence that this describes nearly every monarch or world ruler in the history of mankind? Doubt it? Crack a history book.
–Runtime: 110 minutes
–Directed by Mary Harron
–Screenplay by Guinevere Turner
–9pm, Thurs., 5/2 and 6:30pm, Sat., 5/4 at Regal Cinemas Battery Park.
The 18th annual Tribeca Film Festival happens April 24 through May 5. Venues include Chelsea's SVA Theatre, Regal Cinemas Battery Park, Village East Cinema, BMCC TPAC, and the Tribeca Festival Hub. For info, and to order tickets, visit tribecafilm.com or call 866-941-3378. Matinee screenings are $12, evening and weekend screenings are $24, Tribeca Talks and Tribeca Immersive tickets are $40, and Tribeca Cinema360 tickets are $15. Discounted packages are available. Free Film Friday (free film screenings) is May 3. Twitter: twitter.com/tribeca. Facebook: facebook.com/tribeca. Instagram: instagram.com/tribeca. Hashtag: #Tribeca2019.
Chelsea Community News is made possible with the help of our awesome advertisers, and the support of our readers. If you like what you see, please consider taking part in our GoFundMe campaign (click here). To make a direct donation and/or send feedback about the site, send an email to Scott@chelseacommunitynews.com.