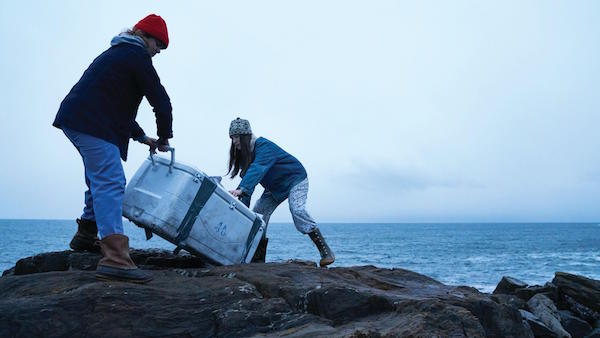 TRIBECA FILM FESTIVAL REVIEW BY SEAN EGAN | Like the imposing chorus of shanty-singing fishermen that opens the film, the specter of the patriarchy lingers long over Blow the Man Down. The new noir from writer/directors Bridget Savage Cole and Danielle Krudy, finds a small Maine fishing town grappling with the collective traumas caused by toxic male behavior, buried for decades, and the unexpected effects of decisions made to address it, as they reverberate through the years. It doesn't seem accidental that the few significant male roles belong to alternately corrupt or impotent law enforcement.
This all might sound heavy, but rest assured, Blow the Man Down uses this backdrop as a jumping-off point for a darkly comic yarn which should prove irresistible to a certain strain of Coen Brothers fans. And while the debut feature from Savage Cole and Krudy is clearly working within a defined style, they manage to avoid common first-film pitfalls, leaping beyond their influences to twist the noir form to their own devices into something that, despite its familiarity, feels fresh—most notably, through its female-dominated ensemble.
This assemblage of exceptionally lived-in characters is led by the Connolly sisters: prim Priscilla (Sophie Lowe) and restless Mary Beth (Morgan Saylor), who, at the start of the movie, have just lost their mother, inheriting a mountain of debt and a struggling business in the process. As in these kinds of films, poor decisions both small and large quickly spiral into violence, while happenstance consistently finds ways of tightening the noose around guilty parties. All the while, the story's scope expands, pulling in an increasingly diverse array of individuals and highlighting the movie's greatest strength: its top-to-bottom stellar cast.
Playing a trio of the late Mrs. Connolly's friends harboring secrets and agendas of their own, June Squibb, Annette O'Toole, and Marceline Hugot are given the kinds of meaty, morally ambiguous roles not often written for actors of their vintage, helping to give the film multigenerational heft. Gayle Rankin also brings charismatic attitude and soul to Alexis, a grieving woman of the night who gets entangled in events. Best among them, however is Margaret Martindale. Though it might be something of a cliché to sing the praises of the Beloved Character Actress, with her turn as Enid, lighting rod of community controversy and mistress of the town brothel, she puts in award-worthy work. Draped in an iconic dark cape, her cane-wielding, acid-tongued Enid is a sociopathic delight, vignetted with some genuine melancholy.
And while Savage Cole and Krudy have clearly relished in writing this actor's showcase, the pair have aesthetic panache to spare. They palpably capture the icy-gray atmosphere of the Northeast, while finding time for more idiosyncratic touches, like the Greek chorus of fishermen. Todd Banhazl's framing is impeccable throughout, employing dynamic low angles and split-diopters, and peppering in quirky, locale-specific inserts (a mermaid door knocker here, a pervily-christened boat there). Meanwhile, Marc Vive's ace editing packs the film's many disparate threads into an impressively tight 90 minutes, while still punctuating the proceedings with well-timed visual punchlines. By the time film matter-of-factly closes, with the stains of shanties in the air and a sly smile, you'll likely find yourself blown away by this startlingly confident debut—and excited to see where the wind takes its talented filmmakers.
–Runtime: 90 minutes
–Written and Directed by Bridget Savage Cole and Danielle Krudy
–8:30pm, Sat., 5/4 at Regal Cinemas Battery Park 11 and 6:30pm, Sun., 5/6 at SVA Theatre.
The 18th annual Tribeca Film Festival happens April 24 through May 5. Venues include Chelsea's SVA Theatre, Regal Cinemas Battery Park, Village East Cinema, BMCC TPAC, and the Tribeca Festival Hub. For info, and to order tickets, visit tribecafilm.com or call 866-941-3378. Matinee screenings are $12, evening and weekend screenings are $24, Tribeca Talks and Tribeca Immersive tickets are $40, and Tribeca Cinema360 tickets are $15. Discounted packages are available. Free Film Friday (free film screenings) is May 3. Twitter: twitter.com/tribeca. Facebook: facebook.com/tribeca. Instagram: instagram.com/tribeca. Hashtag: #Tribeca2019.
Chelsea Community News is made possible with the help of our awesome advertisers, and the support of our readers. If you like what you see, please consider taking part in our GoFundMe campaign (click here). To make a direct donation and/or send feedback about the site, send an email to Scott@chelseacommunitynews.com.