BY SALLY GREENSPAN (Member of the Board, Save Chelsea) | On Tuesday, April 30, the New York City Landmarks Preservation Commission (LPC) held a landmark designation hearing for Tin Pan Alley. These five Italianate row houses (47-55 W. 28th St. btw. Broadway & Sixth Ave.) were built in the mid-19th century. They are part of an irreplaceable cultural history of New York City—and America.
During the late 19th century, this block on W. 28th St. became the home of a significant group of sheet music publishers. The firms that made their home here revolutionized the music publishing industry of popular music. African American songwriters and songwriters of Eastern European Jewish descent thrived here, and their creative and musical legacy is bound to these buildings. W.C. Handy, known as the Father of the Blues, and Scott Joplin, who wrote Maple Leaf Rag, created their great works during their time on Tin Pan Alley. This was where George M. Cohan gave us Give My Regards to Broadway—and we are still singing Jack Norworth's Take Me Out to the Ball Game. And so many others!
Advocacy to protect Tin Pan Alley began several years ago and received a significant boost under the leadership of George Calderaro and the 29th Street Neighborhood Association. Over the years, the list of supporters has continued to grow and includes other organizations such as The Historic Districts Council, New York Landmarks Conservancy, Save Chelsea, the Victorian Society, and Community Board 5. These groups banded together and have lobbied the LPC to designate a Tin Pan Alley Historic District, based on its cultural significance.* At long last, the hearing, held on April 30, will decide the fate of the buildings by the end of this summer.
Local elected officials including New York City Council Speaker Corey Johnson, Manhattan Borough President Gale Brewer, State Senator Liz Krueger, and Assemblyman Richard Gottfried have also supported and endorsed a landmark designation.*
Celebrity endorsements are also significant, including major artists like singer/pianist Michael Feinstein and Broadway star Rebecca Luker. Landmark designation has also received support from the Songwriters Hall of Fame and the National Music Council, representing some one million individuals from all facets of American music. This is in addition to over 40,000 individuals who have signed a petition to save Tin Pan Alley and the NOMAD District.*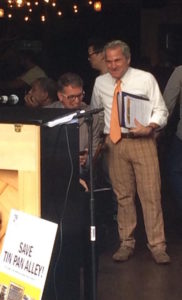 Only two people—consultants representing the developer who purchased the properties—spoke against landmark designation (and a hired lobbyist also spoke at the end). The main argument from those opposed to preservation was based on the fact that a number of songs written on Tin Pan Alley during this period were racially charged, had racial overtones, and elevated bigotry and negative stereotypes with pejorative lyrics.
In an interview following the hearing, Calderaro pointed out that thousands of songs were written in Tin Pan Alley during the mid to late 19th century, of which perhaps dozens were racially vile. The negative, racists songs must be viewed within the context of the historical and cultural significance of Tin Pan Alley, and the creative and musical legacy of the African American songwriters and songwriters of Eastern European Jewish descent who thrived here.
There were more than 20 speakers in support of designation. The group that spoke in support was diverse and well-organized. A particularly moving and heartfelt endorsement for preservation came from Claudette Brady, representing the Bedford Stuyvesant Society for Historic Preservation. She said, "If I remove Jim Crow, and I remove The Klansman from history, I also marginalize the Civil Rights Movement?" Brady went on to ask, "Do we take away Huckleberry Finn from our libraries? No. It informs my children what my grandmother's struggle was about." **
Andrew Dolkart, Columbia University architecture professor and former LPC staff member, noted, "It is true that every song published by companies located in these buildings would not be sung at a concert today. But to dismiss these buildings and the importance of Tin Pan Alley because of a few racist songs, is to completely misunderstand the preservation and the value of cultural landmarking. American history is fraught with difficult issues often involving race, ethnicity, religion, sex, and gender. We need to understand the past in all of its complexity, in order to know who we are as a nation and a people."**
A decision by the Landmarks Preservation Commission is expected before the end of summer. To add your voice to the conversation, visit www.savetinpanalley.org.
*April 26, 2019 press release from the 29th Street Neighborhood Association
**Tin Pan Alley's possible landmark designation debated at heated LPC hearing (Valerie Ricciulli reporting for Curbed; April 30, 2019)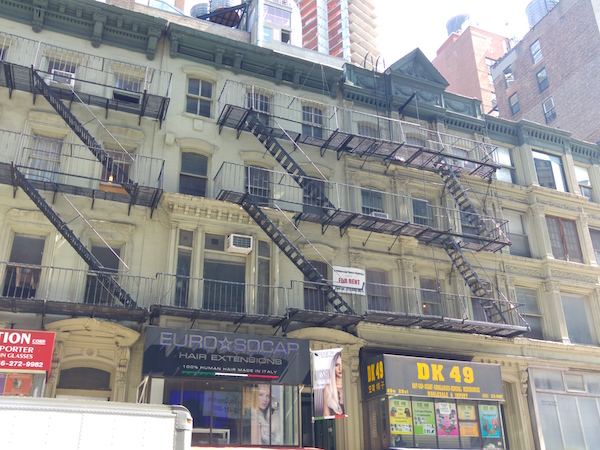 NOTE: Contributions to our Community Voices section do not necessarily reflect the opinion of Chelsea Community News.
Chelsea Community News is made possible with the help of our awesome advertisers, and the support of our readers. If you like what you see, please consider taking part in our GoFundMe campaign (click here). To make a direct donation, give feedback about the site, or send a Letter to The Editor, email us at Scott@chelseacommunitynews.com.