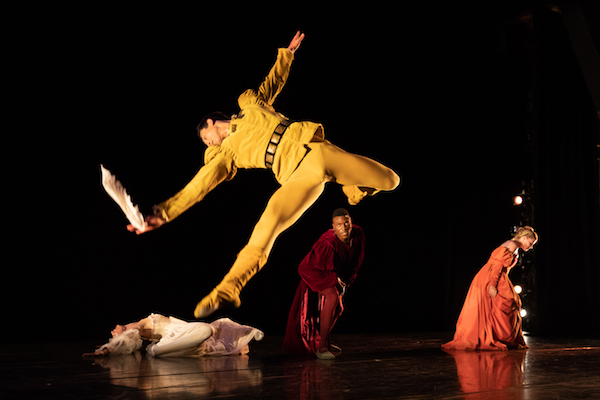 BY ELIZABETH ZIMMER | Chelsea teems with historic dance in late May, including five days of performances by the venerable Limón Dance Company at the Joyce, and six shows, curated by Sans Limites Dance, at the Hudson Guild Theater, featuring work by close to 50 different choreographers from around the globe.
Performing with the Limón troupe—the 72-year-old modern ensemble that successfully survived the death of founder José in 1972—is standout dancer Jesse Obremski, a 24-year-old grad of La Guardia High School and Juilliard. Obremski has worked with a dozen different companies already and this spring was profiled in Dance Magazine's On the Rise column. I asked him how he found his way to his current berth.
OBREMSKI: I had my first Limón class when I was 15, at the Ailey School, with Maxine Steinman," recalled Obremski. "I remember the flow, the release, and how different the approach was. I then attended the Juilliard School where I took Limón classes with Laura Glenn and Risa Steinberg. Every first-year class performed José Limón's Missa Brevis and I was selected for the Limón soloist role, my first solo on a concert stage. Diving into this deep, rich role was incredibly rewarding. The Limon principles and ideologies can be a lifestyle, and they are for me. During my years at Juilliard I was also a member of the Lar Lubovitch Dance Company. Lar continually talked about Limón and how he was an inspiration. Even before joining the company, I found myself drawn and connected to the Limón world and inspired by artists who worked with Limón."
ZIMMER: What do you love about it?
OBREMSKI: I absolutely love the global hope, optimism, and community that it speaks to. I love the connection between musicality and physical desires and how expansive the work can be. I find that Limón as a "technique," as a language, is very contemporary; the principles can apply to any movement.
ZIMMER: What's your favorite piece in the current rep, and why?
OBREMSKI: At the Joyce, we are presenting artistic director Colin Connor's Weather in the Room (a New York City premiere), José Limón's The Moor's Pavane (a 1949 masterwork based on Shakespeare's Othello), Francesca Harper's Radical Beasts in the Forest of Possibilities (a world premiere), and Limón's 1967 Psalm. Though it is hard to choose a favorite, two works I love performing are The Moor's Pavane and Radical Beasts. In both of these I feel that I am reacting and communicating in various ways. I love the intense character study for the The Moor's Pavane, which challenges me in ways much deeper than the physicality and musicality. The desire to keep things real and in the moment is important and to play Iago in this tragic story is incredible. Also, within a work that has such a lineage, it is nice to explore my connections with the other artists. For Radical Beasts, there is a different sense of reaction. Through Francesca's Forsythian-inspired choreographic process, we were fully a part of the creation and development of the new work. I am able to react, make choices, and communicate different possibilities (hence the title). I have various moment of connection with company members who are also New York natives and whom I've known for almost 10 years now! The connection between these works is also intriguing: how I can switch between a 15th-century physical language and a contemporary one is exciting to discover.
Limón Dance Company, May 29-June 2 at The Joyce Theater (175 Eighth Ave. at W. 19th St.). Wed. at 7:30pm, Thurs.-Fri. at 8pm, Sat. at 2pm & 8pm; Sun. at 2pm & 7:30pm. Tickets ($10 and up) can be purchased at Joyce.org, or by calling JoyceCharge at 212-242-0800. Note: Ticket prices are subject to change.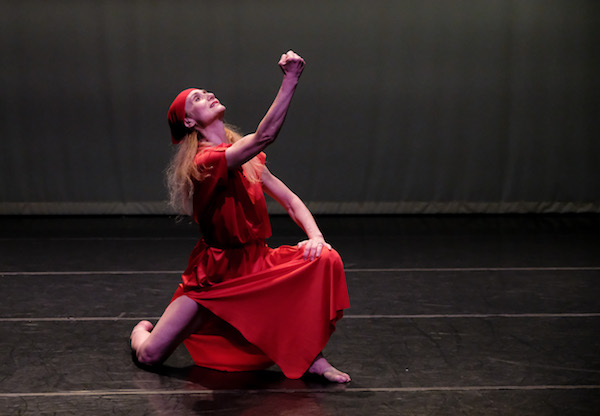 The six-year-old Sans Limites Dance is not kidding: Its 2019 Movement offers, over four days in the intimate Hudson Guild Theater, dances by an extremely large and diverse group of emerging artists grouped under distinct curatorial themes.
The first two evenings include choreographers preserving early modern dance works (Ishita Mili, Tina Croll + Company, Alison Cook Beatty Dance and others), and those transforming older ideas for the "present moment" (Julieta Tetelbaum, Beth Jucovy and Dance Visions NY, and Sheep Meadow Dance Theatre, among many more).
Saturday's performances, called ZYZYGY, showcase Heidi McFall, Deirdre Towers, Abigail Corrigan, the Open Dance Ensemble, and others at 3pm; and Ella Rosewood Dance, Daria Dasha Mozolina, Charly Santagado of Mignolo Dance, and several more at 8pm. Sunday's flock, operating under the rubric PANGAEA and representing "nationalities, ethnicities, and art forms from around the globe," includes Lil Aranoff, Leighann Kowalsky, the Heraclitus Project, and a few others at 2pm, and Lauren Oliver, Peter Cheng, Véronëque Ignace and more at 5pm.
Sans Limites Dance, May 30-June 2 at Hudson Guild Theater (441 W. 26th St., btw. 9th & 10th Aves.). Thurs.-Fri. at 8pm, Sat. at 3pm & 8pm, Sun. at 2pm & 5pm. For tickets ($20), visit 2019movement.brownpapertickets.com.
Chelsea Community News is made possible with the help of our awesome advertisers, and the support of our readers. If you like what you see, please consider taking part in our GoFundMe campaign (click here). To make a direct donation, give feedback about the site, or send a Letter to The Editor, email us at Scott@chelseacommunitynews.com.