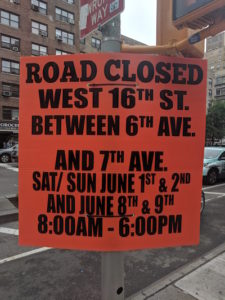 TEXT AND PHOTOS BY PAUL GRONCKI | On Saturday, June 1, we witnessed the closing of W. 16th St., between 6th and 7th Aves., from about 8am to 2pm.
The occasion: the installation of the two pool sections for the rooftop private swimming pool at 124 W. 16th St.
This building, affectionately known by neighbors as the "Prison-like Einhorn/FEC Building," has been under construction, and a bane on the block, for over six years now. (Could this be the longest construction time, on a per square foot basis, in the city?)
The 11-story condominium apartment building is being built by Yiannes Einhorn, ostensibly for his family. It is built next to, and over, the French Evangelical Church—for which Einhorn bought the air rights, after buying the townhouse next door and demolishing it. The church also gets a much-needed elevator entrance and an apartment for the pastor.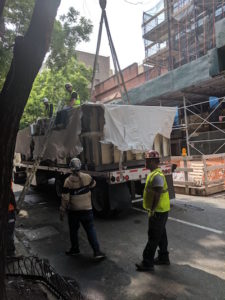 The swimming pool arrived in two sections and was hoisted to the roof by a 12-story crane. (Which, by the way, spent Saturday night parked in front of the fire hydrant at the corner of W. 16th St. and Sixth Ave.—unticketed!)
As Stephen Dycus, a resident of W. 16th St., said: "Words really are inadequate to describe the outrage I feel about this entire project. But of course it's not just NYC. No wonder so many in America now feel so angry and hopeless!"
NOTE: Contributions to our Community Voices section do not necessarily reflect the opinion of Chelsea Community News.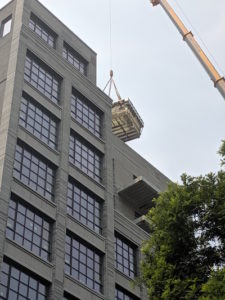 Chelsea Community News is made possible with the help of our awesome advertisers, and the support of our readers. If you like what you see, please consider taking part in our GoFundMe campaign (click here). To make a direct donation, give feedback about the site, or send a Letter to The Editor, email us at Scott@chelseacommunitynews.com.