BY KRISTEN ANCILLOTTI | Community Board 4 (CB4) held their monthly full board meeting on June 5 (at Mount Sinai West), to discuss neighborhood business and invite residents to share their concerns.
The meeting began with a presentation by Tiffany Triplett Henkel, chair of the Hell's Kitchen South Coalition, on their Neighborhood Plan (in development since 2017). The coalition formed amid worries over eminent domain and other issues that could arise due to Port Authority's plans for their bus terminal replacement project. The Neighborhood Plan, which can be viewed in full at www.hkscnyc.org, encompasses Eighth to 11th Ave., from W. 30th to W. 42nd Sts., and will not advocate for upzoning or change of permitted use.
"The Plan has a very simple objective—a healthy, safe, pedestrian-friendly residential neighborhood with open green spaces, affordable housing, and local retail," said Henkel.
During the public session, residents and community activists addressed the board regarding a public/private proposal from the New York City Housing Authority (NYCHA), calling for the demolition of two occupied buildings at the Robert Fulton Houses (btw. Ninth and 10th Aves., W. 16th to W. 19th Sts.). As Chelsea Community News recently reported, that scenario also involves the relocation of displaced residents to a newly constructed building on the property, and ultimately, the construction of two high-rise buildings, each with 70% market-rate apartments, and 30% affordable units.
Mary McGee, a resident of Fulton Houses and president of the new Fulton Houses Independent Tenants Association (FHITA), started things off by expressing her concerns for the 72 families who will be displaced by the demolition, and the uncertainty over what comes after new buildings have been constructed.
"These residents have been here before any of this was up here—why try to displace them now?" said McGee. "I'm asking this community board to please consider the residents that matter in this community—the residents that made efforts and helped build this community—and not tear them down."
Jacqueline Lara, a resident of Fulton Houses and vice president of FHITA, was homeless prior to moving into the Fulton Houses, and does not want to move from her home, even if it is on the same property.
"I'm very happy where I'm at, and I'm settled in," said Lara. "I'm afraid, and I'm confused at all the stuff that's going on. I want to stay in my home."
Fellow Fulton Houses resident George Weaver and community activist Marni Halasa also spoke, expressing frustration over the lack of funding to care for the building, as well as what they deem a disappearing act by their elected officials.
When it was time for local elected officials to speak, Carl Wilson, CB4 liaison for New York City Council Speaker Corey Johnson, addressed the fears and frustrations.
"I would like to assure this board, and to the Fulton residents that spoke earlier, and to all the public members here, that our first concern and our biggest concern are the residents of Fulton Houses," said Wilson. "Their displacement is the first thing we were concerned about when we heard about this."
He added that he and his colleagues put out a statement outlining their expectations for NYCHA, and that representatives from their office were present at all NYCHA outreach meetings. They want to make sure that all options are being considered, and remind residents that the plan for Fulton Houses is still in the conceptual phase.
"There's a long way to go on this," Wilson noted. "We are committed to working on it and we take it very, very seriously."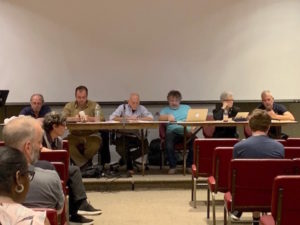 Another change to the neighborhood that is causing difficulty for residents is the removal of the eastbound bus stop at Fifth Ave. and 14th St. Paul Groncki, president of the West 16th Street Block Association, spoke during the public session, explaining that the loss of the bus stop is a hardship for the elderly.
Groncki elaborated on the issue in a phone interview, noting that since a number of subway stations are difficult to access for people with physical impairments, the bus is the only option. The sections that the elderly must now cross to get to the nearest stops are narrow, dangerous, and difficult to traverse, particularly for those who use walkers and canes, and he has received a number of complaints.
"We need to have that bus stop back," said Groncki. "I understand all the concerns about moving people more quickly, except, if there were elevators in every subway station, then I wouldn't have to make this argument."
Groncki will be presenting the issue at the next CB4 Transportation Planning Committee meeting, which will be held on June 19, 6:30pm, on the eighth floor of 500 W. 41st St. The meeting is open to the public.
The meeting concluded with CB4 District Manager Jesse Bodine discussing a letter to Mayor De Blasio regarding Community Board budget increases for fiscal year 2020, in which the board says they want to baseline the budget so they do not have to worry about whether they will receive the money going forward.
The next CB4 full board meeting will be held on Wed., July 24, 6:30pm, at the Hudson Guild Elliott Center (441 W. 26th St., Dan Carpenter Room A/B).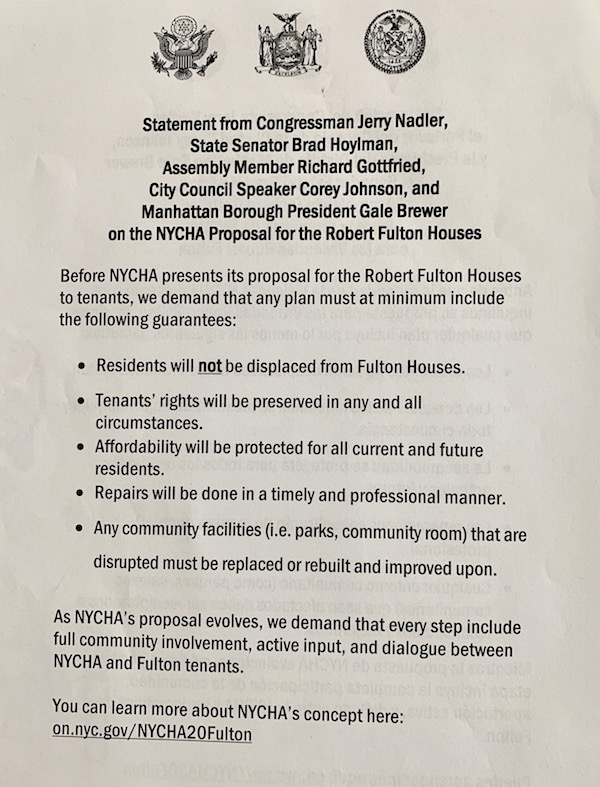 Chelsea Community News is made possible with the help of our awesome advertisers, and the support of our readers. If you like what you see, please consider taking part in our GoFundMe fundraiser (click here). To make a direct donation and/or send feedback about the site, send an email to Scott@chelseacommunitynews.com.