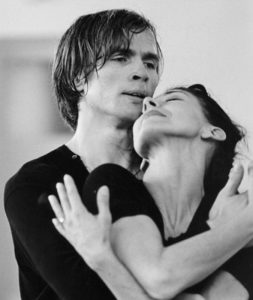 BY ELIZABETH ZIMMER | The second film about Rudolf Nureyev to hit the city this spring (the first being the The White Crow, a Ralph Fiennes-directed biopic), Jacqui and David Morris's 2018 Nureyev is much the more powerful, entertaining, and affecting.
A British production released abroad last September, it incorporates documentary film footage of the legendary dancer (who died of AIDS in 1993); sequences of choreography dramatizing his life as a student in St. Petersburg, Russia; and the compelling tale of his long partnership with prima ballerina Margot Fonteyn—20 years his senior, and one of the great loves of his life.
It also includes eye-popping photography by Richard Avedon and evocative interviews with television hosts like David Frost and Dick Cavett, demonstrating why the gorgeous performer was frequently compared to a panther. "Our responsibility," said co-director Jacqui Morris, "was to save Rudolf Nureyev for future generations, by tracking down the best of his work that survives on film, and then present it—and him—in the context of his time."
Born on a train in Siberia in 1938, Nureyev was raised in a poor Tatar Muslim family and had to run away at 17 to start dancing. After his defection in Paris in 1961, he became a culture hero on par with the Beatles, and a fixture in the nightlife scene on two continents. Performing for years with the Royal Ballet in London and touring the world, he took over as the director of the Paris Opera Ballet, and kept dancing until months before his death. This film caresses his gorgeous lips, cheekbones, and flashing eyes, and should delight dance fans of all sexual persuasions.
At Film Forum (209 W. Houston St. west of 6th Ave.) through June 20. At 12:30, 2:40, 4:50, 7:10, and 9:30pm. Tickets ($9-15) at 212-727-8110 or filmforum.org.
Also at Film Forum this month: On June 13, Douglas Keeve's 1995 Isaac Mizrahi documentary, Unzipped, is screened. June 14-27, it's Paris is Burning, a 1990 doc about NYC's drag ball scene. (Released by Janus Films, director Jennie Livingston supervised its restoration.)
Chelsea Community News is made possible with the help of our awesome advertisers, and the support of our readers. If you like what you see, please consider taking part in our GoFundMe fundraiser (click here). To make a direct donation and/or send feedback about the site, send an email to Scott@chelseacommunitynews.com.