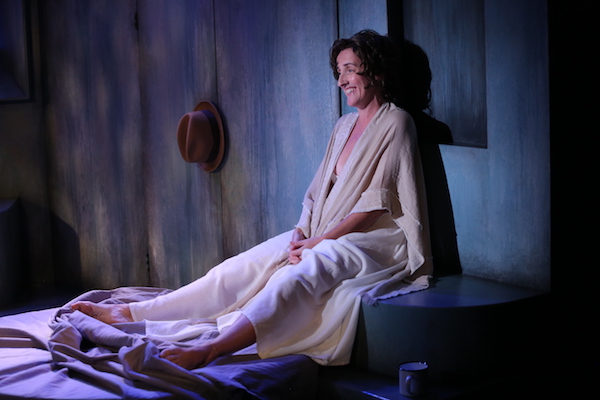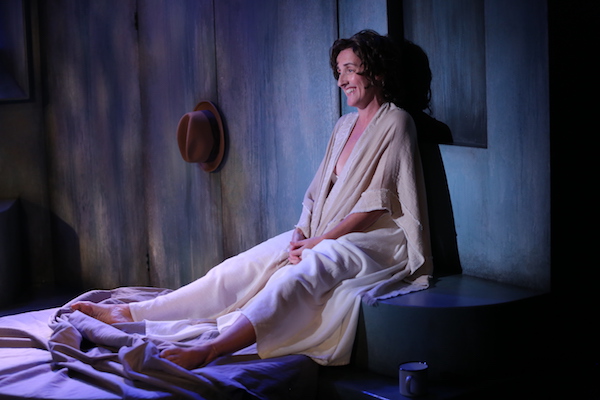 BY TRAV S.D. | 'Tis surely no accident that the Irish Repertory Theatre has chosen the month of June in which to premiere Yes! Reflections of Molly Bloom, a theatrical adaptation of the final chapter of James Joyce's Ulysses (aka Molly Bloom's Soliloquy or the Penelope chapter).
The events of the novel famously take place on June 16 and 17, 1904. The former date is celebrated each year by Joyce fans as "Bloomsday." Joyce's writings have the weight of holy writ for some—and this production, co-adapted and performed by Aedín Moloney, has that quality of reverence.
Moloney is the daughter of Paddy Moloney, of the traditional Irish group The Chieftains, who composed some surprisingly modernist music for this show. In 2003, author and Joyce scholar Colum McCann invited her to perform sections of the chapter at his annual Bloomsday celebration. In 2017, she released Reflections of Molly Bloom, an audio recording of the unabridged text. The text for the current Irish Rep incarnation was co-adapted by McCann, and co-produced by Gabriel Byrne, the well-known Irish stage and screen actor.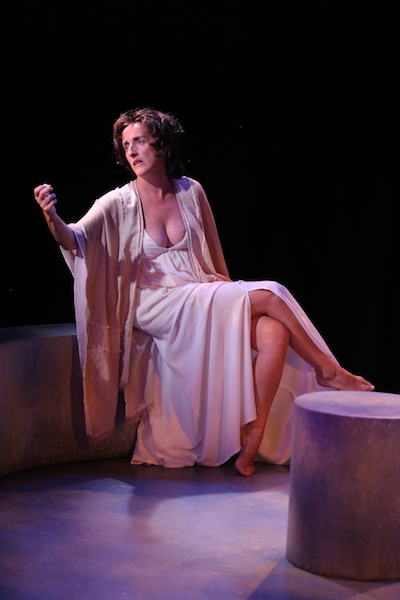 In the unlikely event that you are among the uninitiated, Ulysses loosely transplants the events of Homer's Odyssey to 1904 Dublin. Sexy, earthy, half-Spanish Molly Bloom is the book's Penelope equivalent, waiting for her husband to come home. By the final chapter, he does, and we are privy to her stream-of-conscious inner monologue, roaming hither and yon across her thoughts, projections, and memories, backwards and forwards, encompassing pain, regret, passion, and, in the final beats, affirmation and a healthy lust that makes this section of the book the hands-down favorite of precocious school-kids everywhere (it's also the easiest to find, being at the back). Some of them, all grown up, seemed to be at the show I attended, giggling at the naughty bits guiltily, as though they were about to get busted by the librarian.
Let the buyer beware: As directed by Kira Simring, this production assumes a strong familiarity with the source material. If you do not come to the production already apprised of the who, what, where, when, and why of the novel, you will have to be a genius of attentiveness to glean it from the opaque, modernist text, as no accommodation is made for such conventional matters as exposition or laying the scene.
I noticed no major deviations from Joyce's original text, other than the physical absence of Leopold "Poldy" Bloom, Molly's wandering husband, who ought be lying beside her on the bed. Thankfully, Moloney's not lying in bed the entire time either. We seem to be in some version of her headspace, in some sort of science fiction approximation of a room, with a closet that Moloney periodically opens and closes, taking items out and replacing them, the motivation of which appears elusive. Mostly, she cavorts, dances, and wanders about the space like a restless kid on a sleepover, or like one of those Jules Feiffer characters who soliloquize whilst they sashay.
Moloney has cast herself against type, not quite the nymph (or nympho) one envisions in the book, more like her complaining sister. Still, she and Simring have made good, careful sense out of the tidal wave of text. Each moment is distinct and clear, and the careful listener can sort out her journey, crooked though it may be.
Yes! Reflections of Molly Bloom is for Joyce freaks only, I think. Fortunately, for all concerned, there'll be no shortage of them amongst the subscribers of the Irish Rep. It's playing through July 7. For tickets and more information. visit www.irishrep.org. Due to nudity and explicit language, audience members must be at least 16 years old to attend this production.
Chelsea Community News is made possible with the help of our awesome advertisers, and the support of our readers. If you like what you see, please consider taking part in our GoFundMe fundraiser (click here). To make a direct donation and/or send feedback about the site, send an email to Scott@chelseacommunitynews.com.