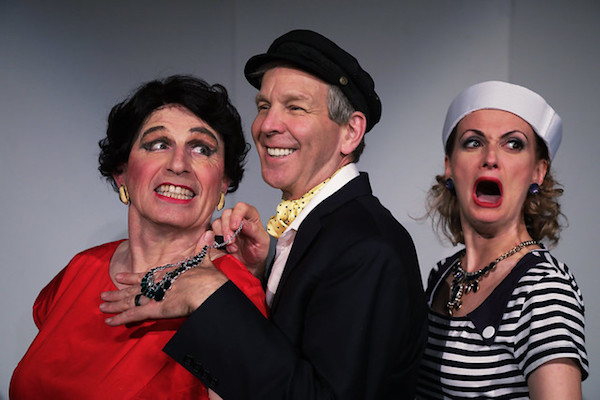 BY TRAV S.D. | Are you feeling what I'm feeling? Excitement about Pride Month seems particularly marked this year, most likely because it is the 50th anniversary of the Stonewall Riots that helped spark the modern Gay Rights Movement in America, but undoubtedly also because the community's hard-won rights are once again under threat from an indifferent and even hostile federal government.
So it is both a time of celebration and a time of protest, and the streets of the West Village in particular are a sea of rainbow flags as this is being written. In the heart of all this is the Theatre at St. John's, located in St. John's Lutheran Church on Christopher St., where the great Everett Quinton has revived a drag classic from the vaults of the Ridiculous Theatrical Company, Galas: A Modern Tragedy, playing through June 28.
Galas was one of the last, and best, plays by the late Charles Ludlam, Quinton's partner, and founder of the Ridiculous. He was a key hero in the early LGBT struggle who elevated queer identity into an aesthetic, one that was joyously celebratory, and at times pointedly (if campily) tragic. Yet Ludlam's death of AIDS in 1987 at age 44 was the greatest of all tragedies associated with the brilliant playwright/producer/director/actor. His absence at benchmark celebrations like this year's Pride is always keenly felt, and speaks volumes about what is valued in the culture at large.
Galas is a burlesqued biography of the Greek-American opera soprano Maria Callas. Quinton (who also directs) plays the title character, with his trademark mixture of larger-than-life lampoon and genuine sensitivity. He's got a different wig and dress in every scene, but were he to don a thousand such outfits, his beauty would not be the same as Callas'.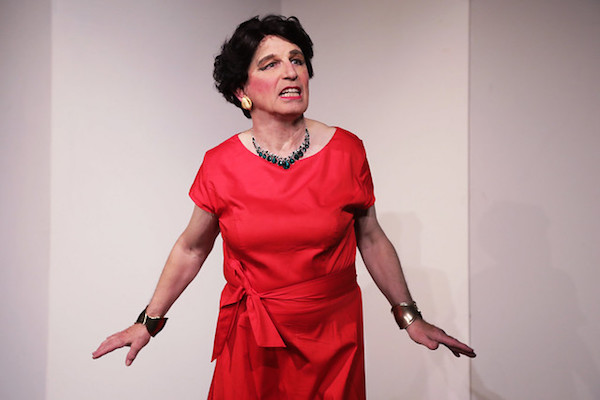 But the alchemy of the theatre, and his masterful performance, running the gamut from wistful to ruthless, sells it. Longtime Quinton collaborator Beth Dodye Bass plays Galas' doting husband and manager, Giovanni, a blunt brick magnate with an eye and ear for art. Downtown veteran Jenne Vath comes a whisker away from stealing the show with her hilarious slapstick turn as the deranged maid, Bruna. Shane Baker, best known for his expert forays into Yiddish-language theatre, here dazzles with a clownish turn as a dialect-heavy Italian impresario, and a swishy pope wearing ruby slippers. Géraldine Dulex, who, like Baker and Bass, was in Quinton's recent revival of Ludlam's Conquest of the Universe, is a riot as an arch vamp with the unbelievable name Hure Von Hoyden. And Mark Erson, pastor of St. John's, is a wonderful surprise, as a character based on Aristotle Onassis.
The Ridiculous is all about smashing together the high and the low—so if an opera setting discourages you, please know that this is also a show that includes the old stepping-into-a-bucket gag, as well as a dancing gorilla. It is an indie theatre production mounted in an old church, so it works its magic on the cheap.
That said, Jim Boutin's minimalist set design solutions managed to be stylish and pretty ingenious. And Ramona Ponce's incorporation of the rainbow flag motif into the costume and prop design is a loving shout-out to the occasion for this revival.
Seeing this show is not just a good way to observe the season. It's virtually obligatory.
Through June 28, at the Theatre at St. John's (81 Christopher St.). The playing schedule is Mon.-Sun. at 8pm. There will be no performances on Tues., June 18, Mon., June 24 and Thurs., June 27. For tickets ($25), visit galas.brownpapertickets.com.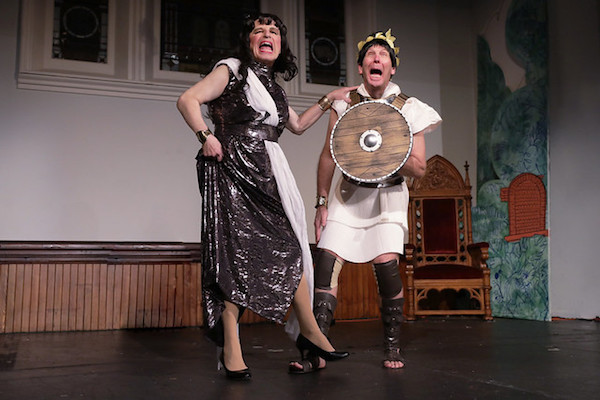 Chelsea Community News is made possible with the help of our awesome advertisers, and the support of our readers. If you like what you see, please consider taking part in our GoFundMe campaign (click here). To make a direct donation and/or send feedback about the site, send an email to Scott@chelseacommunitynews.com.