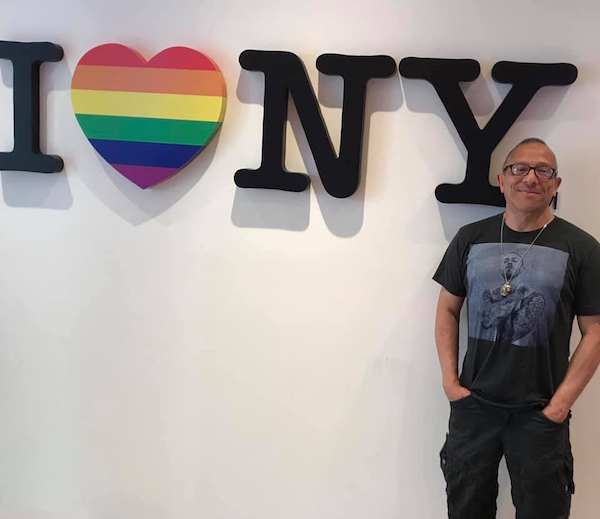 NOTE: This is the debut installment of Deep Dive Pride, a series of in-depth Q&As featuring members of the LGBTQ+ community.
BY PUMA PERL | Michael Alago opened the door to the Chelsea apartment he's occupied for almost 25 years, and, like people often do, apologized for "the mess." But, to this visitor, it was not a mess—it was a living exhibit of his journey from Borough Park, Brooklyn, to life as a music executive, a photographer, writer, and the subject of the 2017 documentary, Who the Fuck is That Guy? The Fabulous Journey of Michael Alago.
The piles of books, the shelves of vinyl, the work by his favorite photographers lining the walls, are all part of his story. We sat on the terrace, where he'd watched the second plane crash into the tower 18 years ago, then moved to his living room couch for an easy, free-flowing interview.
PUMA PERL: My first question relates to your daily routine of posting positive messages on social media. I noticed that an acquaintance had commented on your upbeat attitude, and you'd answered, "For me, there's no other way." Is that your mantra?
MICHAEL ALAGO: Yes, it is my mantra. In this crazy life I've led, I've been through it all—the drinking, the drugs. But I've been sober 12 years, and I feel that I want to put goodness in the world all the time. I'm not Pollyanna, but I keep everything on an upbeat, spiritual level. I hope it helps others to stay positive. That's why I get up at 6am and post prayers, meditation, a thank you list: "Thank you, God, for waking me up, thank you for my renewed relationships, especially with my sister, Cheryl." I drink my tea, I look out the window until I get tired of thanking everyone, then I take a nice, slow walk to my 12-step meeting. It's not that I didn't have a good time in those years, but at some point, you don't enjoy yourself any more. It starts deteriorating your health, your mind, your spirit, everything. You start thinking that all of that bad behavior is "okay."
PERL: It seems that in recovery, you've regained your innately positive nature. You often mention your late mom, and her influence on you. I read an interview in which you mentioned that as a child, you felt "fearless."
ALAGO: I've always been a people person. I loved being around people. My mom was very unique and special. She wasn't just a spiritual woman. She was religious; she lit candles [to St. Jude] for me and my sister, every day. As a very young child, I did have this fearless quality about me, because my mom always had confidence in me. I was HER Michael, and I always felt proud knowing that, and knowing that there was something brave and outrageous about me. I was never in the closet. I didn't care who knew I was gay. I used to shop on 86th Street and New Utrecht Avenue, and I remember seeing these beige, crisscrossed, unisex wedges and thinking, "I must have those shoes." I wore them with my crushed velvet purple shorts and paraded around Bay Ridge and Borough Park. People might have laughed, but I was never confronted or assaulted.
PERL: I grew up in the same sort of neighborhood. Our interests were different than most of our neighbors'. You were a Puerto Rican kid in Borough Park riding the B train, and later you were that young, gay man signing Metallica and White Zombie. It seems like being a bit of an outsider was never an impediment.
ALAGO: I always talk about coming out of the womb loving music. As a kid, I'd watch television shows like American Bandstand and Soul Train. By age 14, I knew I wanted to work in the music business. Despite my limited knowledge as to what that really meant, I never had a Plan B. Around the same time, I learned about the Village Voice. My dad worked on Astor Place near the blind guy's newsstand, and every week I'd visit my dad and pick up the paper and read the back pages. I just knew there was a world out there I had to experience. I remember the very long, vertical ad that CBGB always ran, and everything in it sounded so interesting to me. There was no Village Voice in Borough Park.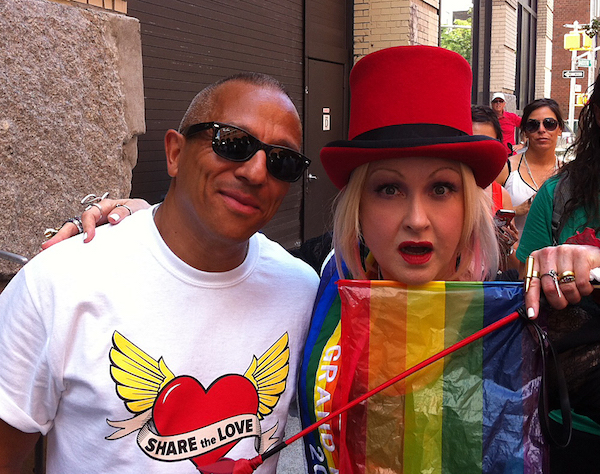 PERL: Getting back to your recovery journey, would you like to share a little more about your road to sobriety and the changes along the way?
ALAGO: I was raised by my mom to be a kind, loving person, and as years went on that became easier, except when I was in my drug and alcohol period. I actively drank and drugged for 25 years. For the most part, I was a functional alcoholic. I worked as a music executive and somehow, I always showed up, although I'd sometimes leave my office door closed until 3pm. I'd begun to experience severe blackouts and terrible hangovers. I'd wake up to find nine messages on the voicemail, many of them unpleasant reminders of what had gone on the night before. I didn't get clean and sober until I turned 47, because I was such a willful person. I wanted everything my way. The weekend of October 21, 2007, I was upstate drinking champagne and doing lots of coke with some friends from the music business. That evening, everyone else fell asleep, and I remember wondering how anyone could possibly sleep. I left, found a bus station, got home, and paced around my apartment until I passed out on the sofa. I woke up that Sunday and said, "I can't do this anymore." Never mind that I was HIV-positive and taking medication with beer and vodka. People talk about a "white light" experience or grace. I don't know what it was, but that afternoon, I showered and dressed, made a 2:30 meeting. It was such a blur that I don't even know how I got there. I was fed up with myself. My body was hurting, my liver hurt, my mind hurt, my immune system was shot. I thought, this has got to end, and it ended that day.
PERL: You've always been open about your health status. I remember that in the film (Who the Fuck is That Guy?), you talked about lying on your sofa, close to death, due to HIV-related illnesses. Was it this very sofa we are sitting on?
ALAGO: No, it was a different one, but I did lie on my sofa for six to eight months, dying. When I tested, in the '80s, I was asymptomatic. There was no medicine anyway. People were getting all sorts of medications from Mexico, like in that movie, Dallas Buyers Club. My doctor was scrambling to find answers. She'd try vitamin drips, anything she could. My community was dying. Fast forward to the early '90s—I had an AIDS diagnosis, 18 T-cells, I was anemic. I'd lost a tremendous amount of weight, and couldn't gain any back. All I could do was lie there, and even my doctor was afraid I wouldn't make it. She'd stop by my apartment daily, before getting back on her bicycle and riding to St. Vincent's Hospital in time for her early morning rounds. It was a blessing that I had Dr. Barbara Starrett. Her devotion to her patients, and her caring presence, helped keep me going. In that same period, Patti Smith learned that I was very ill, and she called me every single day. It lifted my spirits to have so many dear friends and family members supporting me. When the protease inhibitors were finally approved, I started taking them, and months later I was back on the job at Elektra Records. It was really unbelievable. I was one of those miracles. Presently, I'm on three medications, my viral load is at 0, my T-cells are 600. Living clean and sober, having hope, and filling my head with goodness are essential to maintaining my health.
PERL: You really are a miracle. And you're sort of a Renaissance man, with your photography, writing, your love for music…did you ever have the urge to play an instrument or perform onstage?
ALAGO: I always wanted to play piano, but I never learned. In the early '80s, I worked up the nerve to start reading my poetry onstage. I performed at CBGB with Alan Vega and I opened up for Iggy Pop at The Savoy. At 19, I began working at The Ritz, and that began my professional life in the music business. I started out as Ritz owner Jerry Brandt's assistant, and three years later, I moved on to Elektra Records. I was hired as an A&R executive, and I continued my career in that field for 25 years.
PERL: One of the major projects you've been involved in over the last few years has been the documentary about your life, Who the Fuck is That Guy?, which is so aptly named. How did that come about?
ALAGO: Here's a funny story. Filmmaker Drew Stone had seen me on the music scene since the '80s, and he'd always thought to himself, "Who the fuck is that guy?" We finally met in 1997 when I was on the road with The Misfits, and he was managing Sub-Zero. In 2013, he called me out of the blue and said "I've seen you around my entire life. I want to talk to you about making a film." What a surprise this was! I'd never imagined that somebody would make a film about me! We met several times to discuss the project and decided to move forward. The filming process took four years to complete. I was thrilled when everyone I asked to be a part of the film agreed. It was a blessing to work with so many dedicated artists, including John Lydon, Cyndi Lauper, Rob Zombie, and Metallica. When the movie was completed, Drew began submitting it to film festivals, and every one of them turned him down. We decided to market it ourselves. We went around to movie theaters and staged our own openings in New York and Los Angeles. When Netflix picked it up, that was the game changer. People from all over the world were now seeing the film. Within two days, I'd received thousands of emails, ranging from "Dude, you signed Metallica!" to a 21-year-old writing from Colombia, "I'm HIV-Positive, and if I told my dad, he'd murder me." I was so grateful to be able to answer all of these emails, and to have the opportunity to provide some hope to others.
PERL: People have been encouraging you to write your memoir for ages. I was happy to hear that you finally got around to it, and that there's a November publication date.
ALAGO: I started thinking about writing a memoir in 2011, but the timing wasn't right, and I soon forgot about it. After the documentary was released and so well-received, several publishing companies approached me about writing my life story. My agent, Lee Sobel, arranged a meeting with Backbeat Books, and we made the deal. I felt it would be best to work with another writer, and Lee suggested Laura Davis-Chanin, Student Teachers' drummer, who'd recently published her own memoir The Girl in the Back. After 30 years of not seeing each other, we met for lunch, laughed a lot, and agreed to work together. Our process began with my old journals. I began assembling journals when I was 15 years old, and continued throughout my life. I've kept all of them. For 22 months, we Skyped five days a week, sometimes for hours. I told my life story as we went along. We're finally at the copy-editing stage, and the publication date is November 2019. It's titled I Am Michael Alago, and it's subtitled, Breathing Music | Signing Metallica | Beating Death.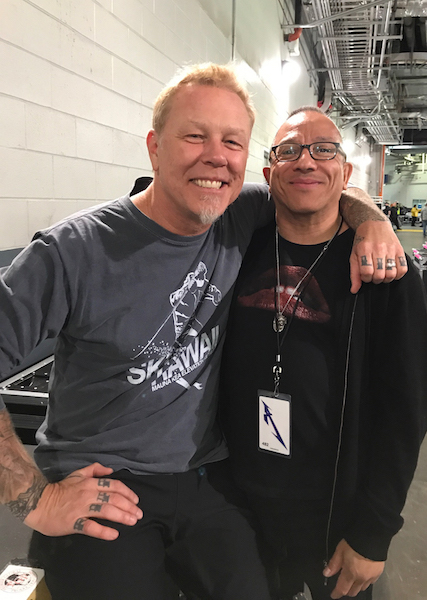 PERL: You definitely have great stories to tell about life on the New York City scene. We all know how much it has changed over the years. What do you still love about it and what do you miss?
ALAGO: New York City may not be the dirty, filthy, fabulous city of days gone by, but there's still incredible creativity and electricity in the air. There's always an element of surprise when one wanders around the city. You can turn a corner and get blown away by a mural you've never seen before, or go to one of the many clubs and discover a new band. There are so many choices of things to do. Just the other day, I visited a few photography exhibits on the Lower East Side, then I jumped on the Uptown train and saw the new Picasso's Women exhibit at Gagosian Gallery [on display through June 29].
Sometimes, there are so many events scheduled on the same evening, it's hard to decide whether I'm going to Niagara on Avenue A for a hardcore show, or heading up on the High Line to Hudson Yards, to see some experimental theater at The Shed. Even with all of the gentrification, I still love my New York, and everyone should have the experience of visiting this great city.
PERL: Any closing thoughts about life in recovery to leave us with?
ALAGO: I'm going to be 60 in October, and I treasure this sober life. No hangovers, I wake up early, I get everything I need done. Sometimes I still want everything right now, but it doesn't happen that way. I say my prayers, take an extra breath, and in the end it all works out as it's supposed to be. I'm open to all of the possibilities. They're out there for me and they're out there for everybody, if you have faith, and if you believe it can happen for you.
Perl Notes: As I prepare to leave, Michael gives me a mini-museum tour, telling me a bit about every mounted photograph. His collection includes images of Chet Baker by Carol Friedman, Herb Ritts' portraits of Bob Paris, anonymous photos of boxing images, beautiful young men, and many more. He appears to look at his collection with fresh eyes, as we enjoy it together. A big Alago hug, and I'm off, knowing a little more than I did before about the fabulous journey of "that guy."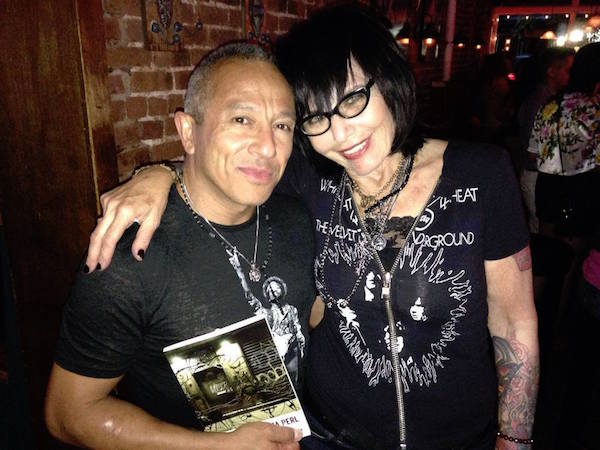 Chelsea Community News is made possible with the help of our awesome advertisers, and the support of our readers. If you like what you see, please consider taking part in our GoFundMe campaign (click here). To make a direct donation and/or send feedback about the site, send an email to Scott@chelseacommunitynews.com.