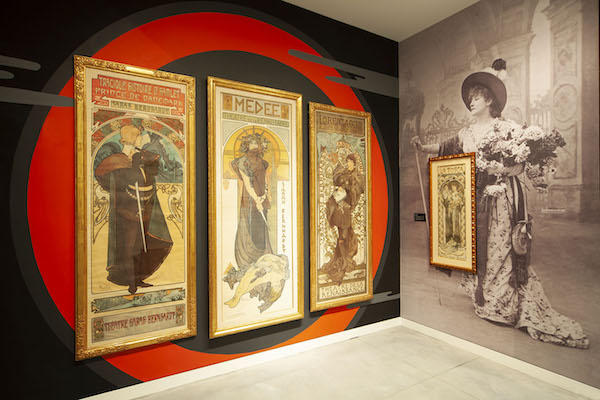 BY KRISTEN ANCILLOTTI | Remember when you were younger and you agonized over the perfect poster to hang in your bedroom that would signify both how effortlessly cool and exceptionally deep you were to all who entered? There will now be a museum in New York City that is going to give you extreme poster envy.
On June 20, Poster House will open its doors to the public. Located at 119 W. 23rd St. (btw. 6th & 7th Aves.), it will be the only museum in the country devoted entirely to posters, exposing people to material they have never seen before, and showing more familiar works in a new light.
Housed in the building formerly occupied by Tekserve, an independent Apple store that served the community for 29 years before closing in 2016, Poster House will provide a unique way to view their posters by taking advantage of the brick walls, vaulted ceilings, and towering columns from the original building. They worked with architects to give visitors the sense that they are walking along a sidewalk, using industrial materials typically seen on exteriors to enhance that feeling.
"We're changing the context that you see posters in," said Julia Knight, director of Poster House, on their design process. "They're usually on the street or in a front-facing window, and now we're putting them into a museum setting. So how can we square that?"
Knight noted the museum is the brainchild of Poster House president Val Crosswhite, an artist who developed an interest in design and mass communication. As those interests grew, so did her appreciation for posters. Crosswhite discovered that there was not a museum dedicated to posters in the United States, and sought out support to change that. She found it.
"People love posters," said Knight. "Many institutions collect them, but they use them as a secondary supplemental material. We really like them because it's a bottom-up view of history and culture, as opposed to that top-down view. Posters are really meant to speak to everybody. It's about that instant communication."
Poster House will open with two exhibitions running from June 20 to October 6, 2019: Alphonse Mucha: Art Nouveau/Nouvelle Femme and Designing Through the Wall: Cyan in the 1990s.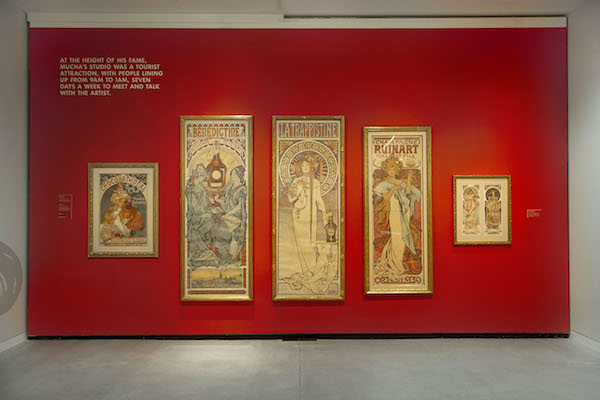 Angelina Lippert, curator of Poster House and a poster historian with a wealth of knowledge and a knack for sharing it in an accessible way, expects that the Mucha exhibit will be the more familiar of the two for many visitors, and they will get to enjoy both his commercial and decorative work as they make their way through the museum.
Alphonse Mucha was relatively unknown until he began making posters to promote the plays of Sarah Bernhardt, once known as "the most famous actress the world has ever known." What Mucha created for her was different than what ads up to then typically looked like. He used muted rather than primary colors, put in a great amount of detail, and his posters were a novel shape and size (tall and narrow) versus the traditionally smaller, more uniform shape.
Lippert explained that there are three levels of text in the show: "nitty gritty text for people who like to nerd out," bigger text that explains, in general, what is happening in each section, and larger pull quotes, to give an even broader idea of what is going on in the room for "the kid whose parents dragged them here."
The Cyan exhibition will be in the Jewel Box Gallery, a smaller room that will house exhibitions that can be enjoyed in a short time.
"We really do want to be a community museum," said Knight. "If you live or work in the neighborhood and you don't have time to see the whole museum and all you have is your coffee break, we think you could see this room on your coffee break."
The Cyan exhibition was created by Detlef Fiedler and Daniela Haufe in the 1990s, after the Berlin Wall came down. The artists grew up in communist East Berlin, and then became commercial graphic designers. They were among the first to use desktop publishing tools to make public-facing advertisements, according to Lippert, and Cyan is known for its use of saturated colors and precise alignment, which is incredibly difficult to accomplish.
The two primary exhibitions are not all there is to see at Poster House. As visitors enter the building, there will be a photo booth where they can insert themselves into a vintage poster, and thanks to proprietary software created with LA Photo Party, actually look as though they are in the poster, wearing Rosie the Riveter's bandana, for example.
There is an interactive poster machine where visitors can build a poster and see why people have certain associations with colors and typefaces. It's an engaging way to learn more about the history of visuals that people take for granted.
There will also be a gift shop, a cafe, a children's exhibition area downstairs based on Mad Men-era New York, and more gems sprinkled throughout the museum that you should discover for yourself.
"We hope that people take away that this is really about communication to everybody," said Knight. "You don't need to know anything in advance to appreciate what these things are trying to communicate, and they're really aimed at everybody—a very broad audience. I hope what people walk away with is a sense that they're included in the audience for these pieces and that they were intended to be included as the audience for these pieces."
Starting June 20, you can swing by on your coffee break from 11am-6pm Mondays, Wednesdays, and Thursdays, 11am-9pm Fridays, and 10am-6pm Saturdays and Sundays. Poster House is closed to the public on Tuesdays. Admission is $12 for adults, $8 for students, seniors, and visitors with disabilities (with free admission for one accompanying care partner), and free for members and kids under 18. Purchase tickets online at posterhouse.org and watch for announcements of upcoming exhibitions, like the one in October that will include hand-painted movie posters from 1990s Ghana, and a collection of posters from the 2017 Women's March.
Chelsea Community News is made possible with the help of our awesome advertisers, and the support of our readers. If you like what you see, please consider taking part in our GoFundMe campaign (click here). To make a direct donation and/or send feedback about the site, send an email to Scott@chelseacommunitynews.com.