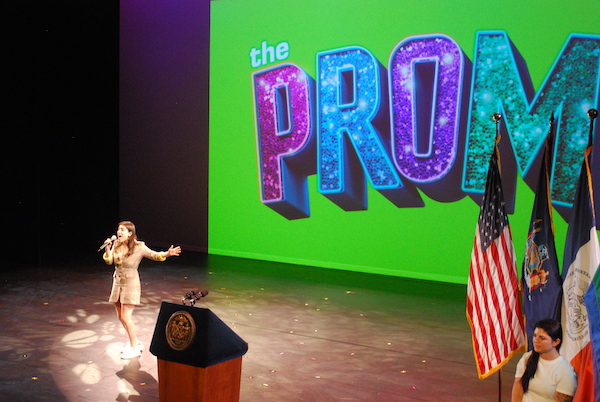 BY WINNIE McCROY | On Monday, June 17, the New York City Council invited the community to The Joyce Theater for an LGBT Pride/Stonewall 50 celebration. Speaker Corey Johnson, whose District 3 area of coverage includes Chelsea, gathered elected officials together to present Proclamations to activists who have helped advance the cause of LGBT civil rights.
"Fifty years ago at the Stonewall Inn, not far from here, brave people who were oppressed, harassed and threatened for too long all said 'no more,' " said the evening's host, Tamron Hall, (whose syndicated daytime talk show premieres in September). "The uprising that took place at Stonewall Inn 50 years ago was the spark that ignited a global movement of equality, and tonight we commemorate that defining moment for the LGBT community, for our country and for the world. We reflect on the progress we've made and recommit ourselves to fighting for all people to enjoy the justice, equality and freedom to which they are entitled."
Performer Shira Elias sang the National Anthem, and openly gay, openly HIV+ Speaker Johnson took the stage to begin presenting Proclamations. He told of moving to New York City after graduating high school—and heading right to Stonewall Inn to soak in the history.
Speaker Johnson said the Stonewall Rebellion "showed the world and ourselves that we could stand up to power and win." Six months after Stonewall, the Gay Activists Alliance (GAA) was formed. Less than a year later, the first Pride march took off from Sheridan Square to Central Park, and a movement was born. Later, during the epidemic, these activist helped take HIV/AIDS out of the shadows, and move HIV medications out of the pipeline and into the hands of those who were dying.
"Everything we have is owed to the activists that came before us," Speaker Johnson said. "I am quite literally alive today because of that activism."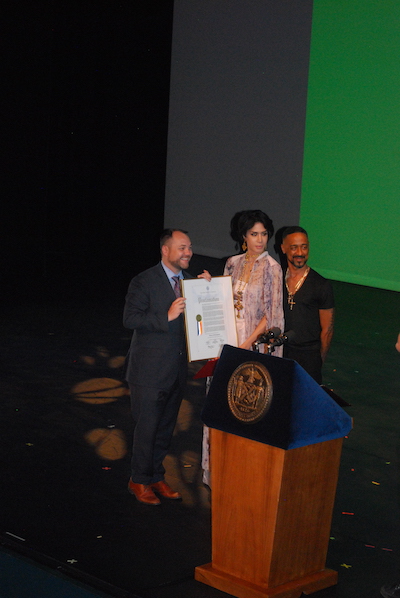 Speaking of the epidemic of violent murders of transgender women of color, Speaker Johnson asked for a moment of silence for 27-year-old transwoman Layleen Cubilette-Polanco, found dead in her cell at Rikers Island. She was a member of the ballroom community's House of Xtravaganza, and Speaker Johnson called to the stage Gisele and Jose Xtravaganza, to accept their Proclamation. Both the house mother and father expressed their gratitude for the recognition, with Ms. Gisele Xtravaganza saying they would continue their mission "to serve"—both in the capacity of "serving up" devastating runway looks, and serving their community.
Then, actress Gabi Campo from the hit Broadway show The Prom (about a same-sex couple who wants to go the prom) sang a stunning rendition of Dance With You.
Openly gay Queens Councilmember and Chair of the LGBT Caucus Danny Dromm took a moment to share some of his own teenage tales of terror about being arrested for being caught 'making out' with another man. He was so terrified of being committed to a mental institution for being gay, he lied and said he did it for money. Later, when he met other gays at GAA headquarters at The Firehouse, Councilmember Dromm vowed to "be a gay activist and fight for other LGBT people."
"[We must remember] how the law was used against us, and it's so important when we talk about our heroes in the community to remember what they went through," Councilmember Dromm said, noting that this would be the 46th year he marched in the parade. "Tonight's event is a recognition of the LGBTQ community's heroes past, present, and future, and each and every one of tonight's honorees contributed to the advancement and success. To each I say, 'Thank you,' you're the reason we're here to celebrate tonight."
Councilmember Dromm then invited longtime activist Randolfe H. Wicker to the stage to accept his Proclamation. Mr. Wicker, "the last living Mattachineo," (i.e., the Mattachine Society) organized the first known gay rights demonstration in the United States, after the confidentiality of gay men's draft records was violated. He also organized the famous sip-in at Julius Bar, for the rights of gay people to be served at drinking establishments in New York.
Mr. Wicker said that in addition to the Queer Liberation March, he would be marching with the Philadelphia contingent holding their rainbow flag, which includes a brown and black stripe.
"And that brown and black stripe means an awful lot to me, because the two greatest people I've had the pleasure of sharing my life with were Marsha P. Johnson, who was our house mother for 12 years and taught me so much about life and love and serving other, and Sylvia Rivera," Wicker said.
Openly gay Councilmember Jimmy Van Bramer shared tales of growing up gay in Queens, thinking his "dream of being an out gay elected official was impossible, because society would never let me be who I was and achieve what I wanted to at the same time."
He spent his high school years standing on the roof of his Astoria apartment building wondering if throwing himself off the side would make life harder or easier for his family. He persevered, and went on to help other LGBT youth and adults.
Councilmember Van Bramer welcomed to the stage Dr. Joyce Hunter, who helped found Hetrick-Martin Institute and the Harvey Milk High School. She was a spokesperson for the Coalition for Lesbian and Gay Rights, working tirelessly for the passage of the first gay civil rights legislation. For her activism throughout the decades as part of many groups, Dr. Hunter was honored with a Proclamation. She was effusive in her thanks, and took a moment to acknowledge several other women who stood with her in the struggle.
"It's been a privilege for me to be part of the community, and I think there's still so much work to do because we're living right now in, quite frankly, dangerous times," Dr. Hunter said, adding, "I just want to remind you not to forget the women. If anyone's forming an organization, please don't forget the women."
Speaker Johnson then introduced Dyjuan Tatro, who, while incarcerated, became involved with the Bard Prison Initiative (BPI), a privately funded college program. In 2015, Tatro led a debate team of prisoners against Harvard Debate Team. Harvard lost.
"Lots of people were surprised, but I am not," Speaker Johnson said. "Prisons are not ivory towers but the people in them can be just as extraordinary and capable as students in elite colleges. And we need to do more as a society to support incarcerated individuals."Mr. Tatro thanked BPI for their help, saying, "Less than two years ago, I was incarcerated in a New York State prison, in a cell. But I'm here with you tonight being honored by the City Council because of the opportunity BPI gave me, [believing] that people in prison deserve an education and an opportunity in the world."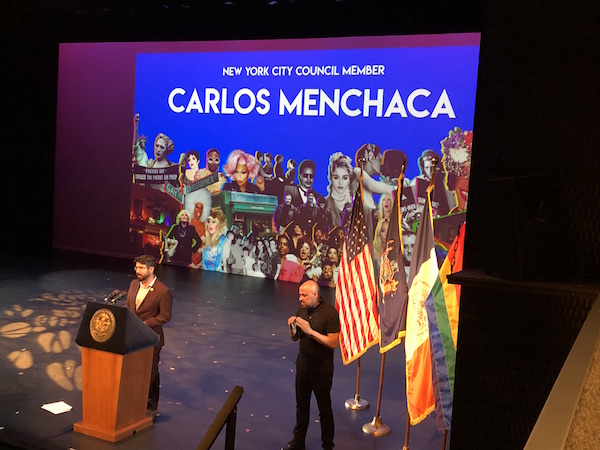 Finally, openly gay Brooklyn Councilmember Carlos Menchaca took the stage to award a Proclamation to the immigrant youth group, Atlas: DIY, saying "these youth grow up and they can run for office and run organizations and become lawyers and be debate teachers and go out and change the world, and that's what Atlas: DIY does."
The evening ended with Councilmember Dromm inviting the community to continue both the struggle and the celebration.
"Our city is on the world stage this month as millions come to New York City to celebrate Pride 2019 and the 50th anniversary of the Stonewall Uprising," Councilmember Dromm said. "Our work is not done, however, and neither is our celebrating. We are the greatest city in the world and we are going to have the greatest Pride celebration anyone has ever seen."
Chelsea Community News is made possible with the help of our awesome advertisers, and the support of our readers. If you like what you see, please consider taking part in our GoFundMe campaign (click here). To make a direct donation and/or send feedback about the site, send an email to Scott@chelseacommunitynews.com.