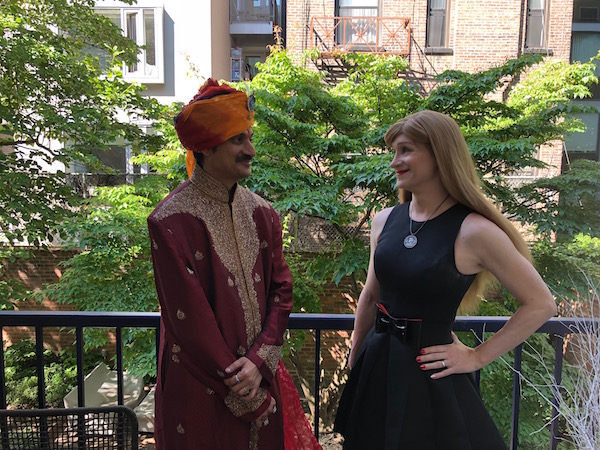 BY CHARLES BATTERSBY | With WorldPride, the 50th anniversary of the Stonewall Riots, and the usual frenzy of Pride month celebrations sweeping over New York City this week, LGBTQ pilgrims are coming in from around the globe, to be part of this truly unique moment in time. Among the notable visitors is His Royal Highness Crown Prince Manvendra Singh Gohil of Rajpipla, Gujarat, India.
Having arrived in town to deliver the keynote speech at June 24's Human Rights Conference, India's only openly gay royal granted Chelsea Community News an exclusive audience one day prior, while meeting with supporters at a private residence in Chelsea. He spoke with this correspondent about his work as an LGBTQ advocate, as well as the cultural differences between America and India toward the LGBTQ community—including methods of addressing HIV prevention, and the unique transgender subcultures of India.
Cultural attitudes toward the LGBTQ community vary drastically across the globe, and Prince Manvendra explained how India hasn't had the need for a Stonewall-style riot, due to a number of these cultural distinctions.
"In India, it was never illegal to be gay. It was only the homosexual act which was illegal, but so was the heterosexual act," Prince Manvendra explained. "Even if a heterosexually married man and woman had sex… If that sexual act was not with the intent of producing a baby, then both the husband and wife could be put in prison. So that was a law. It also included two men having sex… We didn't come to a situation where [our own] 'Stonewall' was necessary. All we had to do was knock on the doors of the court, and tell them we need our human rights."
In the last few years, India's sex laws were revised in numerous ways, including legalizing gay sex in 2018. "The important thing to understand is that, even though we have our legal rights, our social rights are still challenged," Prince Manvendra noted. "In any culture, you cannot expect society to one-hundred percent accept you. But still, a majority of the people still do not respect the court's decision. They still feel the court made a mistake in legalizing homosexuality."
While much of Western homophobia stems from specific passages in the Bible, India's Hindu heritage has positive religious and mythological references to same-sex relationships, dating back thousands of years.
"Fortunately, for us, our religion already has talked about homosexuality in our old texts, our mythology, our scriptures," Prince Manvendra pointed out. "For example, the Kama Sutra openly talks about homosexuality, and it was written 500 years before even Jesus Christ was born. So our religion is pro-homosexuality."
He also pointed out the taboos against public displays of affection between heterosexual couples, while similar displays between same-sex couples are acceptable.
According to Prince Manvendra, "If you go to a hotel to rent a room, you can easily get a room if you are two men or two women together. They will never question, 'What is your relation with each other. Are you gay, are you straight?' But if a man and a woman want to rent a room in a hotel, it's very difficult. It's impossible. You have to prove that woman is your wife."
India has also been ahead of the game regarding transgender rights, by several thousand years. In 2014, a third gender option was officially legalized—but Prince Manvendra told us about India's "Hijra," a long-recognized third gender referenced in ancient Sanskrit epics, like the Mahabharata and the Ramayana. The Hijra have continued to practice a unique religion, language, and culture right up to the present.
"Hijra are born as biological males, they are not hermaphrodites [as is sometimes believed by outsiders], they don't identify themselves as a man, they don't identify themselves as a woman. But they identify themselves as Hijra," Prince Manvendra told us, further noting, "There is even a goddess [Bahucharaji or Bahuchara Mata] which is worshiped by these transgenders. And this goddess is not just worshiped by transgenders, it is worshiped by the mainstream, including our Prime Minister of India."
Hijra are often asked to bless newlywed couples and newborn babies because, according to Prince Manvendra. "They are," he explained, "considered to be very auspicious, and with good omens, because they are treated like saints."
Hijra often engage in sex work, which is an accepted part of their traditional culture—but it also makes them especially vulnerable to HIV infection. Through his Lakshya Trust organization, Prince Manvendra reaches out to these vulnerable populations. He noted, however, "Even as a gay man, it was very challenging to penetrate into this population," due to the Hijra community's marginalized and sequestered nature.
Another unexpected part of the Lakshya Trust efforts to fight HIV and AIDS is reaching out to wives of gay men. "In India, even though you may be gay, 80% of us are married to a woman," said Prince Manvendra, who was himself once married to a woman in an arranged marriage. "Most of the marriages are pressurized. The families pressure you to get married… The wives don't know the husbands are gay, and there are other issues, and the wives become very vulnerable to getting infected with HIV."
The initiative to connect with wives of gay men stemmed from a wife coming to the Lakshya Trust for help. "We counseled that wife," Prince Manvendra told us, "and we realized that the wife was very comfortable living with the husband, because the husband provides the monetary needs, and sexual needs, and they have children, so she had no reason to divorce the husband… We did a whole study, and we found that most women feel safe and secure that the husband is not going to another woman, but is going to another man… He cannot marry the man. He can't make the man pregnant… This study became so popular that we were invited to Bangkok to present a paper on that."
When we asked if India's recent laws legalizing gay sex, but not gay marriage, had affected arranged or "pressurized" marriages, he told us that some groups have tried same-sex arranged pairings but, "Somehow it has not worked out that well, but people are interested in getting married. In India, even though [same-sex] marriage is illegal, I know a lot of couples who want to be together, who want to live in a steady relationship with a commitment. It doesn't matter much to them if its legal or illegal, but they like to live as husband and husband or wife and wife in a relationship."
Following our interview, Prince Manvendra spoke at the Chelsea home of Facebook executive Rodrigo Salem, who hosted the evening along with two longtime locals—author Carla Fine, and Community Board 4 member Allen Oster.
Prince Manvendra told the eclectic mix of 150+ artists, local residents, international and U.S. human rights organizations, HIV/AIDS advocacy groups, LGBTQ Chelsea activists, and celebrity allies (including singer Jackie Evancho and fashion director Nicola Formichetti) about the backlash he received from his family and countrymen, along with a brush with an assassin.
When asked if he regretted coming out 13 years ago, the 53-year-old Prince Manvendra replied, "No, I don't regret coming out. But I definitely regret coming out so late in life."
Chelsea Community News is made possible with the help of our awesome advertisers, and the support of our readers. If you like what you see, please consider taking part in our GoFundMe campaign (click here). To make a direct donation and/or send feedback about the site, send an email to Scott@chelseacommunitynews.com.