BY KRISTEN ANCILLOTTI | The 2019 NYC Pride March was held on June 30, an event that historically brings millions of people together, either to march, or to cheer on the procession of floats and participants waving and dancing their way down the March route—which, this year, traveled down Fifth Ave., into the Village, and up Seventh Ave. into the heart of Chelsea.
The 2019 Pride March was expected to draw an even larger and more varied crowd, as NYC Pride (organized by Heritage of Pride) simultaneously hosted WorldPride, which brings together LGBTQ+ people from around the world to fight for freedom and human rights. It is a fitting collaboration for the commemoration of the 50th Anniversary of the Stonewall Riots, which helped launch the modern gay civil rights movement.
WorldPride has previously been held in Rome (2000), Jerusalem (2004), London (2012), Toronto (2014), and Madrid (2017)—but this is the first time the United States has hosted. This year, there were approximately 200,000 participants and millions of spectators, according to the NYPD's Capt. Kevin J. Coleman, commanding officer of Chelsea's 10th Precinct.
Not only did New York City residents pour out of their homes to attend the event, but people travelled from near and far to be a part of the momentous occasion.
Ralph Alexander and Bianca Alberca came from Maryland to attend. They had both gone to marches in Washington D.C., but this one held special significance. "It was overwhelming, but very emotional, with 50 years since Stonewall," said Alexander. "There's still a long way to go."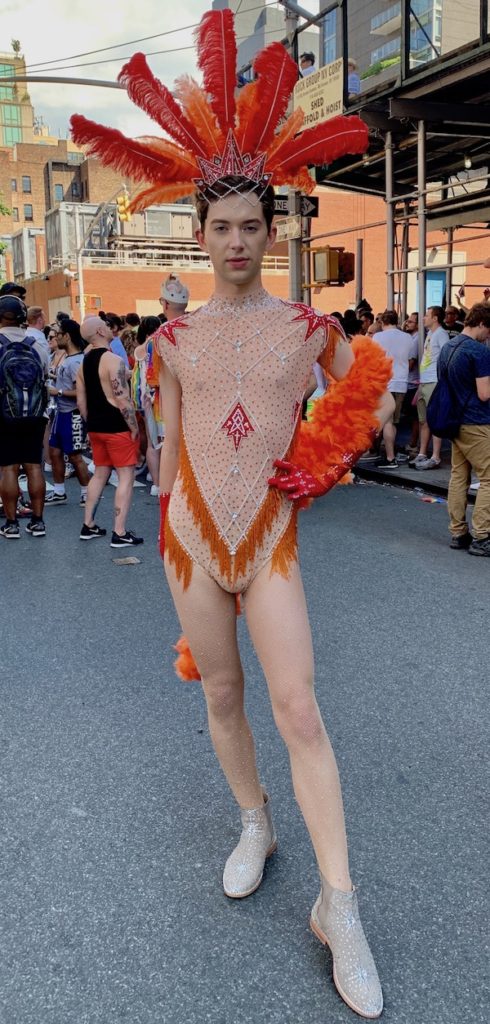 Others appreciated the lighter side of the event. Christopher Walsh, from Richmond, Virginia, was attending the NYC Pride March for the second time, and chose to dress up significantly more this time around. "My favorite parts are the outfits," said Walsh. "I like seeing what everyone else is wearing, and I like dressing up. I'm way more dressed up this time and people are going nuts."
The Pride March took a different route this year, which threw off some visitors from out of town who had previously attended NYC Pride. The 2019 route was essentially reversed from what it had been in 2018, with this year's March starting near Madison Square Park and ending in Chelsea.
NYCgo provided a WorldPride NYC 2019 Survival Guide to offer helpful tips for enjoying the day, and to prevent confusion over things like the changed parade route. But with so many people travelling to the city, a few were likely to miss the memo.
"It was a little complicated," said second-time NYC Pride participant Frankie Bezzerra, of the journey he and Alexis Feliu had taken to get to the March, after arriving from Las Vegas. "We got told to go to several different places, but it's fun anyway."
One tip from the WorldPride Survival Guide that was strictly adhered to by many participants, was the advice to go with friends. Connection and celebration are a big part of Pride, so why not take a loved one when making a special trip to an event known for relishing community?
"We had the time of our lives," said Krystal Dee, who arrived in New York City from Connecticut, with fellow attendee Amanda Berrios. "We came to watch, but then we literally just hopped in."
"It was very crowded," Berrios chimed in, "but everybody was moving along, and if you bumped into anybody, no one cared."
That seemed to be the general consensus as people moved along the route, laughing and cheering each other on, no one meeting a stranger. Savannah Lopez rang in her first NYC Pride March with Jessie Page, who has participated in Pride since the age of four—a whopping 14 times. Page and Lopez hopped over on the train from Long Island, and they both found it to be an encouraging and friendly environment.
"I really like the vibe here," said Lopez. "It's very loving and supportive. It's nice to be around other people who are like me, and it's fun!" Lopez had only seen one small group of protesters, but no one at Pride let it get them down. "People went in front of the protesters dancing and waving flags," she said with a laugh.
Like Lopez, Page has felt supported by the community at Pride, and appreciates how people come together, year after year, from all over. "It's what keeps me coming back," said Page. "I love seeing all the people celebrating who they are, free of judgment and hate."
Chelsea Community News is made possible with the help of our awesome advertisers, and the support of our readers. If you like what you see, please consider taking part in our GoFundMe campaign (click here). To make a direct donation and/or send feedback about the site, send an email to Scott@chelseacommunitynews.com.