BY WINNIE McCROY | By 9am on Sunday, June 30, a few thousand people had gathered at Sheridan Square, just south of the Stonewall Inn, to await the step-off of the Queer Liberation March. By the time the March wended its way up Sixth Ave. to Central Park, the crowd had reached an estimated 45,000 LGBTQ+ marchers, shouting and waving flags while paying homage to the original route, and original goals, of the June 28, 1969 Christopher Street Liberation Day March.
"We are a community political march, like what this March used to be when it was invented, said Ann Northrop, to reporters. Northrop is a spokesperson for the Reclaim Pride Coalition, which has spent the last year planning the event as an activist-minded alternative top the annual Pride March, under the auspices of Heritage of Pride (aka NYC Pride).
"The Heritage of Pride main parade has evolved into a corporate party, and we just think that's demeaning and disempowering," Northrop said. "The point is to bring the whole community back into the streets and make clear our grievances and our demands for liberation and justice, to mourn our dead, and celebrate our victories."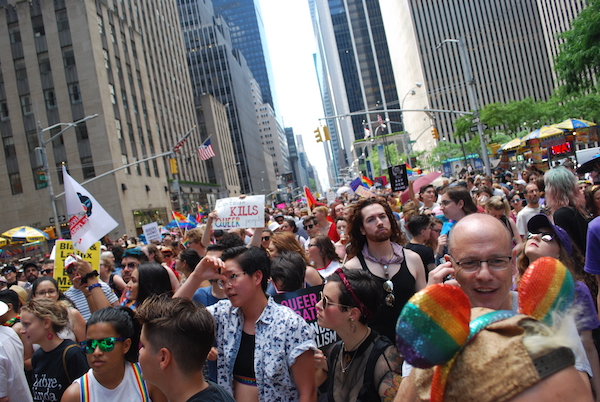 Just like back then, the marchers chanted, "Come on, don't deny it: Stonewall was a fucking riot!" But this inaugural Queer Liberation March was the very definition of intersectionality. The Lesbian Avengers banner celebrated Revolting Lesbians. Sex workers stood together in solidarity. Gays Against Guns marched in pink and orange while, behind them, activists held up gaily-painted banners commemorating Marsha P. Johnson, Sylvia Rivera, Bayard Rustin, and Harvey Milk. Many marchers lifted placards remembering the 10 transwomen dead to violence this year, including House of Xtravaganza member Layleen Polanco, found dead in a Rikers Island jail cell last month.
Marchers yelled anti-deportation slogans and said in no uncertain terms that "Black Lives Matter." They gave a spirited and loud "Fuck You" to both Chick-fil-A restaurants and the Fox News offices near Rockefeller Center.
A woman in dreadlocks came dangerously close to losing her voice, as she led the large contingent of marchers from Bailey House and Housing Works, a nonprofit dedicated to fighting HIV and homelessness. They yelled slogans like, "You say people, I say power" and "This is what community looks like."
ACT UP, who helped organize the Queer Liberation March, also had a large contingent. When the March reached 23rd St., the group did one of their classic "die-ins" to call attention to the 17 HIV-positive asylum-seekers that have died while in ICE detention.
Although the organizers hoped the March would reach Bryant Park (at 42nd St.) by 11am, for their planned moment of silence, marchers instead stopped at 26th St. to raise their fists in defiant protest for those lost to HIV, a "crisis precipitated by corporate greed and politicians," as ACT UP put it.
Entering Central Park at about 12:45pm, marchers switched their chant from "Whose streets? Our streets!" to "From Palestine to Mexico, all the walls have got to go." But they still had to navigate a 20-block march through the park, to the Great Lawn. Once there, lesbian comedy Marga Gomez welcomed the crowd under a banner that read "None Are Free Until All Are Free."
Said Gomez, "I'm so pissed over what's happening. I see a building with a rainbow in the window and think, 'Oh, oh, it's a queer bar. I might get some pussy.' And I go in there, and it's a Verizon store. That's not right!… You cannot take space in our movement, Chase Manhattan Bank, unless you give us extra money when we go to the teller."
Gomez introduced a video from legendary Chicago-based transgender performer Miss Major, who urged activists to "continue to fight, and don't take 'no' for an answer."
John Cameron Mitchell and Stephen Trask sang "The Origin of Love," and Kevin Aviance sang his new song, "Moments." Justin Vivian Bond inspired the crowd by promising they would "save the motherfucking planet." And Gay Liberation Front's Mark Schnapp said, "I see you, and you inspire me. I hope our presence here inspires you."
Northrop noted that many of the issues facing the LGBTQ community are the same issues we battled 50 years ago at the first March.
"There's still enormous violence, many transwomen of color killed, and the police are still picking up people on the street for no reason and putting us in jail. They are still entrapping gay men, and we still don't have a national law that protects us from discrimination in housing, employment, and public accommodations," Northrop said. "And this is going on all over the world, especially as right-wing dictators take over, whether in Brazil, Hungary, or in the United States of America."
Chelsea Community News is made possible with the help of our awesome advertisers, and the support of our readers. If you like what you see, please consider taking part in our GoFundMe campaign (click here). To make a direct donation and/or send feedback about the site, send an email to Scott@chelseacommunitynews.com.