BY KRISTEN ANCILLOTTI | The 22nd Annual Community Art Jam opened on June 13 with a reception held at the Hudson Guild Gallery (441 W. 26th St. btw. 9th & 10th Aves.), where community artists of all experience levels will show their work through August 13.
The line of artists to pick a number determining when they could select the perfect spot to display their art snaked around the room. The wait was made more tolerable by a table of plump grapes and cubed cheese laid out near the finish line, giving those queued up something to do until they could collect their hammer and nails and get hanging.
Presiding over this process was Jim Furlong, the director of arts at Hudson Guild, who started the Art Jam back in 1997 after his friend mentioned the idea.
"It just seemed like a very fresh and unusual way to engage a large number of people in the arts program with not a lot of effort really on my part," said Furlong. "You know, it's pretty easy for me. I put up the announcement, and then people send in the forms. I review the forms and make sure the size is acceptable, and then I create labels. Then it all happens on that night."
And boy, was it happening. Once those participating had drawn their numbers, the gallery filled with the sound of nails being hammered into the walls, almost drowning out the cacophony of voices.
Dorothy Krakauer, an artist and curator who has participated in the Art Jam in the past and was hanging one of her pieces in this year's show, commented on the larger crowd compared to last year. She made it a point to check in on artists she has come to befriend and mentor over the years. "It's important to me to come and support fellow artists," she said.
Furlong also noted that more people showed up this year compared to previous years, with 89 pieces to be shown, compared to the first year's 40 to 50 participants. "I think word has spread that it's a fun event, and just more people choose to participate," he said. "Each year, at least forty percent, usually more, are return artists."
One new artist to the scene was DubbleX, who created art as a child, but did not start painting until 2016.
"I was doing a lot of graffiti stuff in the street, and my wife was like, 'You can do more than just doing tags in the street,'" he said. "I started messing around with some of the letters, and then I joined a group called Fountain House, and they had me in a show. My first show was all about your favorite book, and it was just perfect—books and words—it's perfect to me. My first piece I had up there sold, so that really gave me more confidence."
DubbleX explained that he started doing symbols from indigenous cultures and languages, and then decided he could make up his own symbols based on those established symbols. He developed an alphabet he calls "XudeL," which is a mixture of words and symbols. The confidence he gained from his first show inspired him to participate in more shows like the Art Jam, and the Fountain House Gallery's summer exhibition, The Flaneur.
Midori Okuyama found out about the Art Jam from a curator friend in 2015, and enjoys participating because of the spirit of the event. "I loved the energy, where, you know, anyone can come, and it's not themed or curated. It's like, basically, anything that's created," she said. "I kind of liked the nonconforming idea."
Furlong encourages the feeling of all being welcome and not fitting into any one category. "There's always a wide range of abilities—a few very gifted, experienced artists, several beginners, and everything in between," he said. "In terms of subject matter, reflecting a broad swath of different preferences and tastes, from flower arrangements to politically charged art to abstract, etc."
For example, Andrea Shapiro-Rowley focuses on color. "I love the feeling of color in my art," she said. "I love to make it sing. I love to work in watercolor. I work in watercolor like it's oil."
Tommy Mintz plays with visual perception and memory, creating time-lapse collages by running his pictures through software that he created.
Mario Tavarez, who worked as an auto body painter for 25 years until he had a stroke following back surgery, was inspired to paint a vibrantly colored piece reminiscent of stained glass after attending church.
The diversity of both the artists and the art all in one gallery are what help make the Art Jam so successful, and serve as a genuine representation of the community. "I think the event itself on the night is a great kind of social experiment," said Furlong. "How often do we get put in a room with 88 other individuals and have to cooperate on a very quick, intense, burst-of-energy kind of project?"
To see the art from The 22nd Annual Community Art Jam for yourself, you can stop by Hudson Guild Gallery until August 13, 2019. Viewing hours are Tuesday through Friday, 10am to 8pm, and Saturday, 10am to 4pm. The Gallery will be closed on Tuesdays and Thursdays, 2:30-4pm, through July 11. Prices of the artworks are available on request.
Up next for Hudson Guild Gallery: Echoes in Saturation, a group exhibit about race and social issues created by artists of color, running from August 22 through October 15.
For more information on the Art Jam, and all things Hudson Guild, Click Here.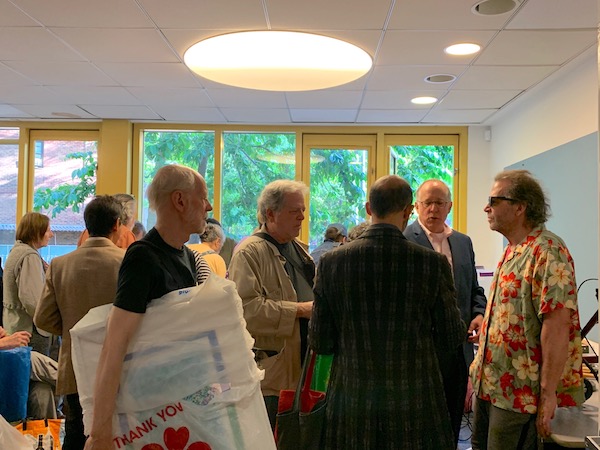 Chelsea Community News is made possible with the help of our awesome advertisers, and the support of our readers. If you like what you see, please consider taking part in our GoFundMe campaign (click here). To make a direct donation and/or send feedback about the site, send an email to Scott@chelseacommunitynews.com.