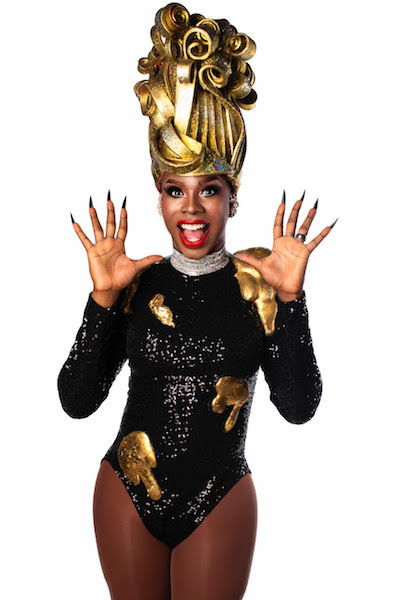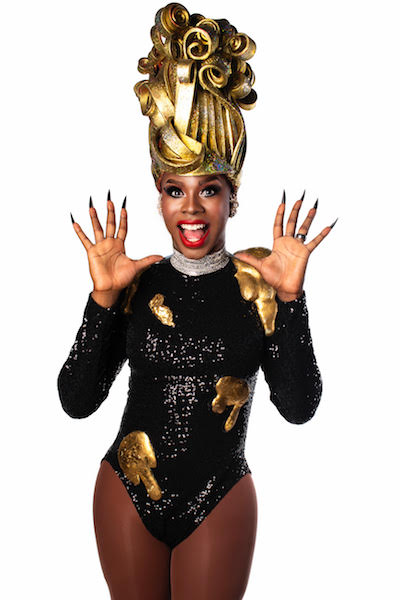 BY SCOTT STIFFLER | The queens of RuPaul's Drag Race come and go at the Laurie Beechman Theatre, in all shapes and sizes and forms of presentation—from the intimate audience engagement of Raja to the reflective ballads of Scarlet Envy to the meticulously scripted comedy of BenDeLaCreme to the tour de force songbook of Ginger Minj.
But the Beechman's never seen anything quite like what Honey Davenport brought to the stage on July 11, in the world premiere of Raw and Unfiltered, which is soon to embark on a national tour. The nation won't know what hit it, but the sting this show packs may well prove medicinal.
Billed as a "musical journey exploring sex, inclusion, and the queer Black experience in America," Season 11 Drag Race alum Davenport dazzled with a dynamic concert adaptation of her latest EP. Live vocals, videos, a multitude of increasingly baroque, bee-themed costumes, and genre-bending choreography done in synch with skilled dancers Kyle and Kareem created a performance package whose potentially disparate parts connected with the geometric precision of a honeycomb—all in the service of a righteous mission to call out our culture's troublesome penchant for double standards.
If that sounds a little serious—sober, even—for a drag performance, it is. But sober does not mean devoid of joy, and this is not a drag show, per se. It's basically a high-energy concert chock-full of killer tracks with clever lyrics, and Davenport builds on that foundation with an ample amount of monologue work, performance art, and political commentary, grounded in the leavening notion that we're all worthy of happiness ("Nobody deserves to look at love as a privilege," she says.)
And love her you will, whether through song (she follows the track Worship Me with the observation that black culture "is steeped in praise"), or stories from her West Philadelphia upbringing. ("My mom made me try new things," she recalls, of exposure to new cultures via their cuisine, "even if that meant Tex-Mex and Olive Garden."). Fans who came for some tea on RuPaul's Drag Race won't be disappointed, as Davenport fills in the blanks for those of us still waiting to see her red lipstick mirror message, upon being eliminated from the show.
Deputized by Davenport during the final moments of Raw and Unfiltered as her "new social justice warriors," the audience is asked to "do something" when they see something wrong. Honey bees have five eyes with which to scope out such things—but motivated members of Davenport's hive can do it with both of theirs closed.
Raw and Unfiltered is performed Fri./Sat., July 12/13, 7pm, at The Laurie Beechman Theatre (inside West Bank Cafe, 407 W. 42nd St. at 9th Ave.). Tickets are $24 for general admission, $45 for VIP tickets (includes reserved seating and a meet-and-greet). There is also a $20 food/drink minimum. Call 212-352-3101 or visit www.SpinCycleNYC.com for reservations. Artist info at officialhoneyd.com.
Chelsea Community News is made possible with the help of our awesome advertisers, and the support of our readers. If you like what you see, please consider taking part in our GoFundMe campaign (click here). To make a direct donation, give feedback about the site, or send a Letter to The Editor, email us at Scott@chelseacommunitynews.com.