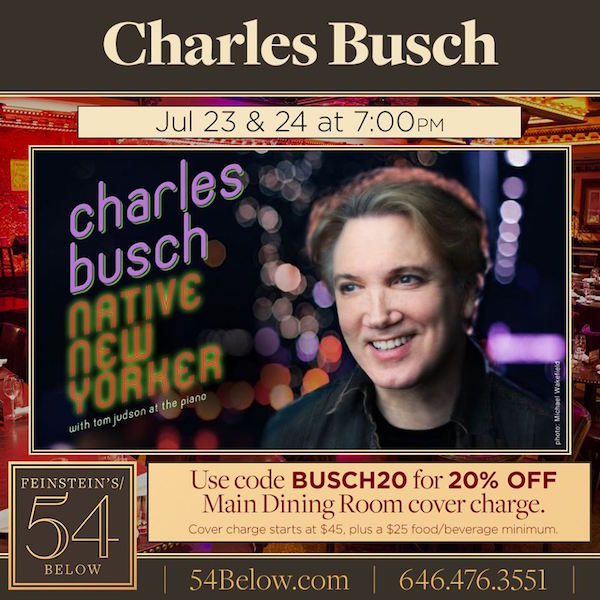 He's toured the West Coast and London with Native New Yorker—but for Charles Busch, there's no place like home, and no better way to chart his personal and professional journey than by revealing himself through the works of Michel Legrand, Stephen Sondheim, Rupert Holmes and others, who give the show its distinct notes of celebration and contemplation. As for the laugh-out-loud humor anchored in basic human decency, that's the work of the man at the mic
Set to play to his hometown crowd next week, actor, playwright, novelist, and iconic drag artist Busch wears not a wig, but the hat of "cabaret performer"—when Native New Yorker is performed for two shows only, Tues. and Wed., July 23 and 24, 8pm (not 7pm, as the poster to your left indicates), at Feinstein's/54 Below (254 W. 54th St.). For reservations, call 646-476-3551 or visit 54Below.com. Use code BUSCH20 for 20% off main dining room cover charge. Cover charge starts at $45, plus a $25 food/beverage minimum.
"It's all about how I began my career in the '70s and struggled, but then found this wonderful group of friends to put on shows in the East Village," said Busch, in a recent Facebook posting. "And a miracle happened and one of those shows. Vampire Lesbians of Sodom took off, and we moved it Off-Broadway, and it ran five years." Native New Yorker, Busch says, "is about that and much more. Beautiful songs… These two shows will be the last time I perform it in New York, and my only New York cabaret performances for the next year."
In anticipation of next week's gig, Busch proved game in our request to answer a few quick questions via an email exchange with Chelsea Community News founder/editor Scott Stiffler, whose recent chat with Busch about his camp classic, Die Mommie Die, can be accessed by clicking here. But save that for dessert. First, dine out on this exchange:
Scott Stiffler: Does doing a show called Native New Yorker in its namesake city allow you a certain shorthand in setting up a song or a story?
Charles Busch: It certainly does. A few weeks ago, I performed the show in London and I was doing a lot of on the spot onstage improvising, switching phrases and editing out references to Alphabet City and Hofstra University and Off-Off Broadway. When I do the show in New York and talk about the first time I met Julie Halston, her name gets a lovely response. A shorthand is an accurate way of describing it.
Stiffler: Why do these songs speak to you, and what have the lyricists communicated that is so essentially New York and/or human?
Busch: We open the show with Pieces of Dreams, a beautiful, haunting song by Michel Legrand, with lyrics by Marilyn and Alan Bergman. It's a bit of an odd choice opening with a ballad, considering there is a lot of comedy in the show. However, this song really does set up the story arc of the show which is about my… I hate using that cliché of a word "journey," but in this case it is the best word—my journey from 18 years old when I didn't have a clue how an androgynous young man, in 1972, was going to somehow get myself on the stage and have a career in the theater to having my first success as a playwright/drag actor in Vampire Lesbians of Sodom in 1985. It was a journey into the unknown.
The lyrics by the Bergmans, about a little boy lost, resonates with me. "Running away could lead you further astray. And as for fishing in streams for pieces of dreams, those pieces will never fit, what is the sense of it." The words strike home. I love the Bergman's lyrics. They're poetic, but also psychologically astute. I've performed many of their songs.
Another song we're doing is the great Diana Ross ballad Touch Me in the Morning. A friend turned me on to a live recording of Peggy Lee singing the song in concert. It was fascinating how she slowed it down and gave it a kind of Billie Holiday introspection. As an actor, I like putting the songs into the context of a one-act play, and this song certainly lends itself to that kind of interpretation. For Touch Me in the Morning, I've created a narrative in my head that suits my time of life, when the song is about an older person whose younger lover has chosen to leave. It's not necessary for the audience to know what that context is, but I like to think they are subliminally clueing in.
Stiffler: Not tethered to the personas of your stage work, does the experience of being a cabaret artist—playing "yourself"—challenge you to new heights of honesty, vulnerability, and expression?
Busch: Absolutely. There is a direct line of communication between the cabaret performer and the audience that I find very satisfying. In the theater, one of the goals of the actor is to be "in the moment," which I suppose means tapping into a spontaneous true emotion that goes beyond technique. Those moments are very exciting in the theater, but don't happen very often. I find it happens more frequently when I'm acting a song. The melody itself takes you to a basic emotional place.
Stiffler: Talk about the collaborative dynamic between you and Tom Judson, at the piano.
Busch: I've known Tom for over 35 years. We've been working together consistently for about seven years. This is one of the major collaborations of my career. He's a consummate musician, and he's taught me so much. He's very tough on me. I'm not an experienced musician, but I can get a lot of big notions of what I want to do that are sometimes on the money, and other times not so hot. And I can stubbornly hold on to them, but ultimately I always give in to Tom's musical judgment. He's a smart fellow. And a great traveling companion. We've had so much fun traveling to over 30 cities together. We're very similar in the way we pace our lives. A lot of laughs, but we also have a need for solitary time. Works out perfectly. Again, on a creative level, I love giving Tom a concept for an arrangement, and then seeing how he flies with it.
The original recording of Native New Yorker, by Odyssey, has always been one of my favorite disco songs of the '70s. I felt that the lyrics had a mystery and imagery that was elevated beyond the usual dance music. I thought it could bear up to a traditional cabaret arrangement for singer and piano. A lot of great songs fall apart when you strip them of their original lush orchestral arrangement and the interpretation of the original recording artist. When I first presented the idea to Tom, I went into a long, poetic description of the feeling of walking the corridors of the Baths in the '70s—"There you are lost in the shadows, searching for someone, to set you free in New York City." I went on and on with all sorts of imagery. Finally, Tom said, "I totally get it. You want it to sound like a cut song from the show Seesaw. That was exactly what I wanted, and he came up with an arrangement that makes Native New Yorker seem like a moody Cy Coleman song. That's the best kind of collaboration, in my book. Our whole show is like that. I know this sounds hopelessly sappy, but this really is my favorite cabaret show that we've put together.  It's the perfect way for me to tell my story.
For artist info, visit charlesbusch.com.
Chelsea Community News is made possible with the help of our awesome advertisers, and the support of our readers. If you like what you see, please consider taking part in our GoFundMe campaign (click here). To make a direct donation, give feedback about the site, or send a Letter to The Editor, email us at Scott@chelseacommunitynews.com.