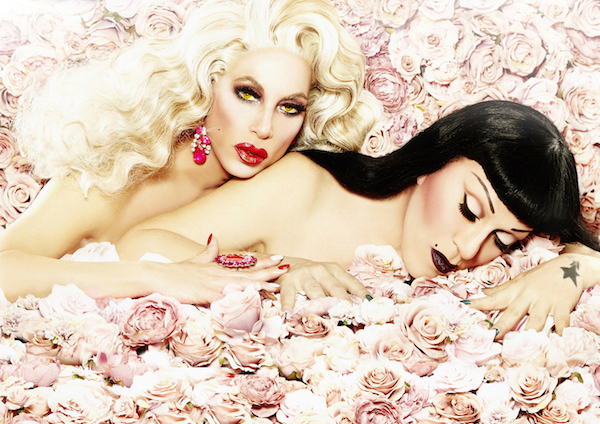 BY SCOTT STIFFLER | A fast friendship and onstage collaboration that began in 1993 during a performance at the Meatpacking District nightspot Bar d'O has blossomed into a current production in which the scandals of original sin are front and center on the lobes, and loins, of legendary drag artists Joey Arias and Sherry Vine.
Having toured the world and elsewhere with sold-out shows, including StarLust, SINsation, and Cherchez La Femme, their sexy, song-filled spectacle, Garden of She-Den, is set to blossom at the Laurie Beechman Theatre for two shows only, July 20 and 21.
Their latest unholy creation, the press material notes, promises "original material, reinterpretations of classics, Joey's infamous Billie Holiday, Broadway, rock, and maybe one of Sherry's trashy parodies. Expect a few surprises and of course loads of laughs! These sisters in crime have dazzled crowds in Australia, Germany, Italy, Spain, Finland, Austria, Switzerland, Canada, all over the USA and even Estonia!"
Chelsea Community News recently spoke with Arias and Vine, about what makes this new show, and their devilish dynamic, tick.
"We've been working together since Joey found me under the piers about 25 years ago," explained Vine, in slightly more sleazy alternate timeline version of the abovementioned origin story. "We've done so many big shows together, and I think we now have done it so much, we really know what people want to see from us, and how far we can kind of push the envelope, to give them something new and different."
"It's been a great run," Arias said, "through all our travels. In the early days, we'd go out after and meet people—and some of the crazy, sexy, debauched stories? So it would make sense that we would now enter the Garden of She-Den, where we're being tempted by the serpent to taste the forbidden fruit, and actually tell the truth about our sexual escapades… And it's really a fun show, [the kind that] Sherry and I like to do, to have people smile and laugh and dream, and give them full fantasy, and to also sing songs that work within the theme of the show… There's no competition. It's just Sherry and myself, up there in the Garden."
As for what they get from getting with each other, Vine opines, "The difference, when I do a solo show, is, it's 99.9% filthy parody, just all comedy. When I work with Joey, it pushes me to do duets, jazz, classic rock… and when I'm traveling with Joey, it's like, literally nonstop laugher. It's nothing but fun."
"It's like Abbott and Costello on the road," Arias says, "because we play off each other. It's amazing, how important our sistership is to each other… It opens my eyes to a different world. When I do my solo shows, I'm working with, from a piano to a full orchestra. With Sherry, we are the orchestra. So the music becomes kind of like, a colorful background for us, because we are that colorful thing, that energy that comes out."
Regarding the show's promised Great White Way content, Arias defers to the expertise of his sister. "Sherry, really, is a Broadway queen. I'm not Broadway person. I don't know who, or what's, on Broadway right now. I get all the information from her."
Right now, Vine says, She-Den is "booked for New York, and then we go directly to Berlin, Germany for a full week. We do that every summer, so, technically, this show was created for Berlin. Then, I know, we're planning a West Coast tour in the fall, and hopefully, more and more."
Arias seconds that emotion, saying, "I agree with Sherry, totally. We do this amazing show and sprinkle diamonds around the universe. And who knows, we'll go to Australia with it, maybe Japan."
Garden of She-Den, Arias speculates, may well have a shelf life mirroring other show of theirs that have toured for a year or more, given that it talks about "Adam and Eve, two Eves, two Steves, taking a chance in life, being open about sexuality—Sherry has no problems about that [Sherry laughs]. And it's entertaining! People can walk out screaming and laughing, and taking that apple home with them, that 'Apple of Knowledge.' "
As for what's in store after the apple falls from the tree of its divine designers into the greater global consciousness, our girls have no shortage of other projects to pluck from the shelf, given Vine's propensity for, she says, "keeping a little folder for all our ideas." Case in point: Two years ago, she recalls, a seemingly fleeting brainstorming session mulled over the notion of doing "a Las Vegas version of Welcome to the Jungle."
Several self-fulfilling prophesies later, that's exactly what you'll get at She-Den, which, Vine notes [spoiler and '80s SNL reference alert], "opens by taking this Guns N' Roses heavy metal song and making it, like, totally Sweeney Sisters."
That notebook gem having birthed the current production, it may finally be time for Vine to direct her sister, Arias says, "in a one-woman play based on the story of Edith Head." As it turns out, the lady who'd play the lady in question has a unique drag race connection to her subject matter—and we ain't talkin' RuPaul.
"When I was a kid, when I was in LA, I used to work behind the counter at the Farmers Market," Arias recalls, "and Edith Head used to come in there all the time. And she'd look at me, and we'd discuss things. I even had a drag race on Melrose Avenue with her. I had my Cadillac, and she had a Mercedes-Benz, and we were at a red light, and we were gunning our cars, and we went drag racing. So I have this taste for Edith Head. And I think Sherry would do a great job, because she knows me, and she knows the stage, and she knows… anyway, she just knows."
"We had that idea for the Edith Head thing a decade ago," Vine recalls, "and it was last year where I was like, 'We need to revisit that,' and Joey was like, 'Oh my God, it's the perfect time.' So that's the next big thing I'd like to do."
First things first, however. Sinners, saints, snakes, and everyone else, everywhere else, on the good green garden's spectrum need only know this: Garden of She-Den is performed on Saturday, July 20, 7:30pm and Sunday, July 21, 7pm at The Laurie Beechman Theatre (inside West Bank Cafe, 407 W. 42nd St. at 9th Ave.). Tickets are $23 for general admission, $45 for VIP tickets (includes reserved seating and a meet-and-greet). There is also a $20 food/drink minimum. Call 212-352-3101 or visit spincyclenyc.com/index.php/drag/374-arias-vine for reservations. Artist info at daxmgmt.com/arias.html and sherryvine.com.
Chelsea Community News is made possible with the help of our awesome advertisers, and the support of our readers. If you like what you see, please consider taking part in our GoFundMe campaign (click here). To make a direct donation, give feedback about the site, or send a Letter to The Editor, email us at Scott@chelseacommunitynews.com.