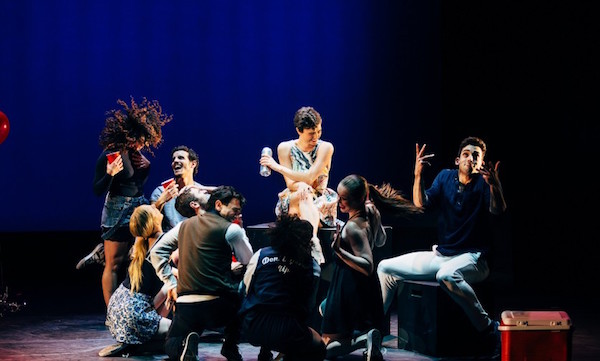 BY SCOTT STIFFLER | Sparking a love of the arts for a whole new generation with their Family Matinees program (last month's free Pilobolus family dance class for kids and grown-ups was a prime example), the Joyce Theater is offering a special family-friendly evening presentation, with Wed., July 24's 7pm performance of the Broadway-style dance play, Freddie Falls in Love—a young man's journey of self-discovery told solely through movement. Emmy-nominated choreographer Al Blackstone (of So You Think You Can Dance) has assembled an A-team of New York's finest dancers/actors, including Book of Mormon's Matt Doyle, for a story told with, The Joyce assures, "style, energy, and a ton of heart."
If you can't make it on July 24, take (a ton of) heart: Freddie plays through Aug. 4, and offers 2pm, 7:30pm, and 8pm performances. Purchase three or more tickets to Family Performances, the kids become Joyce Jr. members, and you'll also receive additional perks! For Freddie tickets, visit joyce.org/performances/freddie-falls-love. For more Family Matinee programming info, visit joyce.org/family-matinees.
Special sensory-friendly performances for students with ASD (autism spectrum disorder) and other disabilities are also among offerings at The Joyce. Sensory stimuli—such as lights and sound—are modified, and designated quiet spaces are created for audience members to take a break, if they'd like.
"When they come to The Joyce," says Heather McCartney, Director of The Joyce Theater School & Family Programs, "we want them to feel at home." McCartney notes they don't fill the already-intimate space to capacity, "because some kids have sensitivity to sound, or sensory issues… The students we're inviting are designated as students with special needs or disabilities, which can range from intellectual and emotional to autism to cerebral palsy. And though we don't consider those students who are deaf [to have] a disability, we're supporting them by having an ASL interpreter." These performances, she notes, "are welcomed by families, because sometimes, depending on the level of special needs a kid has, maybe they're making sounds or shrieks or making rocking motions, families and teachers understand. But in a general audience performance, not everybody understands. That's why it's [the sensory-friendly performances] a safe space, in terms of making this community feel very welcome."
If you're interested in finding out more about these sensory-friendly performances, contact Heather McCartney at 212-727 0169, or send an email to hmccartney@joyce.org.
Chelsea Community News is made possible with the help of our awesome advertisers, and the support of our readers. If you like what you see, please consider taking part in our GoFundMe campaign (click here). To make a direct donation, give feedback about the site, or send a Letter to The Editor, email us at Scott@chelseacommunitynews.com.