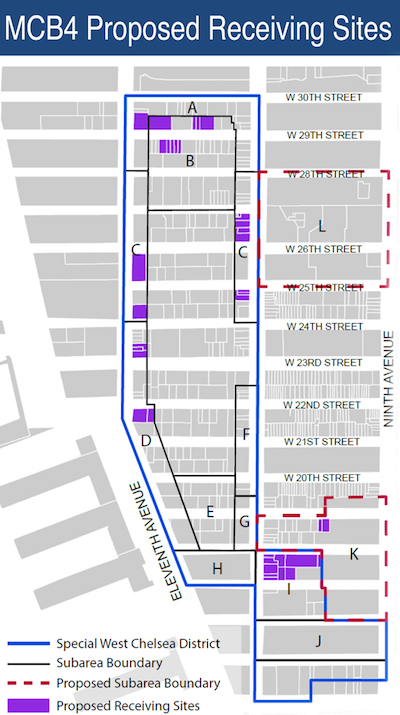 BY DONATHAN SALKALN | Since the New York City Housing Authority (NYCHA) unveiled a plan that would allow private developers to take the wrecking ball to two of the 11 Fulton Houses and privatize Fulton's management, petitions in opposition have begun flooding NYCHA's Fulton Houses and Elliott-Chelsea Houses, Penn South, and other enclaves of working class Chelsea residents.
On Mon., July 15, at W. 26th St.'s Hudson Guild, Manhattan Community Board 4 (CB4) stepped into the fray in opposition, by introducing an alternative plan to raise money for public housing repairs and improvements, while avoiding any demolition. CB4 represents Chelsea's Fulton and Elliott housing, as well as Hell's Kitchen's Harborview Terrace and Chelsea's Penn South.
Joe Restuccia and Maria Ortiz, Co-Chairs of CB4's Housing, Health & Human Services Committee, presented the board with a recommendation that NYCHA consider another tool in raising money—that of Transferable Development Rights (TDRs). They reported that NYCHA's proposal only utilizes two of its three available tools in raising money: Build to Preserve (fund renovations through construction of new mixed-income buildings at NYCHA sites) and PACT to Preserve (fund renovations by converting to Section 8 vouchers). Although the District's third tool, Transfer to Preserve, has generated money for CB4 for years, it was not considered.
CB4's district currently has four different Transferable Development Rights mechanisms in place: Hudson River Park, Theatre District, Eastern Rail Yards, and High Line TDR Districts. In order to avoid NYCHA demolition, the CB4 proposal consists of expanding the Special West Chelsea District to include both the Elliott-Chelsea and Fulton Houses. These zoning amendments would allow underutilized sites within the Special West Chelsea District, to access additional floor area ratio (FAR).
It should be noted that as part of the 2004 Hudson Yards and West Chelsea rezoning commitments, CB4 proposed the development of underused NYCHA land as an opportunity to build 100% permanently affordable on-site housing, with a broader range of income bands and a NYCHA preference. The intent was to accommodate the needs of doubled-up existing families residing at NYCHA. This proposal has successfully morphed into the recently occupied 100% permanent affordability high-rise on W. 18th St. (btw. 9th & 10th Aves). New residents include extended family of those in Fulton Houses. This new housing project is a testament to CB4's mission of what is right, not necessarily what is convenient or lucrative.
It became apparent during the board's discussion period that members wanted more specifics of the NYCHA plan, as many had heard different versions. Board members also voiced a request for more clarity on NYCHA's high price tags of needed capital improvements (Fulton at $168 Million, Elliott at $176 million, and Harborview at $85 million over the next 20 years). Co-Chair Restuccia related a NYCHA report that he received years ago. That included the need for funds to replace all of Harborview's appliances. Restuccia said, "They had already replaced all the appliances with new ones! The report made no sense."
CB4 is also still smarting from Mayor Bill de Blasio's position to replace a plan of a 16-story, 100% permanently affordable building constructed on a parking lot at NYCHA's Harborview Terrace (part of a Hudson Yards Points of Agreement), with a 50-story, 70% market-rate and 30% affordable residential tower.
"We are against demolition and are bringing to the attention of the Housing Authority the possibility of selling the unused development rights at Fulton," said CB4 Chair Burt Lazarin. "We are suggesting a mechanism and have looked at the availability of receiving sites in the neighborhood."
Matthew Green, of City Council Speaker Corey Johnson's District office, told the board that the City Council's Land Use Committee is also considering alternatives to demolition.
A revised resolution of the above proposal will be considered by the full board of CB4, at Hudson Guild (441 W. 26th St., Dan Carpenter Room) on Wed., July 24 at 6:30pm. The meeting is open to the public.
Chelsea Community News is made possible with the help of our awesome advertisers, and the support of our readers. If you like what you see, please consider taking part in our GoFundMe campaign (click here). To make a direct donation, give feedback about the site, or send a Letter to The Editor, email us at Scott@chelseacommunitynews.com.