Wednesday, July 24: Community Board 4 Full Board Meeting | It's a love letter to anyone who's ever come across construction in their neighborhood and said, "But nobody told me about that." CB4 meetings provide early warnings for things to come, as the board reviews and debates everything from rezoning to liquor license renewal requests. It's quality quality-of-life info at the ready, and no CB4 meeting has more to offer in that area than the monthly full board meeting, where committee letters go to the full board for a vote. Show up a bit before start time, and sign up for the Public Comment section, where you get the mic for 2 minutes, and can take that opportunity to make your voice heard. Wed., July 24, 6:30pm at Hudson Guild (441 W. 26th St. btw. 9th & 10th Aves.). For more info visit CB4 by clicking here.
Hudson Yards Hell's Kitchen Alliance Free Fitness Events | It's summer and you're going to sweat anyway, so why not get some exercise while you're at it? HYHK offer a variety of opportunities to do just that. Mondays at 6:30pm, it's the Fitness Bootcamp, led by Ruel Davis. Sign up here: https://tinyurl.com/y3r3xbmn.
Every Tues., Wed., and Thurs. at 6pm, wind down from the workday with Yoga Afternoons, where you'll move mindfully through yoga poses accessible to all. Sign up here: https://tinyurl.com/y495jc8x.
Saturdays at 10am, start your weekend on a relaxing note, with the Yoga Flow class, where you'll flow through a chaturanga, with Malorie as your guide. Sign up here: https://tinyurl.com/y5pdzcjt.
Sundays at 11:30am, HYHK's Friends and Family Yoga is an open-level class accessible to all members of the family. Sign up here: https://tinyurl.com/y4tcahnq.
All of these free events take place in Block 2 of Bella Abzug Park (W. 34th St. btw. 10th  & 11th Aves.). For more info on what HYHK has to offer, visit hyhkalliance.org.
Sunday Services with Chelsea Community Church | Chelsea Community Church was founded by lay people in 1975 and has never had a regular pastor (they do have a part-time pastoral counselor). As result of not having a regular pastor, they have a variety of guest speakers in the pulpit. The congregation meets weekly, Sundays at 12pm, except for August through Labor Day; weekly services start again Sept. 8. At St. Peter's Church (346 W. 20th St., btw. 8th & 9th Aves.)
July 28, in the pulpit will be Rev. Miriam Gross (Lutheran), pastor of the German Evangelical Lutheran Church of St. Paul in Chelsea. Her previous pastorates include Lutheran churches in Franconia and Munich, Germany, and a Reformed church in Orkney, Scotland. She earned a master of theology degree at Univesitat Erlangen in Germany, and another theological degree from the Church of Scotland. Currently pursuing a doctor of ministry degree at Wesley Theological Seminary in Washington, D.C., she teaches at the German School in White Plains one day a week and maintains a blog, Church and Society. Special Music: Anthony Santelmo Jr. For more info, visit chelseachurch.org.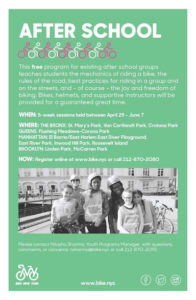 Bike New York FREE After School Program | This free program for existing after school groups teaches students the mechanics of riding a bike, the rules of the road, best practices for riding in a group and on the streets, and–of course–the joy and freedom of biking.
Bikes, helmets, and supportive instructors will be provided for a guaranteed great time.
For info, visit bike.nyc or call 212-870-2080.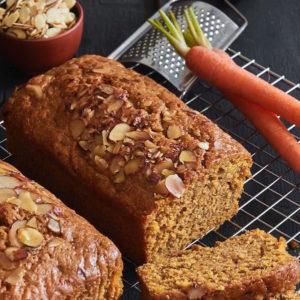 Saturdays at Down to Earth Farmer's Market | Every Saturday, 9am to 4pm through December 21, East of Ninth Ave., on the north side of West 23rd Street, is the place to be—for good green stuff and more. This Westchester, Brooklyn, Manhattan, and Queens market welcomes SNAP benefits—just stop by the manager's tent to use your EBT card.
Here are just a few of the participating vendors, and what they offer:
–Plants, flowers, and certified organic fruits and vegetables from Echo Creek Farm
–Ready-to-eat and vegan options from Pickle Licious
–Baked goods and gluten-free options from Meredith's Country Bakery
–Pantry items, sauces, and seasonings from Arlotta Food Studio
–Breads from Orwashers Bakery
In recent Market News, they note, "We are pleased to introduce brown bin compost drop-off this season at the Manager's Tent. A BIG thank you to our community hosts, Holy Apostles Soup Kitchen for allowing us to participate in their program."
Elsewhere around the neighborhood, their Hudson Yards incarnation is open Thursdays, 8:30am to 4pm, through November 21. It's hosted by the Hudson Yards Hell's Kitchen Alliance.
For more information about Down to Earth Farmer's Market, visit downtoearthmarkets.com.
Tuesday, July 23, 6-7pm: Free "Battle for New York" Lecture | In collaboration with the West 13th Street Alliance, Lenox Health Greenwich Village is cosponsoring and cohosting a series of events, including Robert Moses, Jane Jacobs, and The Battle for New York. This lecture is presented by Jason Haber, a frequent commentator on CNBC, and co-founder of Rubicon Property, a social entrepreneurial real estate firm based in Manhattan. Call 347-802-7400 to register, or do so online or via thebattlefornewyork.eventbrite.com. Walk-ins are also welcome, and refreshments will be served. It takes place in the sixth floor conference center of Lenox Health Greenwich Village (200 W. 13th St.).
Chelsea Community News is made possible with the help of our awesome advertisers, and the support of our readers. If you like what you see, please consider taking part in our GoFundMe campaign (click here). To make a direct donation, give feedback about the site, or send a Letter to The Editor, email us at Scott@chelseacommunitynews.com.