BY KRISTEN ANCILLOTTI | When you walk into Le Zie Trattoria, it is immediately clear why the Venetian restaurant is so popular among those in the neighborhood, and you get the feeling that you are about to settle in for a cozy and familial dining experience.
Le Zie (172 7th Ave. btw. W. 20th & 21st Sts.) is unique, because it has been around for 20 years, and has become an established fixture in Chelsea, with an extensive collection of art and a varied selection of wine. It takes time to accumulate these things organically, and 20 years is never guaranteed, particularly in the restaurant business.
Part of the success of the restaurant is the repeat business from the loyal locals. "I've seen probably two generations," said Le Zie owner Claudio Bonotto. "The kids, they used to have the gnocchi when they were two or three years old, four years old. Now they're coming with their boyfriend and having that same gnocchi."
When Bonotto opened Le Zie in 1999, he had years of experience in the field of hospitality. He started as a nine-year-old in Veneto, cleaning clams and serving pizza for a friend's family pizzeria. In secondary school, he would serve food to English and German tourists at a hotel between Venice and its outskirts. After school and prior to going into mandatory military service in Italy, he learned about temperature and humidity and began making pizzas, often serving 180 pizzas in a four-hour shift.
After his military service, he joined a restaurant in Milan, then moved to the Dominican Republic, where he worked for a resort. There, he conducted trainings and helped open a series of restaurants—French Continental, Mexican, a pizzeria—and was referred to as "the mayor," because he was the first person living in the little town they were building.
Bonotto trained people for eight years in the Dominican Republic before making the move to his first stop in the United States: Chicago, to run a restaurant. This eventually led to training people at franchises in California, Mexico City, and Tel Aviv. It was at the end of this adventure that he decided to open Le Zie.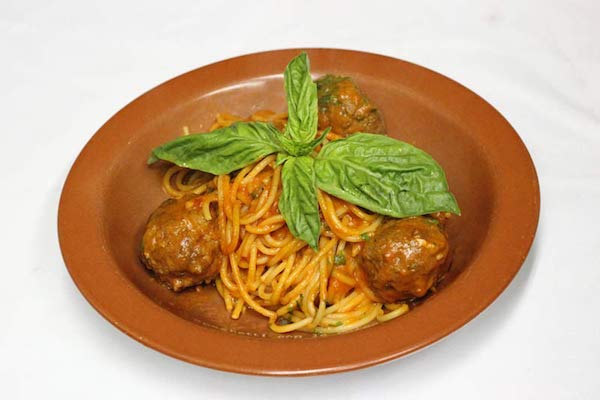 "Back in 1999, we decided to do spaghetti and meatballs," recalled Bonotto. "When I would go and take a trip from New York to Los Angeles, you'd stop anywhere, and you'd find like, a huge meatball, slammed on top. So I thought, if we do a nice one…" It ended up being a good beginning for the restaurant, and an article was written declaring that Le Zie had the best spaghetti and meatballs in New York, giving them a boost in recognition.
It is this tasty and comforting food that brings customers back, again and again. While the spaghetti and meatballs may be the dish that first draws people to the restaurant, Bonotto's favorite dish is the rigatoni ragù, which reminds him of "the home flavor." (Author's note: It is delicious.)
Buffalo mozzarella is flown in once or twice a week from Italy, and served up with fresh, aromatic basil and juicy tomatoes, which you can (and should) supplement with olive oil and balsamic vinegar. The bread is chewy on the outside, and soft on the inside, and will tempt even the strictest carb avoiders.
And do not let yourself believe you are too full for dessert, because the panna cotta, made with Madagascar bourbon vanilla beans and fresh strawberries, is perfectly sweet and light.
The menu offers variety without being overwhelming, and seasonal specials change daily, which will have you returning to try the next new offering.
"Even people that move out of the neighborhood, they always come back for one reason or another," said Bonotto.
Tangni Cortes, the event planner for the restaurant and Bonotto's assistant, confirmed this. "Our clientele comes for the food," she said. "We have people who come from Jersey for the spaghetti and meatballs."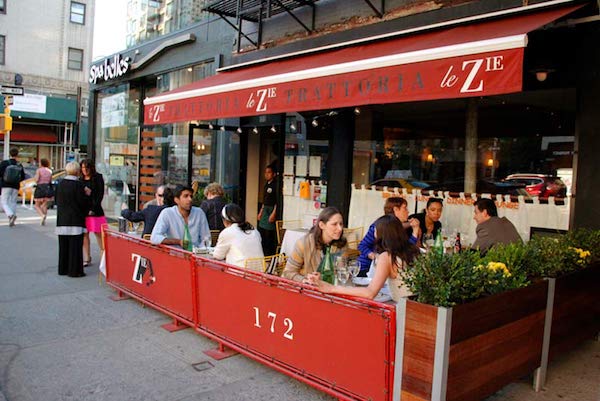 An essential part of the dining experience at Le Zie that makes it especially inviting is the building itself. As Bonotto recalled, "I looked inside, I saw the first room, and I said, 'This is perfect!' and that was the beginning!"
It was originally one room, with no kitchen and a big walk-in next door. What is now The Galleria was pure cement that used to be a hardware store, its walls covered by aluminum. When the aluminum was removed, it turned out there were beautiful walls and ceilings hidden beneath.
Bonotto uses these walls to display a vast collection of art and memorabilia that he has been collecting since the restaurant opened. These pieces have been gathered little by little from friends and people he has known for years, and they hold special and often amusing memories.
Milton Glaser, an artist Bonotto knew from California, moved to New York City and began coming to the restaurant every week. "One day he gave me a beautiful drawing of Bologna that is of Piazza Maggiore. Bologna is famous for the tortellini, so there is Bologna, and there is a rain of tortellini. Very sarcastic," Bonotto said, through laughter.
These pieces, some quite large-scale, are spread throughout the restaurant, which is now made up of The Main Dining Room, which accommodates 40 to 65 guests; The Galleria, which overlooks the garden and seats up to 24 guests; The Lounge, which is available for private parties; Chef's Table, which seats groups up to 28; and The Patio, which is perfect for people-watching.
With all of these options, it's a prime spot for people to gather for a nice night out to celebrate, and Le Zie has been the site of a number of private events, from weddings, corporate gatherings, and post-marathon parties, to birthday parties and post-bridal fittings. Cortes works with patrons to personalize the space to their liking.
You don't have to attend a private event or even sit down for a meal to enjoy Le Zie. Their wine selection boasts over 200 labels from Italy, the U.S., Europe, and South America. From 4pm to 6pm, The Lounge offers iced oysters on the half shell for $1 each, as well as Prosecco for $8—and for $10, you can get martinis, Le Zie Private Reserve Chardonnay and Merlot.
The final piece of the puzzle of how Le Zie has continued on so successfully for 20 years is Bonotto himself. Not only does he have regular customers, but his employees have also been around for many years, and speak highly of him.
"He's a very kind man," Cortes said of Bonatto. "He's I think the nicest boss I've ever had. It's a very homey feeling, from the food, to him. You don't feel like, 'Ugh, I have to go to work.' He's very nice."
At a parent's request for an activity at the restaurant, Bonotto set it up so that kindergartners from nearby PS11 could come and learn how to make gnocchi, fold tortellini, and eat a meal. When they sent thank you notes afterwards, he was so delighted, he framed the notes and hung them on the wall. His appreciation for his customers, his employees, and his neighborhood is obvious, and the feeling is clearly mutual.
The work Bonotto puts into building relationships has created a sense of home for so many. He provides both comfort food and connection—and in return, artists want to share their work with him, employees want to stick around and sing his praises, customers want to come in and sit down at their regular tables, and then years later, their kids want to do the same.
The feeling you get when you walk in the door, that genuine sense of welcome, comes from people who mean it when they say they hope to see you again. It sticks with you after you leave, and beckons you to return.
As Bonotto so aptly put it, "It's like Grandma's house."
Le Zie's hours are Monday to Friday, noon to 4pm for Lunch and Prix Fixe; Saturday and Sunday, 11am to 4pm for Brunch, Lunch, and Prix Fixe; Tuesday to Saturday, 4pm to 11pm for Dinner, and Sunday and Monday, 4pm to 10:30pm for Dinner. To make a reservation, call 212-206-8686 or go to lezie.com.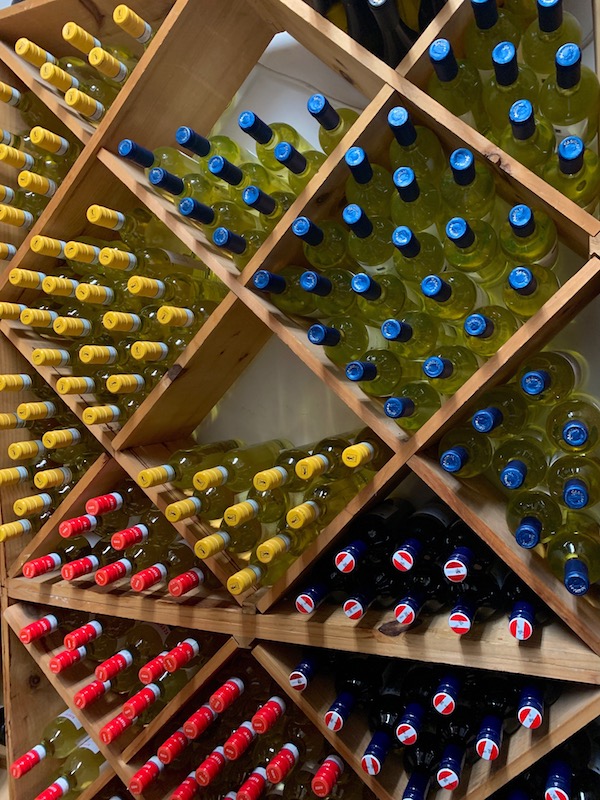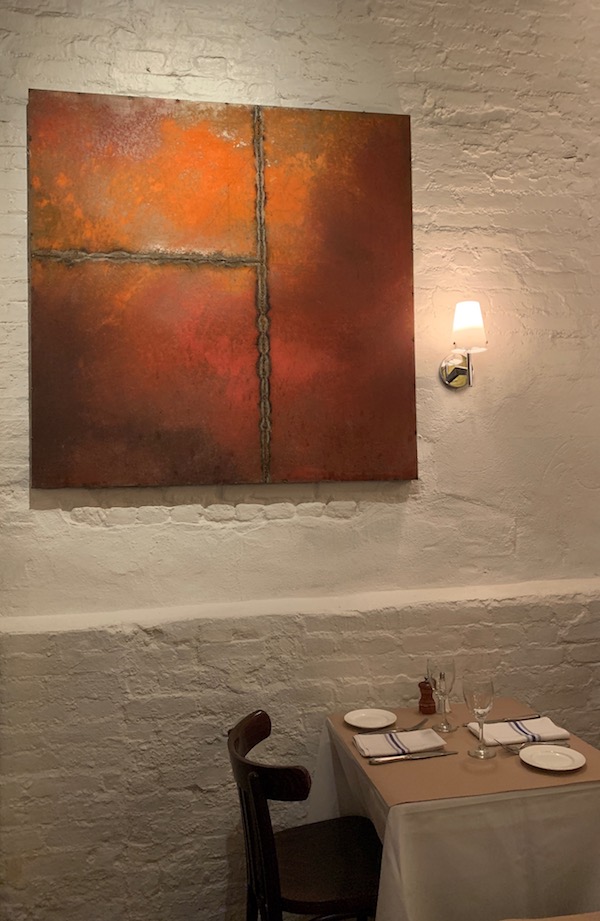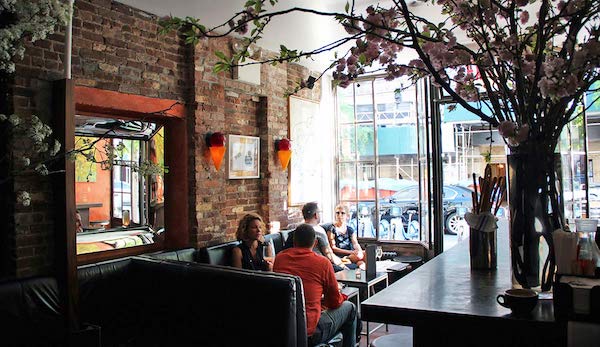 Chelsea Community News is made possible with the help of our awesome advertisers, and the support of our readers. If you like what you see, please consider taking part in our GoFundMe campaign (click here). To make a direct donation, give feedback about the site, or send a Letter to The Editor, email us at Scott@chelseacommunitynews.com.