BY KRISTEN ANCILLOTTI | Community Board 4 (CB4) convened their full board meeting on July 24 at the Hudson Guild Elliott Center (441 W. 26th St. btw. 9th & 10th Aves.), with a packed agenda of topics to cover, as usual.
What made this night a little different, were the people gathered outside the building prior to the meeting. Residents of the Fulton Houses and several members of the community paced the sidewalks with painted signs held high, to voice their concerns regarding the proposed building of market rate-housing on public land.
According to a letter handed out to passersby from Fulton Houses tenants, residents of Penn South, community groups Community Control of Land Use and Not One More Block, and "other concerned neighbors," they were rallying outside the meeting to make the point that, as their letter stated, "The draft proposal sent to NYCHA which supports the construction of market rate housing on underutilized public land, naming Fulton Houses and Elliott-Chelsea as potential areas of development, is unacceptable."
This was in reference to the planned discussion of the letter drafted by the Joint Housing, Health and Human Services Committee and Chelsea Land Use Committee of CB4, regarding "NYCHA Proposal Alternatives."
In the letter, CB4 reiterated that it is in strong opposition to the demolition of permanently affordable public housing, and would like NYCHA to consider alternatives to this plan, particularly the sale of Transferable Development Rights (TDR) to fund repairs and capital improvements of NYCHA campuses. They also expressed that "any proposal regarding permanently affordable public housing should be a collaborative effort with meaningful community input."
George Weaver, holding a sign stating "Disabled People Will be Homeless at Fulton Houses," said that people in the government say one thing, then do something else, like saying that they want to get more community engagement, but failing to reach out. "They know where to find NYCHA residents," said Weaver. "They're supposed to be representing us, but they're representing developers."
While the protesters stayed outside, the conversation about Fulton Houses moved indoors when the meeting began. During the public session, Mary McGee, president of Fulton Houses Independent Tenants Association, said that they agree with four points in the drafted letter to NYCHA: no demolition, no air rights, no privatization, and no Rental Assistance Demonstration (RAD).
"We're asking the Community Board to hold off on sending that letter to NYCHA and give us, the residents, the opportunity to sit down with you and talk to you before you write the letter," she said. "You say you want input from residents? You have a handful of residents here today. Please give us the opportunity to tell you how we feel. You're not being affected because you don't live in Fulton Houses. We are the residents. We're paying all the consequences."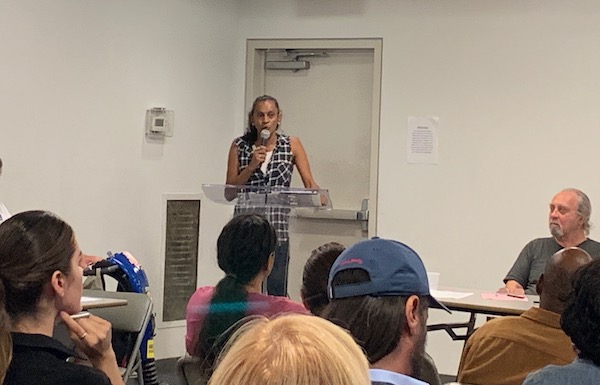 Linda Ocasio, a resident of Fulton Houses for 40 years, said that what Fulton Houses needs is repair. "We've constantly been neglected and dismissed, and our voices have not been acknowledged," she said. "Would you trade places with us and go with this privatization?"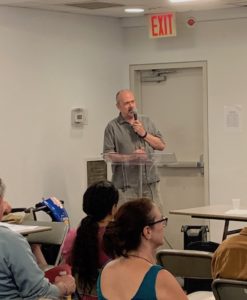 Paul Groncki, president of the 100 West 16th Street Block Association, was set to speak about issues related to transportation, but also spoke up in support of Fulton Houses. "Using any part of NYCHA property, including its air rights, to subsidize market-rate housing in Chelsea is a mortal sin," said Groncki. "You cannot do this. We do not need more market rate housing in Chelsea."
When it was time for elected officials to address the group, Assemblymember Richard Gottfried stepped to the podium—but before he had the chance to speak, Weaver's voice rang out and heads turned, as the protesters who had been outside prior to the meeting entered the room with new signs and stood behind the seated attendees.
"I'm hopeful that Dick Gottfried finds money for public housing. I'm hopeful," said Weaver. "We elected you. I voted for you. I'm hopeful you keep public housing on the front agenda."
CB4 Chair Burt Lazarin stepped in and explained that only one person at a time may speak, and that there had been an opportunity at the beginning of the meeting to speak during the public session. Weaver said he understood that, but he wanted Gottfried to save public housing. He and the group then stood quietly while Gottfried spoke.
"I and the other elected officials in the area have written to the city urging that nothing at this point go forward with Fulton Houses, including the proposal that the Housing Authority has developed, and that all that be put on hold," said Gottfried. He would like to see a working group, including representatives of the Fulton Houses, Elliott-Chelsea, and the surrounding community (including CB4) work together to develop ideas before anything moves forward.
Gottfried continued: "I think it's really important to make sure that whatever happens with Fulton Houses, things get better—things get a lot better—and every resident of Fulton Houses be guaranteed not only, as much as possible, improved housing, but also guaranteed that they'll have all the rights and rent protections and everything else that they now have."
Gottfried then opened the floor to questions, responding to Mary McGee's query about considering other funding by saying that officials are not taking any proposals off the table, and they want to hear from residents of Fulton Houses and people in the community. He also confirmed that a meeting is in the works to do just that.
When asked if he could make sure that Fulton Houses gets $168 million, Gottfried responded in part that while public housing has enormous needs and is a top priority, there are unfortunately a number of issues that must also remain a top priority, such as the transit system and education system, all of which have enormous price tags.
Manhattan Borough President Gale Brewer's representative, Brian Lewis, also touched on Fulton Houses, confirming that they, too, would like to keep all options on the table, and stating that Brewer remains opposed to the demolition of public housing.
Ultimately, the full board of CB4 voted unanimously to submit a letter requesting that NYCHA put a pause on the RFP process, convene a working group, and consider the TDR option, which has been used in the district in the past." The letter was approved with a "motion to adopt as amended," because they're going to clarify some of the language, regarding the TDR process.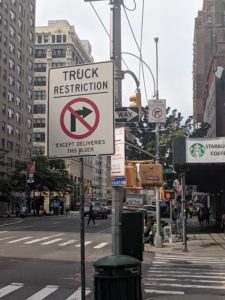 Two other approved letters related to Chelsea came from the Transportation Planning Committee: one related to truck signage, and the other regarding a loading zone study that is currently underway.
The first letter, about truck signage, was in support of the West 16th Street Block Association's request that the NYC Department of Transportation (DOT) provide more detailed truck signage at the intersection of W. 16th St. and 7th Ave. Groncki said that the current signs are not specific enough to discourage truck drivers from using 16th St., and would like to see if changing the language on the signs to "No Trucks, except deliveries this block only" and adding additional signs will reduce truck traffic.
The second letter, also addressed to the DOT,  provided feedback about an ongoing pilot study on 15th and 16th Sts., looking into the effectiveness of providing designated curb space for pick-up and drop-off of passengers, and loading and unloading of goods, in order to reduce double-parking and standing.
"One, it would have been nice if they'd announced this was going to happen, because people weren't noticing the signs," explained Groncki. "Two, trucks aren't using them and they're still double-parking on the block, because they don't understand that 'No Parking' doesn't mean they can't unload. It would be nice if it said something to indicate that it's for loading and unloading."
Hopefully, new signage and the feedback for the loading zone study will help reduce traffic and double-parking issues on the block.
The next full board meeting of CB4 will be held on Wed., Sept. 4, 6:30pm at Mount Sinai West (1000 10th Ave., 2nd Floor, Conference Room B). For more information, visit nyc.gov/html/mancb4.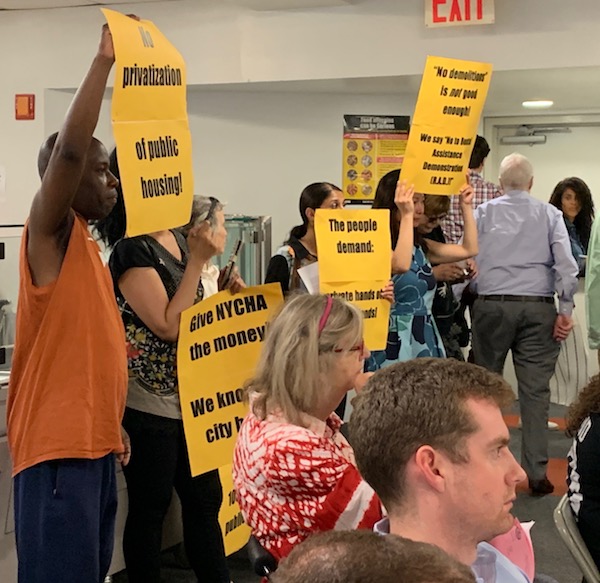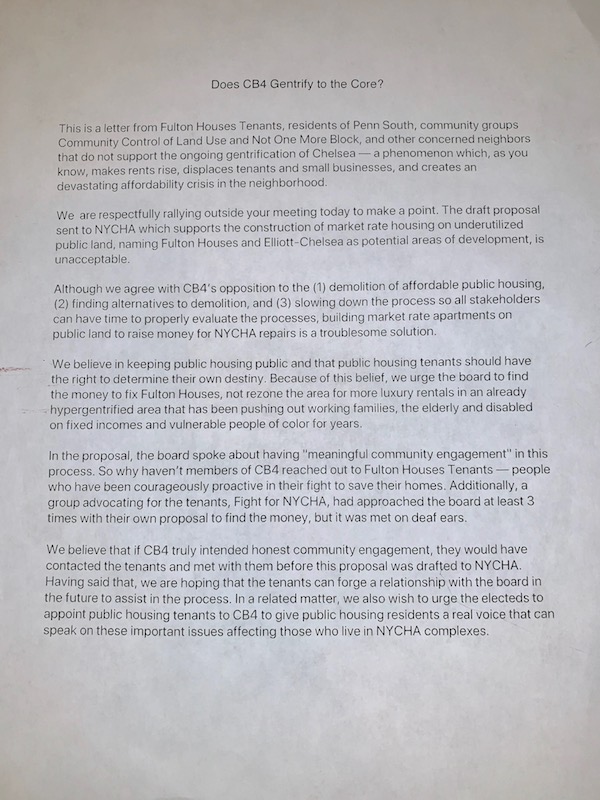 Chelsea Community News is made possible with the help of our awesome advertisers, and the support of our readers. If you like what you see, please consider taking part in our GoFundMe campaign (click here). To make a direct donation, give feedback about the site, or send a Letter to The Editor, email us at Scott@chelseacommunitynews.com.