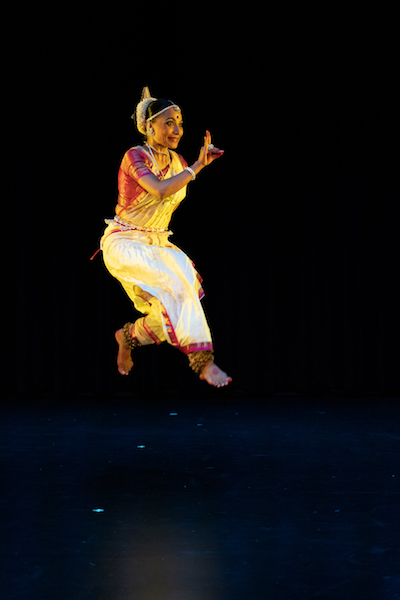 BY ELIZABETH ZIMMER | Dance connoisseurs look forward to August and the arrival in town of Drive East, a weeklong festival of South Asian music and dance by some of India's brightest stars.
Bijayini Satpathy opened the fest on Monday, with a brilliant demonstration of Odissi dance, comprised of exquisite shapes, colors, and sounds emanating from her compact form, fluttering fingers, and bells that resound with every bare footfall. Utilizing storytelling and mime as well as her stunning technique, she enacts for us a devoted lover, the god Krishna, even a leaping deer.
Satpathy's next performance, at 12:20pm on Sat., Aug. 10, is sold out—but tickets remain for other artists, in programs of Bharatanatyam, Kathak, and Kuchipudi dance, as well as a wide variety of musical ensembles and soloists. Three shows each night, through Sunday. The bounty then moves to San Francisco from Aug. 15-18.
Drive East, through Sun., Aug. 11 at the Mezzanine Theatre, at A.R.T. New York Theatres (502 W. 53rd St. btw. 10th & 11th Aves.). Single tickets are $20-$75, via driveeast.org/tickets or by calling 732-580-2093.
Chelsea Community News is made possible with the help of our awesome advertisers, and the support of our readers. If you like what you see, please consider taking part in our GoFundMe campaign (click here). To make a direct donation, give feedback about the site, or send a Letter to The Editor, email us at Scott@chelseacommunitynews.com.