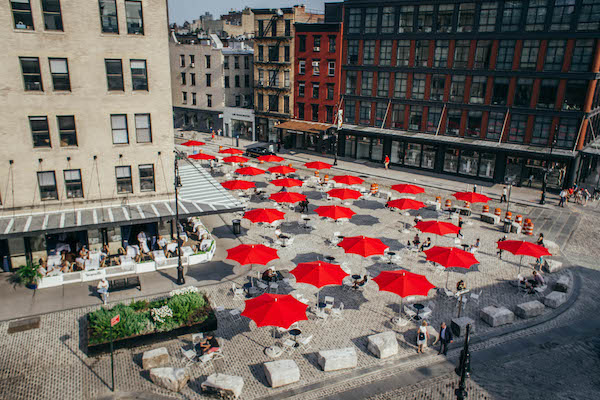 BY SCOTT STIFFLER | The cobblestone charm remains intact—better than before, in fact. But change has definitely come to the Meatpacking District, and that's a good thing for pedestrians, plazagoers, bicyclists, and nearby businesses.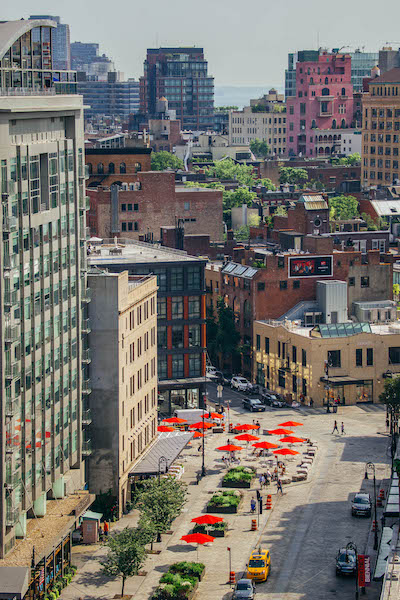 Last week's ribbon-cutting ceremony capped a seven-year transformation of the historic Meatpacking District's iconic streetscape, bringing 20,000 square feet of Belgian block (i.e. cobblestone) public plaza space, a new bike lane (Ninth Ave. btw. Gansevoort & W. 14th Sts.), and large planters and flower beds spanning Gansevoort St. and Ninth Ave., up to W. 16th St. All told, the project used 980 square feet of granite slabs to create accessible crosswalks, replaced 3,210 linear feet of granite curb and 555 cubic yards of concrete sidewalk, and 3,000 cubic yards of concrete road base.
Designed by the landscape architecture firm Ken Smith Workshop, Gansevoort Plaza (Gansevoort St. btw. Ninth Ave, & Hudson St.), The Chelsea Triangle (Ninth Ave. btw. W. 14th & 15th Sts.), and the 14th Street Square (Ninth Ave. and south side of W. 14th St.) were funded with $20M provided by New York's city, state, and federal governments, and created through the collaborative efforts of NYC's Department of Transportation and Department of Design & Construction, in partnership with the Meatpacking Business Improvement District (BID), which is comprised of property owners, Community Board members, business tenants, local residents.
"I like to think the design reflects the history of this place, but at the same time is very much contemporary in spirit," said Smith, in a BID press release.
"This is a really exciting moment for the neighborhood," noted Meatpacking BID Executive Director Jeffrey LeFrancois, in an interview with Chelsea Community News the day after Aug. 6's ribbon-cutting.
"We've endured this in-your-face construction for the past four years," he acknowledged, assuring, "We will no longer get redirected on our way to work, or post-work drink or dinner, because the streets have returned back to the people, and these beautiful public plazas are here to stay… It's a place for every New Yorker, whether you work in the neighborhood or you're visiting the neighborhood. It also gives you a chance to take a beat, on your way from A to B, in a really nice public space, without the pressures or cacophony of the rest of the city." There's something about this part of town, LeFrancois observed, "that really feels removed, and quite open."
The majority of the three new plazas are located within the Gansevoort Market Historic District and, as such, LeFrancois said, their design "had to take into effect the fact that [NYC's] Landmarks Preservation Commission will be approving the design, and whether or not it meets the current Commission's sentiment for how a modern interpretation of the neighborhood should be made, through the lens of its past."
Where the public plazas are, LeFrancois noted, were once "bustling produce or meat markets. So while there are not carts of cucumbers and tomatoes coming in from Long Island, it's people enjoying their lunch, or their coffee. This space that has, historically, always had something going on in it, and still has stuff going on in it. It's just, different."
Invocations of the past aren't limited to street level. The hulking planters running along Ninth Ave., LeFrancois noted, are, when viewed from above, "meant to inspire the idea of box trucks parked along Ninth Avenue, that would have been in the neighborhood to pick up meat, then move it elsewhere around town."
Meanwhile, on the ground (or, more accurately, in it), 255,800 cobblestones were newly installed or relaid. "All of our Belgian block streets were brought in as ballasts, on ships, back in the 19th century," LeFrancois said. "And that's why so many of our streets were made from them."
More change is coming to the Meatpacking District later this summer, as the BID installs 11 new trees and 21 planters on 14th St. (btw. 9th & 10th Aves.), and new traffic patterns are put in place, to reduce congestion in the West Village and Chelsea.
"The critical change is going to be at 13th Street and Ninth Avenue," LeFrancois said. "Right now, 13th Street runs west—and eventually, as part of this plan, at 13th Street and Ninth Avenue, you will be able to go west towards the West Side Highway, at 10th Avenue, or you will be able to go east, towards Eighth Avenue. So that's a flip in that street, those two blocks, from Ninth to Eighth Avenue [Hudson is in the middle]."
Vehicles heading north from Ninth Ave. out of the Village, because there will no longer be an eastbound turn on 14 St., will, LeFrancois noted, "be able to turn east on 13th or west on 13th, releasing some of the traffic we've found to be an issue, mostly at nighttime." This change, LeFrancois said, came about as part of a conversation "from advocacy of folks in the Village who were, frankly, just really annoyed by the nighttime congestion that was happening in the Meatpacking District. So the city has proposed this as a way to move cars more efficiently throughout the neighborhood."
While traversing the area might be more efficient these days, LeFrancois said he hopes these capital improvements mean the masses will be spending more time sitting in, and strolling through, the area. The Meatpacking District has arrived, again," he stated, "and we're just getting started."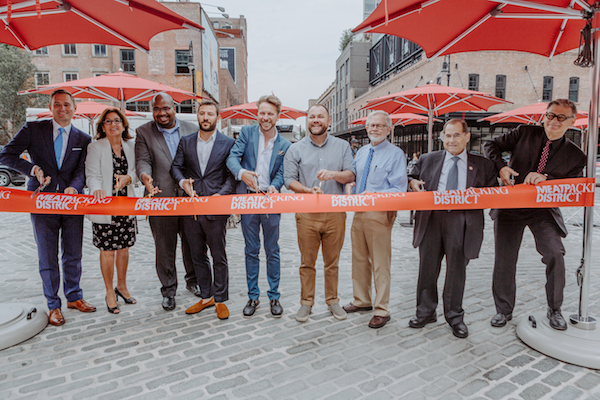 Chelsea Community News is made possible with the help of our awesome advertisers, and the support of our readers. If you like what you see, please consider taking part in our GoFundMe campaign (click here). To make a direct donation, give feedback about the site, or send a Letter to The Editor, email us at Scott@chelseacommunitynews.com.