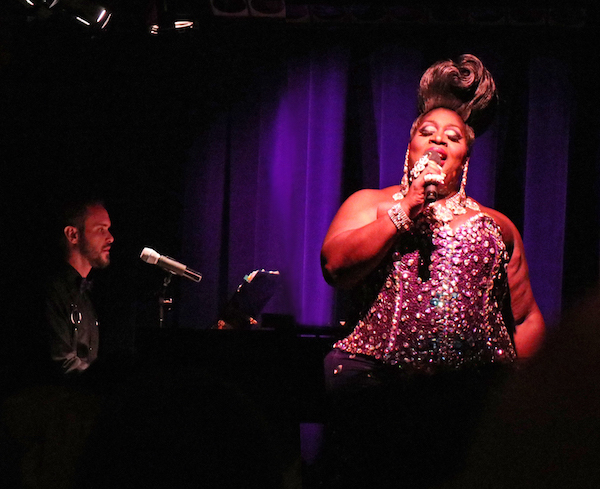 BY SCOTT STIFFLER | "The show must, and will, go on," says RuPaul's Drag Race royalty, Latrice Royale—specifically, in response to news that her clothing, wigs, and performance accouterments are nowhere to be found, and it's perilously close to showtime. But besides saving her bacon in that specific situation, this tried and true trooper's mantra also serves as a prime directive throughout a career that has seen the iconic drag queen tackle nightclub gigs, drag brunches, solo shows, and tours, tours, and more tours.
"I have come to embrace the buffoonery and shenanigans that is tour life," Latrice opined, in her solo segment of director Jasper Rischen's 11-episode "Werq the World'' documentary series, now available on WOW Presents Plus. When her belongings are lost not once, but twice, Latrice remains unrattled, and forges ahead. (The first time, stuff arrives in the nick of time; the second time, she takes to the stage out of drag, and still kills it.)
Expect Latrice to kill, slay, sashay, sing, and give giddy back and forth with all comers, when she comes back to the Laurie Beechman Theatre, Aug. 21-22, with Latrice Royale: Here's to Life—an updated version of her acclaimed one-woman show, Here's to Life. With Christopher Hamblin on piano, this "celebratory journey of song and storytelling," the press release promises, "shares tales of growing up gay in Compton, the events leading up to her 'unfortunate incarceration,' and her infectious, ever-positive perspective that got her through it all."
"I can't even keep track of how many shows I've done at the Beechman," said Latrice, of the storied W. 42nd St. basement theater space that dutifully serves as the go-to venue for RuPaul's Drag Race alums gracing NYC.
"It's where I've gotten my cabaret feet wet," Latrice noted. "We've really established a family dynamic there. I'm in love with the entire staff, and it really is home base for me. I feel like I can try out some new things—but you definitely find out right away whether it works or not. New York City is a very honest vibe. If they ain't feelin' it, it ain't gonna fly."
New York City, Latrice notes, "has a very specific audience. You have a lot of theater to choose from, but they're loyal, and they come out in full force. So this time around, we're gonna touch on Here's to Life, but because a lot has happened since the last time I've been at the Beechman, we won't go so deep and dark into my past. So I'll sing some songs, have a good time. There will be joking around, and throwing shade."
Asked for the origin story of her polished but footloose performance style, Latrice observed, "There's no better way to get your improv chops than to be in a live theater show. I am a really go-with-the-flow person. I like each audience to have their own authentic experience. Somebody might feel their moment [and shout something out]. Every emotion is real. Improv is a very big part of what I've always done. Because as hosts of your own show, we [drag artists] have to be the comedian, to keep the audience going," she said, citing drag brunches in particular as the type of gig where one must command an audience "distracted with waiters and bartenders and food coming."
Back to the topic of the Werq the World documentary, it's important to preface this next section by noting that Latrice was the first participant to log into our interview conference call—totally on time, and ready to talk. Tardiness is a theme that runs through the documentary series, as the featured RuPaul's Drag Race queens (including Valentina, Kim Chi, Sharon Needles, and Shangela) werq their way through a 2018 European tour, to wildly varying degrees of success, when it comes to being where they're supposed to be, when they're supposed to be there.
"The meet-and-greets with the fans," Latrice said, "is the hardest part, to get the girls there on time. It's the most important part of the tour, the moment you get to have even 30 seconds with these fans, who spent their rent money, their last money, to get tickets they can't afford, to come and see us. So it means a lot, and I take heart. I try to be on time and very present and make everybody feel like they're the first one, even if they're the 100th one."
But you can't make a fan feel special if you don't show up. "That's stressful," said Latrice, of fellow queens chronically late or totally MIA. "Because you're wasting other people's time, when other people are waiting on you. It's disrespectful, and so I never want to be that person. I hate for other people to be unmindful of the fact that they are actually wasting my time. I'm ready. I had the same amount of time to get ready. Be ready. It's just that simple… Yeah, I don't have a very high tolerance for that. All I could do is control my reaction to this bullshit."
BS aside, however, Latrice said Werq the World "has been groundbreaking and amazing. Because it's [drag] so fresh, now that we're getting into Sweden, Norway, New Zealand, Thailand. It's really global, and because they don't get it [RuPaul's Drag Race] on their televisions, they have to stream it or have viewing parties. They put the 'fan' in 'fanatics,' and they're so appreciative that we come to their country. So they come out in droves, and really show us a lot of love… We here in the states are, in a way, we're kind of spoiled. Drag is oversaturated. You can see a drag show anywhere, any time of the week. No worries. But that's not the case around the world. So when we bring it to them, they're just so happy."
On the horizon, Latrice says, "I am no longer interested in the nightclub scene, like, I'm just getting too old for that—jumping into splits and shablaman and all that, which was wonderful, in my youth, but I'm done. I really am going to try to embrace more of my one-woman shows. Then, of course, acting its my passion, too. I want to get more involved in scripted television and movies. That's really what I aspire to do… I'd love to be in a comedy, but I'm also very dramatic, too, so I have aspirations of doing theater on Broadway, perhaps. Not only to prove to myself that I can, but it's such a big, nice thing to have on your resume, for sure—jobs and things that you have conquered, you know, because that's the whole gig, there, for me."
But it's not the whole gig. The famously "large and in charge…chunky, yet funky" Latrice has another calling, other than punctuality and professionalism: ministering, literally, to LGBTQ couples.
"It started off," said Latrice, of her role as matron of matrimony, "because a friend of mine was getting married, and he asked me to officiate at the wedding, in drag. I was like, 'Are you serious?' " The friend was serious, and so was Latrice, who, as her friend began making plans, became ordained.
"I actually went and performed his ceremony," Latrice recalled. "It was wonderful and beautiful, and really changed my perception on gay marriage, and what was possible." This was at a time, Latrice noted, when "the entire nation was not, you know, Marriage Equality had not passed yet, only in states like New York and California. So seeing what was possible really touched me, and I kind of took the ball and rolled with it. Since then, I've done over a dozen weddings and renewals. It's been beautiful, bringing lives and souls together."
And, fittingly, Latrice found herself on the business end of the aisle, having been married for almost a year now. "It's fitting we're having this conversation," Latrice said, "because I was just talking to my mom-in-law, and it's just like I have a new family—and the fact that my family is all about it, is way outside of my realm of possibilities, you know, what I thought was possible. But it has been beautiful, because as far as me and [husband] Christopher, we have really grown a lot. With each day that passes, whenever a crisis comes up, we try to handle it as diplomatically and respectfully as possible. When we get stressed out, we don't lash out. It's important that you communicate, and make sure you keep lovin' the one you're gonna be lovin' the rest of your life."
Also in the spirit of it's-never-too-late, Latrice turned our question about advice to young people intent on doing drag on its head, noting, "It's not limited to kids. I have a very close friend who just, at 45 years old, started doing drag… At first, I was like, 'You're 45. What do you mean?' And it became a passion, and he's booking gigs and singing live and doing what he loves. And I had to get my head around it, and was like, 'Okay. So this is really for everybody,' I tell you. If you have a talent, and you have a passion, and decide that drag is the vessel to drive your talent and passion? Then do that. But have something to tell. Don't come out trying to be another cookie cutter girl, with some pastel hair and sparkly bathing suit and think you're doing drag. I've had enough. Of that."
Latrice Royale: Here's to Life runs Aug. 21-23, 7pm, at the Laurie Beechman Theatre (inside West Bank Cafe, 407 W. 42nd St. at Ninth Ave.). Tickets are $25 with a $20 food/drink minimum. $45 VIP tickets that include reserved seating and a meet-and-greet are also available. To purchase tickets, call 212-352-3101 or visit SpinCycleNYC.com.
Chelsea Community News is made possible with the help of our awesome advertisers, and the support of our readers. If you like what you see, please consider taking part in our GoFundMe campaign (click here). To make a direct donation, give feedback about the site, or send a Letter to The Editor, email us at Scott@chelseacommunitynews.com.