BY SCOTT STIFFLER | The walls of a new coffeehouse located on a marquee corner of Chelsea are providing patrons with a window into the world of LGBTQ+ activism, as documented by the disciplined, discerning, empathetic eye of Donna Aceto.
The lead photographer for AIDS Walk New York (as well as Los Angeles and San Francisco) for more than 25 years, and the primary photographer for Gay Men's Health Crisis (GMHC) for more than 15 years, Aceto's work is regularly featured in the essential NYC publication Gay City News, for which she serves as photo editor and contributing photographer.
In August (then decreasing in size through September, as sold work goes to its buyers), a career-spanning collection of Aceto's photographs is on view at East One Coffee Roasters (170 W. 23rd St. at 7th Ave.).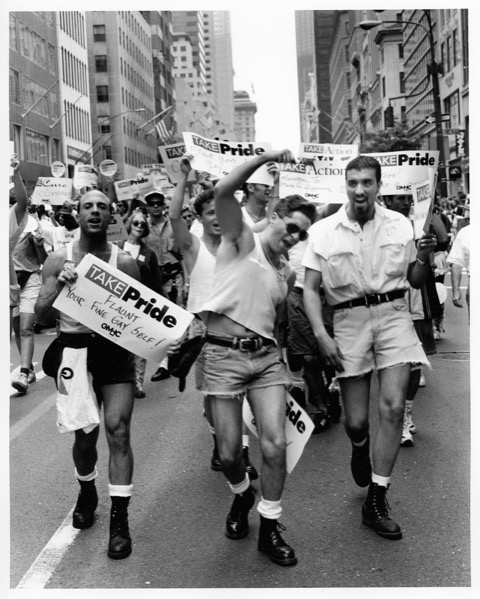 Featuring everything from the early days of AIDS activism to Marriage Equality crusader Edie Windsor (1929-2017) to the contemporary protest actions of Gays Against Guns, the work on display reveals its creator as a dogged chronicler of history in the making. But Aceto demurred, when her recent interview with Chelsea Community News invoked the "A" word.
"Oh, God, I don't think of myself as an artist," said Aceto. "To be honest, I mean, a lot of my work is journalism. But I guess I'm probably more of a documentarian than anything else."
East One co-founder Tom Cummings said he chose to display Aceto's work because, taken as a whole, it is "really representative of the struggle and the successes of civil liberties fought for, and that we continue to fight for."
With its flagship store in Brooklyn, East One is a gay-owned business whose co-founder has "had a relationship with Chelsea for decades," noted Cummings, whose connection to the area was forged while doing volunteer work with GMHC.
"My husband and I fell in love with this corner, and worked on achieving an agreement for nearly six months before we signed a lease," said Cummings, of the W. 23rd St. and 7th Ave. location. "We are absolutely thrilled to offer the neighborhood a similar experience we offer to our Carroll Gardens customers—great award-winning coffee as well as distinctive food—but with a bit more flair! We pride ourselves on being an inclusive and open place to work, as well as patronize. 'Open' and 'inclusive' are words that ring clear to me, when I think of Chelsea."
As for the proper way to refer to Aceto's display of photos, it's okay with Cummings if you consider it an exhibit, but he noted that East One "calls it a 'Retrospektiv.' It is Danish for 'retrospective.' We come to the city with Danish roots in our business, which can also be seen in the design of our space."
Cummings, who recalled meeting Aceto during the late 1980s when they were volunteers for AIDS Walk New York, said that beyond its documentation of activism, he was inspired to commission the Retrospektiv because Aceto's camera captures the essence of the people behind the purpose.
"Donna has a unique ability to find that face that represents the issue, and snap it," said Cummings. "It is actually a gift, I am sure—a gift that will continue to show us what is happening in the streets of our city, and further."
Of capturing candid moments during often-epic events, Aceto said, "I arrive a little bit early, and figure out how big it's going to be. You never know, especially these days, with Facebook. It could be 50 people or 350 people. I try to get in the middle of things. It's important to to get [photos of] how big it is, but I'm a kind of 'tight shooter.' I like to get people's emotions. Often, I'm not even aware of what's being said [when there are speakers at an event], because I'm too involved in the expressions, and trying to capture that. Then I have to go back later and find out, 'Oh, what did she say about this?' People are often surprised I don't hear certain things." (Aceto collects audio recordings to support her post-shoot fact checking.)
One thing, however, is burned into her memory. Aceto noted that this visual timeline of LGBTQ+ history made its debut, appropriately enough, at a unique point in her community's history: June 30, 2019, when Stonewall 50, WorldPride, and Pride Month reached their celebratory apex—the Pride March. Clocking in at 12 hours and 32 minutes, over 150,000 marchers made their way past East One's Chelsea location.
Cumming's original plan, recalled Aceto, "was to open up in late June. He thought it would be nice to hang different activist photos I'd taken over the years, because he's right on the corner where the March was ending." As such, matters compelled Cummings to officially begin regular store hours at a later date. Undaunted, they marked the Pride March occasion, Aceto said, "with a soft launch, handing out cold brew and cupcakes" to the unprecedented crowds swelling the streets and sidewalks of Chelsea.
As for determining went up on the walls, Aceto said, "We tried to look at photos, going back to when I started shooting. It was pretty much to cover the AIDS epidemic. And I also felt like I needed a good, representative shot of Pride [March], with GMHC in the '90s, when we were working very hard to do what we could for the epidemic. Then it goes through older stuff from the Dyke March, their second one, and we gradually move up to a few pix of Edie Windsor. She was very generous with me. She used to refer to me as 'her photographer.' Everybody loves Edie, and she's only been gone a couple of years. Then you have GAG, the die-in demonstrations that have been more of how I spend my time in these recent years."
Asked if she'll be archiving the totality of her work, Aceto said, "Yeah. I guess I'm realizing now, that as time goes on, I have more and more people after me, asking, 'What are you gonna do?' I don't want to drop dead tomorrow and have it wind up in the trash. I feel like there's some important stuff in there. So I do think about it a lot, and I've been trying to edit it [the collection] down to what's important, because I shoot so much. It's great fun."
The Donna Aceto Retrospektiv is on view through August, then with reduced content in September, at East One Coffee Roasters (170 W. 23rd St. at 7th Ave.). Hours: Mon. to Fri., 7am to 7pm and Sat. & Sun., 8am to 7pm (extended evening hours coming soon). Visit eastonecoffee.com/Chelsea or call 646-649-2624. Note: Donna Aceto has earmarked half the proceeds from photos on display to Gays Against Guns.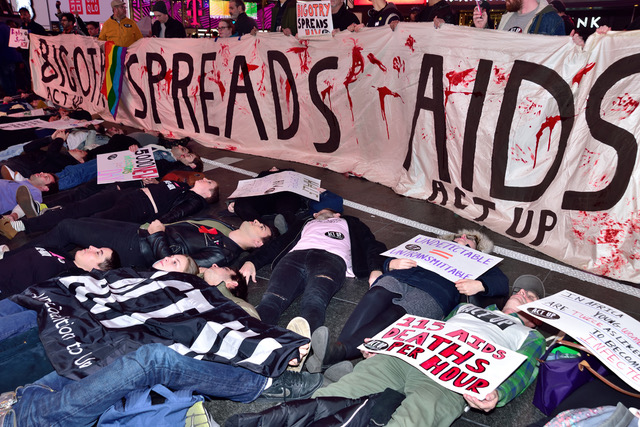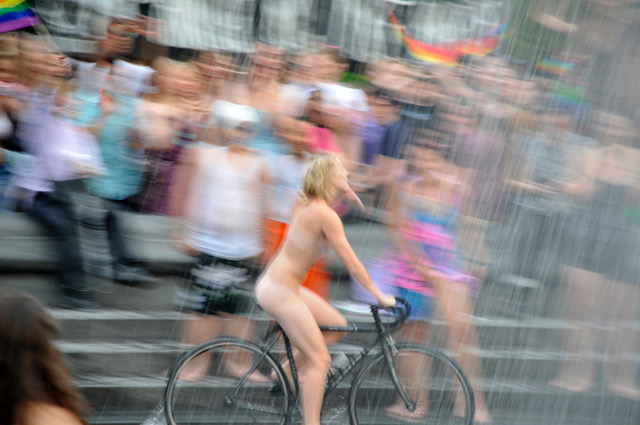 Chelsea Community News is made possible with the help of our awesome advertisers, and the support of our readers. If you like what you see, please consider taking part in our GoFundMe campaign (click here). To make a direct donation, give feedback about the site, or send a Letter to The Editor, email us at Scott@chelseacommunitynews.com.