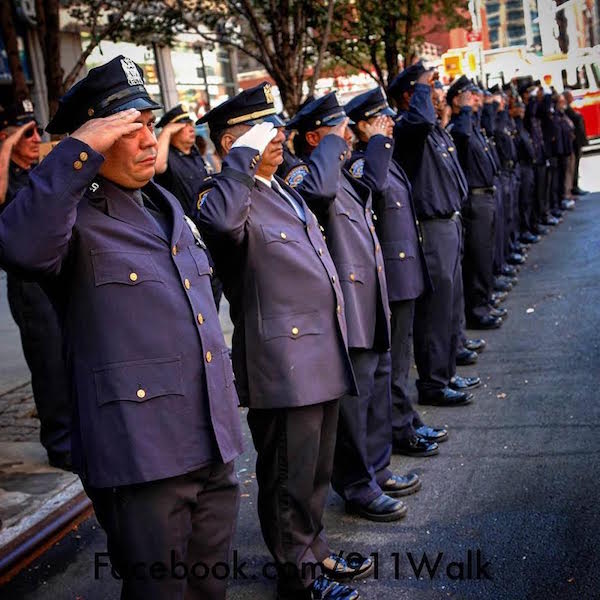 The annual Father Mychal Judge 9/11 Walk of Remembrance is scheduled for Sun., Sept. 8. Last year, over 1,100 people participated, despite a cold, unremitting rain.
Held to honor Fr. Mychal Judge (1933-2001), an FDNY Chaplain listed as "Victim 0001" of the Trade Center events, as well as the late NYPD Detective Steven McDonald, and all those who perished on September 11, 2001, the Walk follows the route taken by Fr. Judge from his rectory at St. Francis of Assisi Church (135 W. 31st St.), down Seventh Ave., to the World Trade Center towers.
Stops are made at firehouses and NYPD precinct station houses along the way, with Honor Guards from the NYPD, the FDNY, and the Port Authority Police Department in attendance. The public is welcome to take part, and encouraged to gather along the route.
At its stop in Chelsea, a ceremony will be held at Seventh Ave. and W. 19th St. at approximately 11am. Members of Chelsea's 10th Precinct and FDNY firehouse will be led by a Color Guard, as the names of the Line of Duty Deaths from the 13th Precinct, W. 19th Sts.'s FDNY Engine 3/Ladder 12/ Battalion 7, and nine of the Chelsea residents whose lives were lost at the Trade Center are read.
A second ceremony takes place at the NYC Fire Museum (278 Spring St. btw. Varick & Hudson Sts.), and a third ceremony will be at the Walk's conclusion, at St. Peter's Church (Barclay and Church Sts.).
Those joining the walk from its point of origin may also want to attend a Sun., Sept. 8, 9am Rosary and a 9:30am Catholic Mass at St. Francis of Assisi Church (135 W. 31st St.). The Walk begins at 10:30am, at FDNY's Engine 1/Ladder 24 (W. 31st St. & Seventh Ave.).
For more information, call 646-856-9255 or visit 911WalkOfRemembrance.com.
—By Scott Stiffler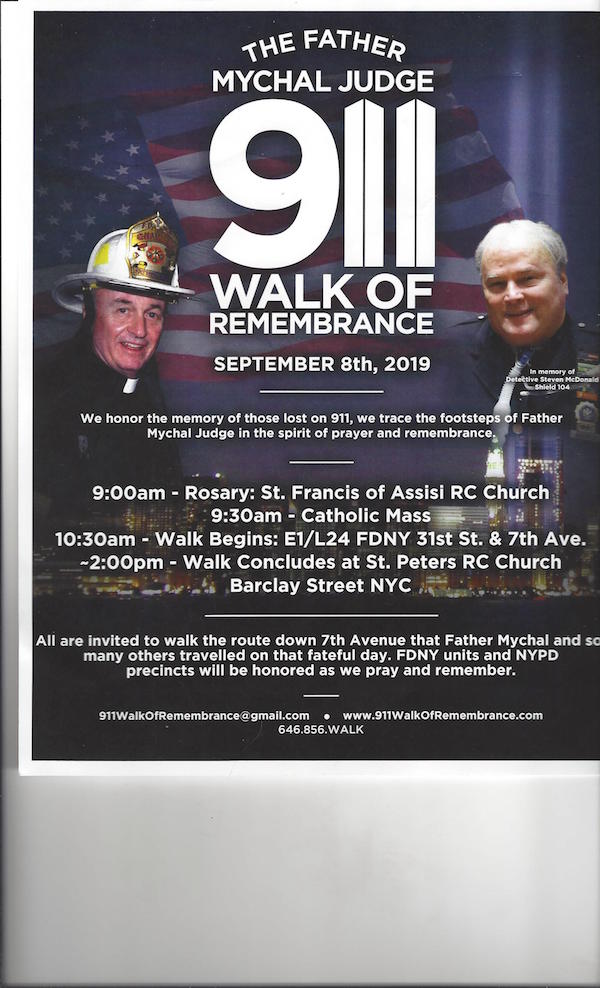 Chelsea Community News is made possible with the help of our awesome advertisers, and the support of our readers. If you like what you see, please consider taking part in our GoFundMe campaign (click here). To make a direct donation, give feedback about the site, or send a Letter to The Editor, email us at Scott@chelseacommunitynews.com.