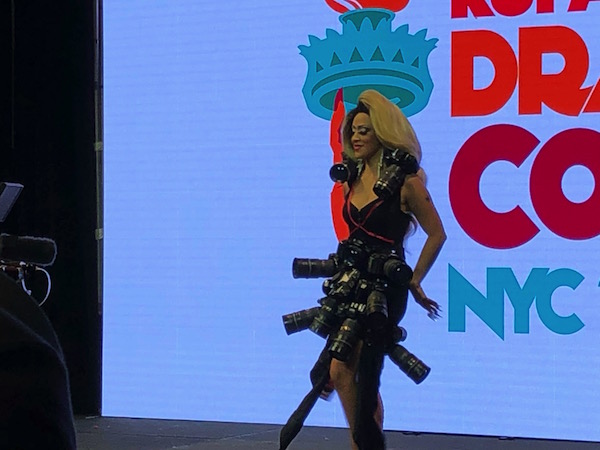 BY CHARLES BATTERSBY | RuPaul's DragCon NYC (Sept. 6-8 at the Javits Center) is in it's third year, and attendees mostly know what to expect: meet-and-greets with drag queens who've appeared on RuPaul's Drag Race, and booths hawking products and services for drag queens (or civilians trying get the drag queen look). Each year a few new features arrive. Notable this time around is the DragCon's first cosplay contest.
Among the other new faces this year was a booth for Drag Therapy. Leon Silvers, the creator and founder of Drag Therapy, and his crew had a rack of fabulous outfits and a changing area so that people could get a taste of the experience. We spoke with him early on the first day of the Con. "Every type of artistic medium has a therapy," he said. "But drag, which is an art form, does not. So I brought a lot of different theories in the field of psychology together, and from that, created Drag Therapy."
Silvers explained how drag can be used to help therapy patients access archetypal parts of their personalities. He also cited examples from cosplaying as fictional characters, such as Harry Potter. Citing Harry's courage and loyalty, Silvers told us, "If you're Harry Potter, it might be easier to access that. But really, it's you. You're accessing parts of yourself."
Any iconic individual will get parodied eventually. Then those parodies will eventually be imitated. In the drag comedy film Some Like It Hot (1959), Tony Curtis' Cary Grant impression was so distinct that "Tony Curtis doing Cary Grant" became a recurring Hollywood gag. The Austin Powers gag of "She's a man, baby!" spoofed a real scene in the James Bond movie Thunderball (1965). But by 1997, the time Austin Powers: International Man of Mystery was made, the Bond franchise had ceased adapting the original Ian Fleming novels; they were essentially Pierce Brosnan doing Roger Moore.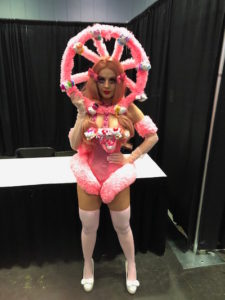 With RuPaul's TV show, some of the queens have created iconic looks that deconstruct feminine archetypes like "The Fierce Supermodel" or "The Leading Lady," Sometimes even subverting drag culture itself. DragCon's cosplay contest allowed fans to reverently imitate these looks.
We spoke with several of the contestants and judges after the show, and we learned that the contestants came from a wide sampling of cosplayers, drag queens, and people new to the entire experience.
Azulette was one of the three finalists, and has been cosplaying for 14 years. She was dressed in a recreation of Violet Chachki's "Hello Kitty" outfit. She told us that she was drawn to Violet's look because of her corseted fashions, and famous wasp-waisted figure. "It's painful, but I like it a lot," she said after the contest, "and Violet has the whole aesthetic I love."
Daniella Flame was another of the three finalists, and was dressed in a recreation of Alyssa Edwards' Camera dress. She boasted that she's been cosplaying since 2012, and that, "I'm known as the mini-Alyssa."
Edwards was a popular queen to imitate. Another cosplayer who goes by the handle Alison Wonderland (alisonwonderland_1) was dressed in an entirely different look by Edwards. "She's one of the most genuine drag queens, and the most genuine people I've ever met," Allison said. "I've gotten to know her personally, and she's so appreciative of the work that goes into cosplay."
Another contestant, Alex (@itsaaaaaaalex), was not only cosplaying for the first time, but also told us, "This is my first time in drag. Season 8 [Of Drag Race] was the first season I ever watched. Naomi Smalls was the first queen I ever saw, and I was like, 'I want to be her!' "
The contest was hosted by Ts Madison and Carson Kressley—who joked (probably) that he didn't know what cosplay was. It was judged by celebrity cosplayers Becka Noel and Dhareza Cosplayza. When asked about how this event differed from other cosplay competitions, Dhareza told us, "It's so much more fun. The audience was so into it."
"Backstage everyone is super nice," Becka Noel said, "It was more loving here. Just embracing and loving. I walked in and everyone gave me a hug."
Dhareza added, "There was a grand prize to win, but I think they all wanted to show off what they made in front of the crowd, and I think that was their main motivating factor."
The winner of that first-ever grand prize is a drag performer, and also the reigning Miss Nerd New York. Megami wore a replica of Monique Heart's card outfit. She told us that the outfit was handmade by attaching real playing cards to a muslin dress. She's also a coplayer who'll be back at the Javits Center next month for New York Comic Con, dressed as a character from Final Fantasy.
We caught up to Drag Therapy again right after the cosplay contest. When asked about the event, Silvers told us, "Drag therapy is essentially cosplay therapy. [Drag queens] are archetypal images, so they have characteristics… Being Bianca del Rio, you can be witty and sassy. But really that's a part of yourself. But if you have the disguise of Bianca Del Rio, it's a little easier to get to that within yourself."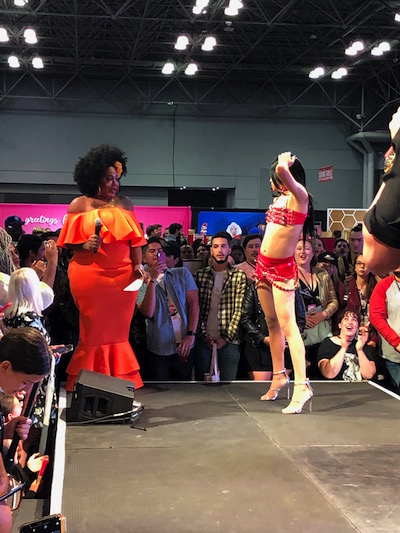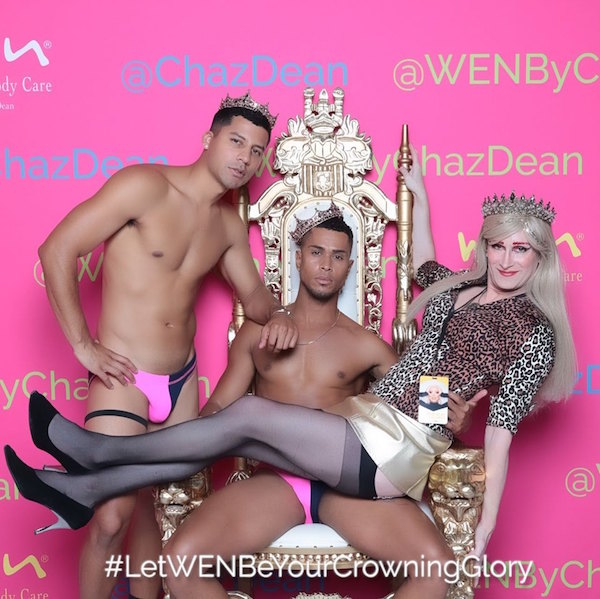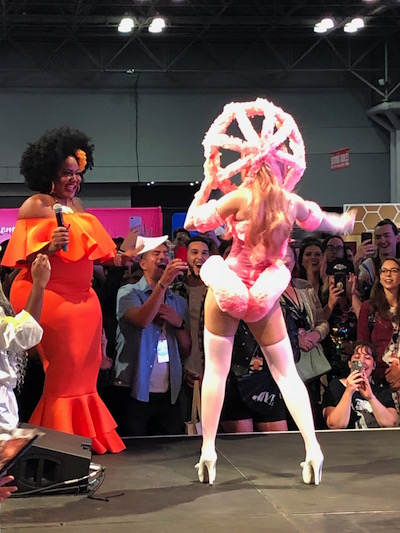 Chelsea Community News is made possible with the help of our awesome advertisers, and the support of our readers. If you like what you see, please consider taking part in our GoFundMe campaign (click here). To make a direct donation, give feedback about the site, or send a Letter to The Editor, email us at Scott@chelseacommunitynews.com.